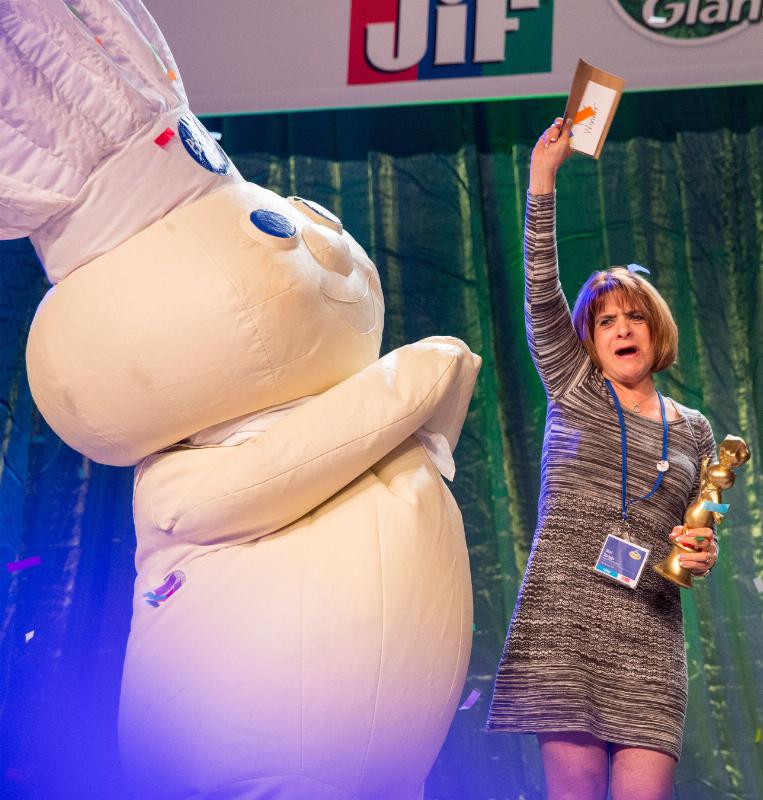 The iconic Pillsbury Bake-Off ® Contest awarded Glori Spriggs of Henderson, Nev. $1 million for her original recipe, Loaded Potato Pinwheels, late Monday evening. The grand prize winner was announced live from Las Vegas by contest host Padma Lakshmi. Tune in to "The Queen Latifah Show" on Thursday, November 14 to see Glori demonstrate her grand prize winning recipe.
"Loaded Potato Pinwheels are a great, versatile appetizer," said Jann Atkins, Bake-Off® Kitchens Manager. "They have a quick prep—minimal chopping—and look great on a party platter. I see these going fast at game day gatherings, holiday parties and potluck dinners, everywhere."
Made simply with seven ingredients, including Pillsbury® Crescent Recipe Creations® refrigerated seamless dough sheet and Green Giant® Seasoned Steamers™ frozen backyard grilled potatoes, and only 20 minutes of active prep time, this appetizer is a new twist on a family favorite. Of the 100 contest finalists, Glori travelled the shortest distance, less than 20 miles, to compete in the contest finals, but her recipe proved to go the distance with the judging panel.
"We chose Glori's recipe as the grand prize winner because it tastes great, and it's super easy for any home cook to make," said David Joachim, 46th Pillsbury Bake-Off ® Contest Judge, Food Writer and Cooking Editor. "It takes a few familiar flavors and presents them in a way that is portable, fresh and fun."
Glori's recipe also helped her score $10,000 in GE kitchen appliances. She competed against 99 other talented home cooks from around the U.S. in the country's premier cooking competition, sponsored by Pillsbury, Green Giant, The J.M. Smucker Company and GE Appliances, along with event partners Reynolds and Pyrex.
In addition to Glori, second prize winner Shelia Suhan of Scottdale, Penn. received $10,000 and $3,000 in GE kitchen appliances for her Easy Caprese Pizza Bake. Third prize winner Antoinette Leal of Ridgefield, Conn. received $5,000 and $2,000 in GE kitchen appliances for her Cherry Almond Brunch Tart.
Four additional sponsor awards were presented to individual finalists who have not won any other prizes:
Honey Sesame Bagels by Kellie White of Valley Park, Mo. was recognized as the most innovative recipe with the GE Imagination At Work Award and $5,000 in GE kitchen appliances.
The Jif® Peanut Butter Award of $5,000 was given to Kim Doyle Wille of Carbondale, Colo. for her Thai Shrimp Pizza – the best recipe using at least 1/4 cup of Jif® Peanut Butter.
Julie Beckwith of Crete, Ill. received the Crisco is Cooking™ Award which recognized her Upside Down Tomato Basil and Chicken Tartlets for being the best recipe using at least one tablespoon of Crisco® Cooking Oil or one tablespoon of Crisco® Baking Sticks All-Vegetable Shortening. She received $5,000 for this award.
Eagle Brand® Signature Recipe Award presented $5,000 to Karen Harris of Castle Rock, Colo. for her Bacon Corncakes with Warm Maple Cream. Karen won for having the best recipe using at least one 14-ounce can of Eagle Brand® Sweetened Condensed Milk.
Throughout the year, the Bake-Off® Kitchens accepted original recipe submissions that included at least two eligible ingredients and fit into one of three contest categories: Amazing Doable Dinners, Simple Sweets and Starters or Quick Rise and Shine Breakfasts. The 60 best recipes in each category were selected and placed online for public voting. America's votes were tallied and on Monday, November 11, the 100 finalists (97 women and three men) who created the recipes that received the most votes convened in Las Vegas. Each finalist prepared his or her dish for judging. A panel of independent judges, consisting of food media and professionals, then selected the contest winner based on taste, appearance, creativity and consumer appeal.
Visit www.BakeOff.com for the $1 million recipe along with hundreds of other delicious contest recipes to try at home.