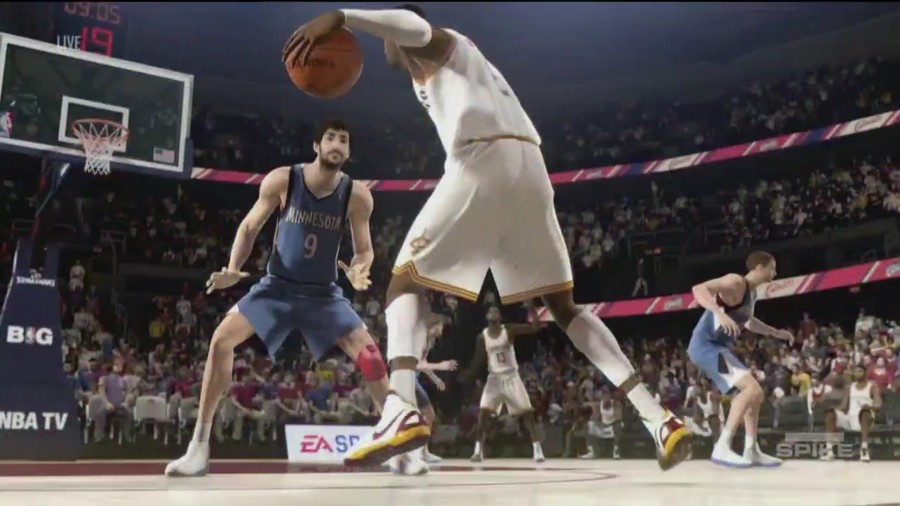 EA SPORTS provided the first details surrounding the connected experiences fans can expect in NBA LIVE 14. By utilizing the power and connectivity of next-gen consoles, NBA LIVE 14 can provide not only player ratings and tendencies updates, but new challenges, new rewards and other new content throughout the season. A video showcasing how NBA LIVE 14 brings connected experiences to next-gen can be seen here.
CourtQ offers updates of over 70 player ratings, tendencies and team stats, Powered by Synergy Sports Technology, and refreshed after each NBA game. Consequently, players in-game will perform, react and ball just like their real-world counterparts. NBA LIVE 14 provides the most authentic, timely updates ever to keep fans connected to the league like never before. In addition to new ratings and tendencies, NBA LIVE 14 will utilize CourtQ to push new content on a regular basis.
Through the connected experience game modes and challenges such as Head-to-Head Seasons, LIVE Season (which features BIG Moments and NBA Rewind), LIVE Ultimate Team and EA SPORTS Hoops Network, NBA LIVE 14 will be constantly updated to keep the game fresh every time you turn on your console.
·         Head-to-Head Seasons tracks the results of each online game and places players in the appropriate league based on their skill level. Win enough games and you'll be promoted to the next level of competition, struggle and face demotion to a lower tier.
·         Jump into LIVE Season to enjoy new content every day, powered by CourtQ and Synergy. Take on quick challenges based on each day's most memorable NBA performances in BIG Moments. Whether you're faced with scoring a last-minute buzzer-beater or swiping the ball three times in a quarter with a specific player, these bite-sized challenges provide a quick dose of NBA action. Replicate history or rewrite it in NBA Rewind as you take control of the league's biggest stars and teams throughout the season with the actual team roster, player stats and tendencies. Attempt to match or surpass full-game objectives generated by Synergy and CourtQ that focus on several key performances from the actual contest.
·         Experience the perfect combination of NBA LIVE 14 and fantasy basketball, as you build your Ultimate Team of the brightest modern NBA stars and all-time legends in LIVE Ultimate Team.
·         EA SPORTS Hoops Network also allows individuals to stay connected with friends and track their performances and success alongside other NBA LIVE gamers across the globe. Everything fans do in NBA LIVE 14 rewards them with XP, which will unlock new content and bonuses in LIVE Ultimate Team as players level-up.