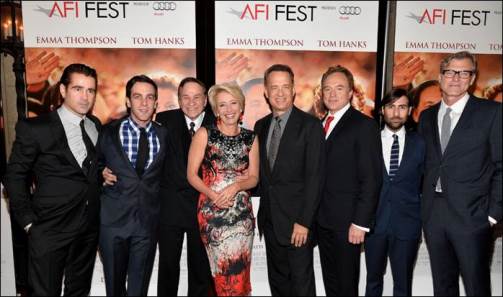 I guess all the fun had to end eventually. As another successful AFI Fest came to a close today, filmmakers, press and the AFI community joined for a special awards brunch at the historic Roosevelt Hotel. Over breakfast and mimosas served in partner with Kind food, the winners of this year's audience and jury prizes were revealed. "At the end of an incredible eight days of hosting so many wonderful filmmakers from around the world, the Awards Ceremony is an opportunity to acknowledge the films that struck a chord with both our audiences and our jury," said Lane Kneedler, Associate Director of Programming, AFI FEST. "We also congratulate all of our filmmakers for sharing their stories."
It certainly has been an incredible festival full of special discussions—Steve McQueen, Annette Bening, and the young Hollywood panel—world premieres—"Out of The Furnace"—and instant World cinema classics —"Bethlehem", "Baby Blues". As festival director Jacqueline Lyanga took the stage, she started the afternoon off by saying, "This year, some extraordinary new artists have burst onto the scene, and we hope that these awards from the audience and the jury will enable their films to reach a wider audience. We hope that the enthusiasm and excitement that our audiences have had for all of the films that we've shown this past week – foreign, American, Independent, experimental, short and documentary – continues and spreads." By offering the LA community with so much high-caliber cinema absolutely free, I cannot help but believe that this festival will continue to grow to greater and greater heights.
As for 2013, however, here are the award winners…
GRAND JURY AWARDS, LIVE ACTION AND ANIMATED SHORT
The Academy of Motion Picture Arts and Sciences recognizes AFI FEST Grand Jury Award winners in the Live Action and Animated Shorts categories as qualifiers for the annual Academy Awards Short Film category. The Shorts jury featured Alejandro De Leon (producer), Kitao Sakurai (filmmaker), Jordan Vogt-Roberts (filmmaker) and Heidi Zwicker (shorts programmer).
Live Action Short Film: BUTTER LAMP.
"The Grand Jury prize for Live Auction caught us by surprise with its spellbinding and poetic simplicity. Traversing hundreds of miles of geography and spanning generations of time without leaving one central location, this film functions as a profound mediation on the practice and effects of image making," stated the jury.
Animated Short: THE PLACES WHERE WE LIVED.
"This was an exceptionally difficult choice to make. While many of the animations showcase incredible depth and artistry, one film shined through its idiosyncratic use of multiple mediums and humor to provide insight into the filmmaker's heart," stated the jury.
NEW AUTEURS CRITIC'S AWARD
The New Auteurs section highlights first and second-time feature film directors from around the world. This year's New Auteurs jury featured Peter Debruge (Variety), Karina Longworth (author and critic) and Amy Nicholson (LA Weekly). 
NOTHING BAD CAN HAPPEN
"The true story of a homeless Christian teenager adopted by an abusive family who tests his ability to turn the other cheek. Many, many bad things happen. But the blessing is discovering first-time filmmaker Katrin Gebbe and her incredible ensemble who have braved their own tests – boos and walkouts, nothing too bloody – in order to bring us this powerful movie and faith and sacrifice," stated the jury.
AUDIENCE AWARDS
World Cinema: THE ROCKET. Directed by Kim Mourant. Australia.
New Auteurs: THE SELFISH GIANT. Directed by Clio Barnard. UK.
American Independents: (award accompanied by a $60,000 grant from Panavision) WE GOTTA GET OUT OF THIS PLACE. Directed by Zeke Hawkins, Simon Hawkins. USA.
Breakthrough (award accompanied by a $5,000 cash prize): B FOR BOY. Directed by Chika Anadu. Nigeria.
Also, as an added bonus to the Angeleno community, AFI will be screening several of the award winners throughout the day. Here is the schedule:
"The Rocket": 1 PM PT
"The Selfish Giant": 4 PM PT
"Shorts": 7 PM PT
"Nothing Bad Can Happen": 10 PM PT
All screenings will be held at the TCL Chinese 6 theaters. For the fifth consecutive year, AFI FEST offered free tickets to all screenings. Tickets for today's screenings are available in-person at the AFI FEST AT&T Box Office at the Hollywood & Highland Center.
Additionally, the Closing Night Gala this year is Ethan Coen and Joel Coen's INSIDE LLEWYN DAVIS, which screens at 7:30 PM PT at the historic TCL Chinese Theatre.
 To find out more about AFI Fest, head to afi.com/afifest. 
By David Morris