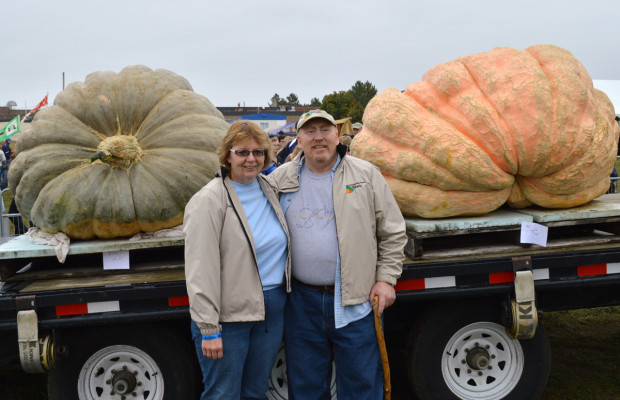 Phil and Jane Hunt were prize winners at the 2013 Double Pumpkinfest.The  reigning Port Elgin Pumpkinfest record holder — weighed in at 1,753 lbs. The couple ended up winning both categories… Their 1,545-lb pumpkin earned the couple $5,000 and $2,000 for having the heaviest squash at 1,233 lbs, which fell about 253 lbs short of the event record set in 2011 by Joel Jarvis of St. Thomas.
The Hunts, who also won the pumpkin category in 2009 with a 1,678-lb giant, said they were ecstatic to win both categories this year.
The Hunts, who live on a five-acre farm north of Lindsay, have been growing giant pumpkins and competing at Port Elgin Pumpkinfest for about 20 years. This is only the third year they have also grown squash. The pumpkin-growing season begins in late April for the Hunts, when several seedlings are started indoors. Plants are moved outside, under a temporary greenhouse, around May 10 and by June 1 the cover is removed. Phil pollinates the plants by hand around July 1. About 20 days later, only one baby pumpkin is left to grow on each plant.