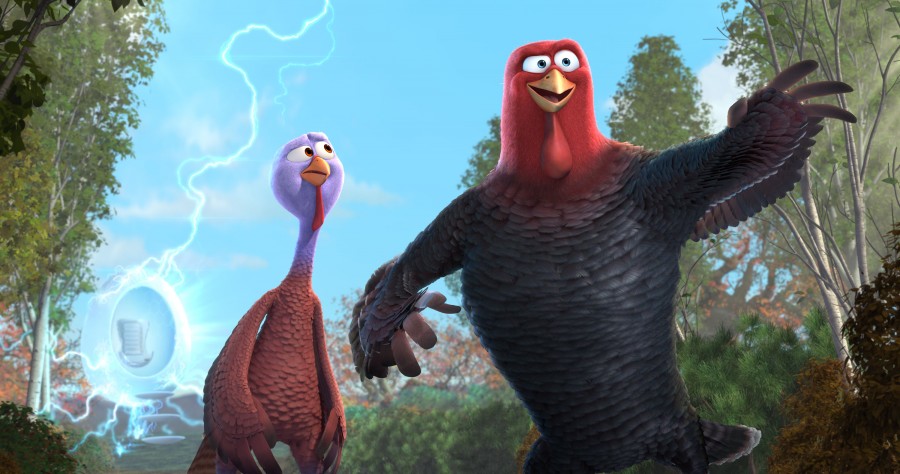 Thanksgiving is probably the most American holiday there is, but come this Friday, the cute and cuddly animated turkeys of "Free Birds" are out to change the "main course" of history. Owen Wilson and Woody Harrelson star as Reggie and Jake, the two birds responsible for traveling back to the very first Thanksgiving in order to get turkey off the dinner menu.  With a hilarious, time-bending script from Jimmy Hayward — who also directed the film — and Scott Mosier (Ultimate Spider-Man), this festive 3D comedy will more than just entertain the kids in the audience. It's off the wall fun for everyone.
H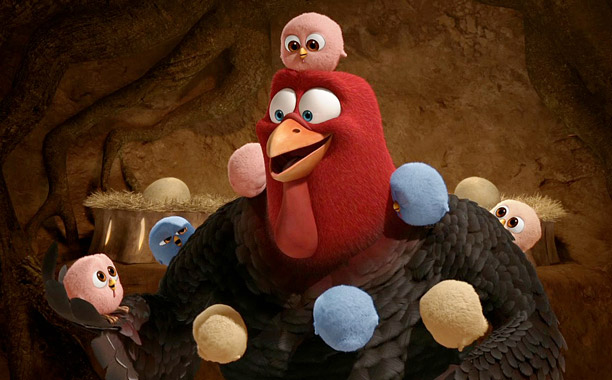 ayward and Mosier each make their feature film screenwriting debut with "Free Birds," but craft a story so insane; so unbelievable you'd think they were already seasoned Hollywood writers. Both have plenty of film experience, but none when it comes to the feature film writing department. Mosier's biggest claim to fame is that he has produced many of Kevin Smith's most famous offerings including "Clerks" and "Mallrats." On the other end, Hayward has worked in the animation department on films ranging from 1995's "Toy Story" to 2003's "Finding Nemo."  In creating the story for "Free Birds," the writing pair definitely takes creativity to a whole new level.
As the film opens, we are introduced to the skinny outsider Reggie (Owen Wilson). We watch as his life is changed forever after an unexpected visit from the President of the United States lands him the esteemed honor of "Pardoned Turkey." Instead of living out the rest of his days waiting to be slaughtered on the farm, Reggie is rushed off to Camp David smothered by the protective arms of the President's daughter (Kaitlyn Maher). Life couldn't get any better for the animated fowl. Everything changes, though, after Jake (Woody Harrelson) — a brawny turkey with an agenda to change history — plucks Reggie from paradise. All of a sudden, Reggie is sucked into Jake's half-baked plot to trek through time and stop the first Thanksgiving from ever happening. The only thing crazier than this scheme is that Reggie and Jake actually figure out a way to pull it off.
With a plot that calls for talking turkeys and time-travel, you'd expect the story to buckle under all of its over-the-top weight. Somehow, "Free Birds" doesn't. Hayward's directing allows for the hilarity of the script to flow with ease, and compliments the narrative with 3D that is unobtrusive rather than in your face.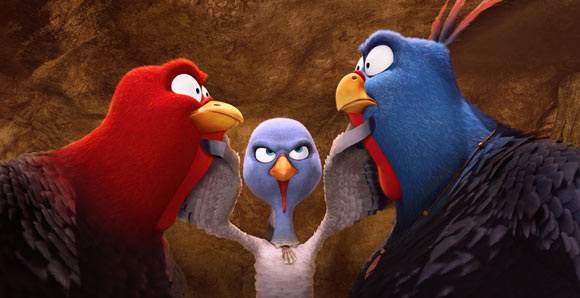 While Wilson, Harrison, and Amy Poehler — who plays Reggie's love interest Jenny — are well-established live action actors, their amusing performances show that they each have the voice for animation as well. Wilson, especially, uses the slight twang of his typically American accent to downplay all of the incredible antics around him. From a president that sounds like Bill Clinton with a heavy hint of Elvis Presley, to a gaggle of wise-cracking, Hazmat-suit-wearing minions, Reggie is the humanizing force we need in a movie about talking Thanksgiving main courses.
"Free Birds" debuts just in time to kick off the holiday season. With Thanksgiving feast fast approaching, there is no better time of the year to take a family trip to the movie theater. Hayward's film is the perfect choice. It finds just the right balance of laugh-out-loud slapstick humor and more mature satire to justify the expensive 3D ticket charge. Prepare to gobble down this tasty animated comedy, and even have room for seconds — or even a sequel — afterwards. 
By David Morris