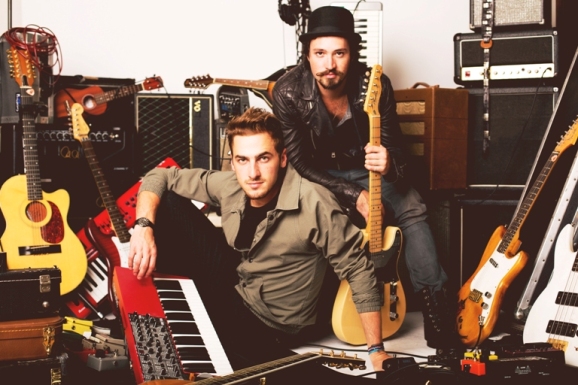 What is Kendall Schmidt from "BIG TIME RUSH" up to? The young singer founded, Heffron Drive, a music duo, prior to his joining BTR.
After chatting at an industry event one night in Los Angeles in 2008, Kendall and Dustin Belt realized there was a lot more in common than meets the eye – both had been born in Wichita, Kansas, and when they went to make their way home, they realized they lived on the same street – Heffron Drive! Aside from becoming instant friends, the duo formed a band – what to call it was obvious – and thousands began streaming uploaded tunes via MySpace. The internet was soon buzzing about this new band, but shortly thereafter the Big Time Rush opportunity came along. Kendall joined up and eventually, Dustin was tapped as the touring guitarist for Big Time Rush. The two never forgot about Heffron Drive, though, stealing spare moments to write and plan – and now they are ready to hit the road with the FIRST EVER US Tour – Heffron Drive Live – with nearly 20 US tour dates so far, beginning November 23rd, with more dates to be announced soon! Heffron Drive is happy to have Hershey Parks as their tour sponsor – which includes Stone Mountain, Newport Aquarium, Adventure Aquarium, Wild Adventures and Darien Lake. Not only is Schmidt one of the first members of an internationally recognized boy-band to become a full-band front man, he also wants fans to know he will have surprises planned for them at each and every show.
With his focus moving into music and a limited amount of television specials and movies, Kendall will have more free time to continue touring with both bands as well as log some serious studio time, which is so important to the longtime songwriter that, at any given time, he has over 50 unreleased songs to his name. Long a believer in constant interaction with fans, Kendall will keep up the dizzying pace of press tours, personal appearances and meet and greets, both here at home and abroad. Heffron Drive bill themselves as fun, poetic and energetic – with tunes that leave you wanting more. Schmidt and the group continue to combine their talents during their down time to fuel music lovers and fans with addictive, catchy numbers that linger in fans' heads for days.
On the upcoming tour Kendall says, "I couldn't be more stoked for the upcoming Heffron Drive US Winter tour. This is the first time I've played shows in the US since BTR and I wanted to give the past, present, and future fans something special to talk about. We've got a full band this tour cranking out the classics, and also plan to debut new songs that have never been seen or heard before. See you all at the venue!"
Kendall announced the tour on his twitter, minutes later the www.HDwintertour.com site crashed due to high traffic!
Check Out The Tour Dates for Heffron Drive Live Below:
November 23 – Scout Bar – Houston, TX
November 24 – The Kessler Theater – Dallas, TX
November 26 – The Melting Point – Athens, GA
November 27 – American Legion Hall – Pensacola, FL
November 28 – The Orpheum – Tampa, FL
November 29 – Mirage – Raleigh, NC
November 30 – The Theatre of the Living Arts – Philadelphia, PA
December 2 – Webster Hall – New York, NY
December 3 – Webster Underground – Hartford, CT
December 4 – The Wilbur Theater – Boston, MA
December 5 – The Montage Music Hall – Rochester, NY
December 7 – Altar Bar – Pittsburgh, PA
December 8 – The Crofoot – Pontiac, MI
December 9 – Embers – Rensselaer, IN
December 10 – Firebird – St. Louis, MO
December 12 – The Riot Room – Kansas City, MO
December 13 – Logan Square – Chicago, IL
December 14 – Skully's Music Diner – Columbus, OH
December 22 – The Roxy Theatre – Los Angeles, CA