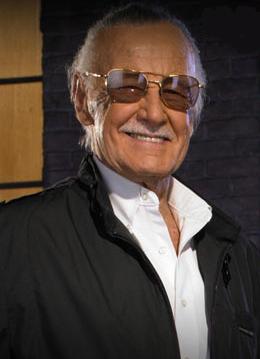 Stan Lee, comics legend and co-creator of some of the most iconic comics and superheroes, will make a one-day appearance at Salt Lake Comic Con on Saturday, September 7, 2013. Mr. Lee will offer a panel and be on hand to sign autographs and take pictures with attendees.
Known to millions as the man whose super heroes propelled Marvel to its preeminent position in the comic book industry, Mr. Lee's co-creations include Spider-Man™, The Incredible Hulk™, X-Men™, The Fantastic Four™, Iron Man™ and Avengers™, as well as hundreds of others. He currently remains Chairman Emeritus of Marvel, as well as a member of the Editorial Board of Marvel Comics.
"We couldn't be more excited that Mr. Lee will be attending the inaugural Salt Lake Comic Con," said Dan Farr, Show Producer. "We appreciate that he'd find the time in his busy schedule to attend. We're so grateful that Lou Ferrigno, a long-time Stan Lee friend, was able to express his enthusiasm for Salt Lake Comic Con and what we've been able to accomplish so far and convince him to be a part of this event."
"Comic Con is one of the greatest conventions in the world and it wouldn't be the same without having my good friend and industry icon attend the Salt Lake Comic Con," said Lou Ferrigno. "Stan is the one of the main reasons I am the person I am today not just because I played the Hulk, but because I read the Hulk comic books as a child and that helped me envision who I wanted to be when I was older."
Mr. Lee is currently the Chairman and Chief Creative Officer of POW! Entertainment, a multimedia entertainment company based in Beverly Hills, CA, which he founded with production partner Gill Champion and business affairs partner, the late Arthur Lieberman. POW! has created numerous new characters and stories in areas including publishing, film, TV, reality, stage, documentary, and multimedia
In addition to his comic creations, Mr. Lee has made cameo appearances in many of the Avenger and Spider-man movies and will be one of the more than 100 playable characters in the upcoming LEGO Marvel Super Heroes video game.
For more information about Salt Lake Comic Con or to buy tickets, visit the Salt Lake Comic Con website.  Salt Lake Comic Con runs September 5-7, 2013 at the Salt Palace Convention Center.