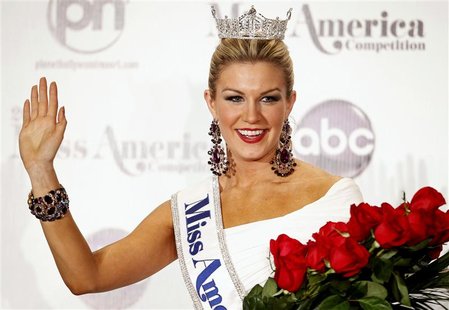 Tune in tonight for the countdown to the crown on ABC for Miss America (9PM ET) from Atlantic City. Who will be judging? A celebrity chef; a TV host and author; basketball player; a former boy band member; and a Grammy Award-winning violinist, and a celebrated stage actor and stand-up comedian.
The celebrity panel will score the contestants' performance in categories such as Lifestyle and Fitness in Swimsuit, Evening Wear, Talent, Interview, and an On-Stage question. Accomplished in their respective fields, these national judges are experts in areas where today's young women excel. They exude intelligence, leadership, talent, physical fitness, and dedication to community service.
The national judges are:
Deidre Downs Gunn, MD: Deidre Downs Gunn was named Miss America in 2005 and was the last Miss America to be crowned in Atlantic City until the pageant's return to Atlantic City this September.
Carla Hall: Chef Carla Hall is a co-host of ABC's popular lifestyle series "The Chew." Hall is best known as a competitor on Bravo's "Top Chef," where she won over audiences with her fun catch phrase, "Hootie Hoo" and her philosophy to always cook with love.
Barbara Corcoran: As one of the "Sharks" on ABC's hit TV show, Shark Tank, Barbara Corcoran has invested in more than a dozen businesses with her company The Corcoran Group, competing to make those deals for all to see and then shepherding them to success.
Amar'e Stoudemire: Amar'e Stoudemire, professional basketball player, became the first player to be drafted out of high school to win the NBA Rookie of the Year Award.
Lance Bass: Lance Bass is the ultimate multi-hyphenate: singer-actor-producer-writer-entrepreneur-philanthropist. Bass a former member of the juggernaut boy band *NSYNC, has also made a name for himself as an executive producer, radio and TV host, and actor. 
Joshua Bell: Often referred to as the "poet of the violin," Joshua Bell's stunning virtuosity, beautiful tone and charismatic stage presence have brought him universal acclaim.
Mario Cantone:  The celebrated New York stage actor and stand-up comedian gained critical acclaim with his Tony-nominated one-man show which appeared on Broadway and as a Showtime special. Cantone starred in the Tony Award-winning Assassins and has appeared on Broadway in the role of "Buzz" in the award-winning dramatic comedy, Love! Valor! Compassion! and "Stephano" in Shakespeare's The Tempest.