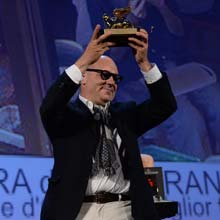 With the announcement from Jury President Bernardo Bertolucci of the Venice Film Festival, the winner of the 70th annual Golden Lion Award goes "Sacro Gra" and documentarian Gianfranco Rossi.
His film about life on the ring-road highway that circles Rome gave Venice its first Italian winner since 1998's "The Way We Laughed" and is also the first time a documentary has ever won at the fest.
This award also comes because this festival was the first year non-fiction films were included.