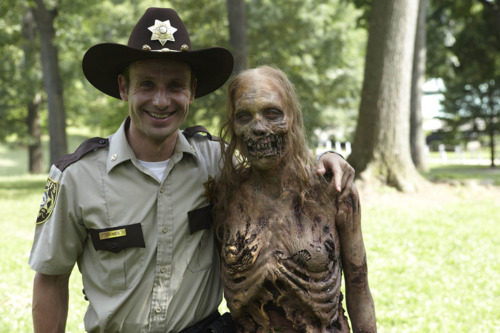 AMC, Instructure and the University of California, Irvine today announced the joint production of a massive open online course (MOOC) exploring a broad range of scholarly topics through the lens of a hypothetical zombie apocalypse.
The free, eight-week MOOC, titled "Society, Science, Survival: Lessons from AMC's 'The Walking Dead,'" will be offered on Instructure's MOOC platform, Canvas Network, and will be taught by a multidisciplinary team of UC Irvine faculty: Zuzana Bic, public health; Joanne Christopherson, social sciences; Michael Dennin, physics; and Sarah Eichhorn, mathematics. They were handpicked based on experience in teaching MOOCs, history of using pop culture in the classroom, and strong curricular alignment with case studies from the TV series.
"Fans of the show know that 'The Walking Dead' is about more than zombies; it's about survival, leadership and adapting to situations that are perilous and uncertain," said Theresa Beyer, vice president of promotions and activation at AMC. "AMC is excited to be the first entertainment group to make the foray into the online education arena through this unique partnership with the University of California, Irvine, and Instructure. There is clearly a growing appetite for engagement with 'The Walking Dead,' and we hope this online course will drive a deep, sustained connection with the show during its upcoming fourth season and offer a legitimate educational experience that can be applied even more broadly."
Enrollment in the course is currently available to anyone in the world via www.canvas.net/TWD.
The first class is scheduled for Monday, Oct. 14, the day after the Season 4 premiere of AMC's "The Walking Dead." The course will run for eight consecutive Mondays through Dec. 2. Because the series will air at different times around the world, Canvas Network will put in place provisions to help international participants avoid spoilers.
While using pop culture references in the classroom is nothing new, this MOOC represents a unique level of experimentation in teaching and learning by formally infusing an academic syllabus with contemporary media. It's also the first time a technology firm, entertainment company and major university have collaborated in this way.
To keep learning and to enroll for free in the course, visit www.canvas.net.