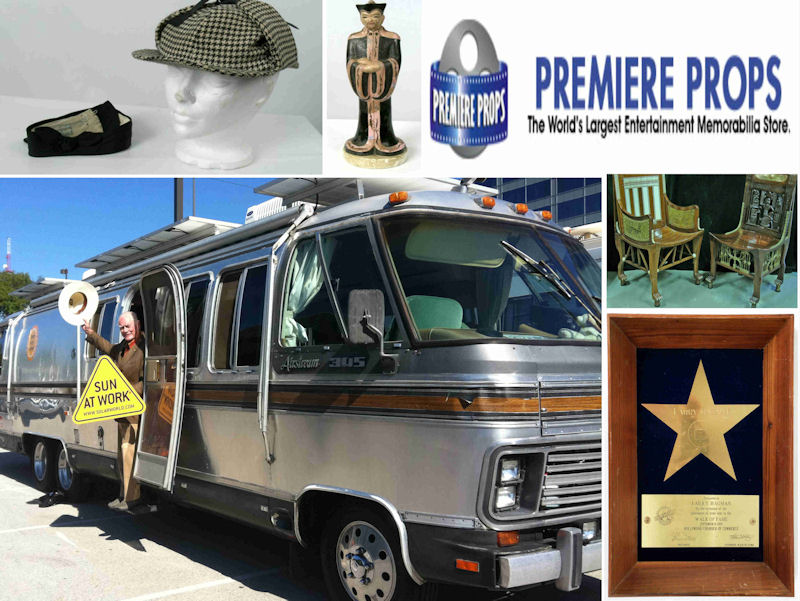 Premiere Props will be auctioning off over 1000 Hollywood props and costumes including a collection of personal items from Larry Hagman including his state of the art, solar paneled Airstream trailer (and dressing room) from DALLAS and his JR belt buckle; a John Lennon and Yoko Ono signed copy of their DOUBLE FANTASY album; a throne from THE TEN COMMANDMENTS; Ryan Gosling's motorcycle from THE PLACE BEYOND THE PINES; the monster truck from BRUNO signed by Sasha Baron Cohen; several props and costumes from Hugh Jackman and Jake Gyllenhaal's from PRISONERS and stunt guns used by Brad Pitt and Angelina Jolie in MR. & MRS. SMITH.
The auction will take place on Saturday, September 28, 2013 at Premiere Props' headquarters in El Segundo, CA beginning at 11am PT, with a preview from 9-11am PT.    Fans can bid in-person, via phone or on-line.
Fans can starting bidding now, placing bids online at http://www.icollector.com/ and http://www.liveauctioneers.com or calling to set up phone bidding with a Premiere Props representative.
Items include:
DALLAS – a collection of Larry Hagman's personal items including his Airstream motorhome that was used as his dressing room; a JR belt buckle; a motorcycle helmet;  his Walk of Fame Display; his sunglasses; his project notes; a signed script and original artwork specifically made for him by Barton Lidice Benes.
THE PLACE BEYOND THE PINES – Ryan Gosling's CRF230 L Honda Road 230cc 2009 signed motorcycle
BRUNO – the over-sized 1989 Chevy R3500 Monster Truck custom made for the production that is signed on both front visors by Sasha Baron Cohen
PRISONERS – costumes and props from Hugh Jackman (Keller Dover), Jake Gyllenhaal (Detective Loki) and Maria Bello (Grace Dover)
THE TEN COMMANDMENTS – a throne and ceremonial chair from Cecil B DeMille's epic film.  The Royal Empire throne is crafted in exquisite gold tinged metals and rare woods with inlaid hand carved hieroglyphs and was used by Anne Baxter (Princess Nefretiri) for two of the most iconic scenes from the film – the first iwhen Charlton Heston (Moses) returns from his heroic battle and then again when he is sentenced to death. The ceremonial chair is ivory inlaid and was prominently displayed when Moses discovers that Nina Foch (Bithiah), who found him as a baby in a basket in the rushes of the Nile is not his real mother.
MR. & MRS. SMITH – a set of stunt guns used by both Brad Pitt (John Smith) and Angelina Jolie (Jane Smith)
DOUBLE FANTASY – an album in mint condition signed by both John Lennon and Yoko Ono
MARILYN MONROE – an original 1952 Golden Dreams Marilyn Monroe Calendar and Tray circa 1955
SHERLOCK HOLMES – Basil Rathbone's (Sherlock Holmes) Deerslayer cap and Nigel Bruce's (Dr. Watson) black tie
E.T. THE EXTRA-TERRESTRIAL – original shooting script with all notes from script supervisor Ester Vivante's
I LOVE LUCY – one of the original Chinese porcelain figurines (circa 1953) that graced the mantel of Lucy and Ricky's fireplace