Sometimes you want to get away and recharge your batteries. I am lucky enough to live in Southern California, where weekend getaways are endless. This was the perfect occasion for my sister and I to spend quality time together.
After doing some research online, we stumbled upon the wilderness vacation spot of Wrightwood, CA, just 1 hour and 30 minutes from Hollywood. It turns out that Wrightwood is home to the famous Navitat Zipline Adventures.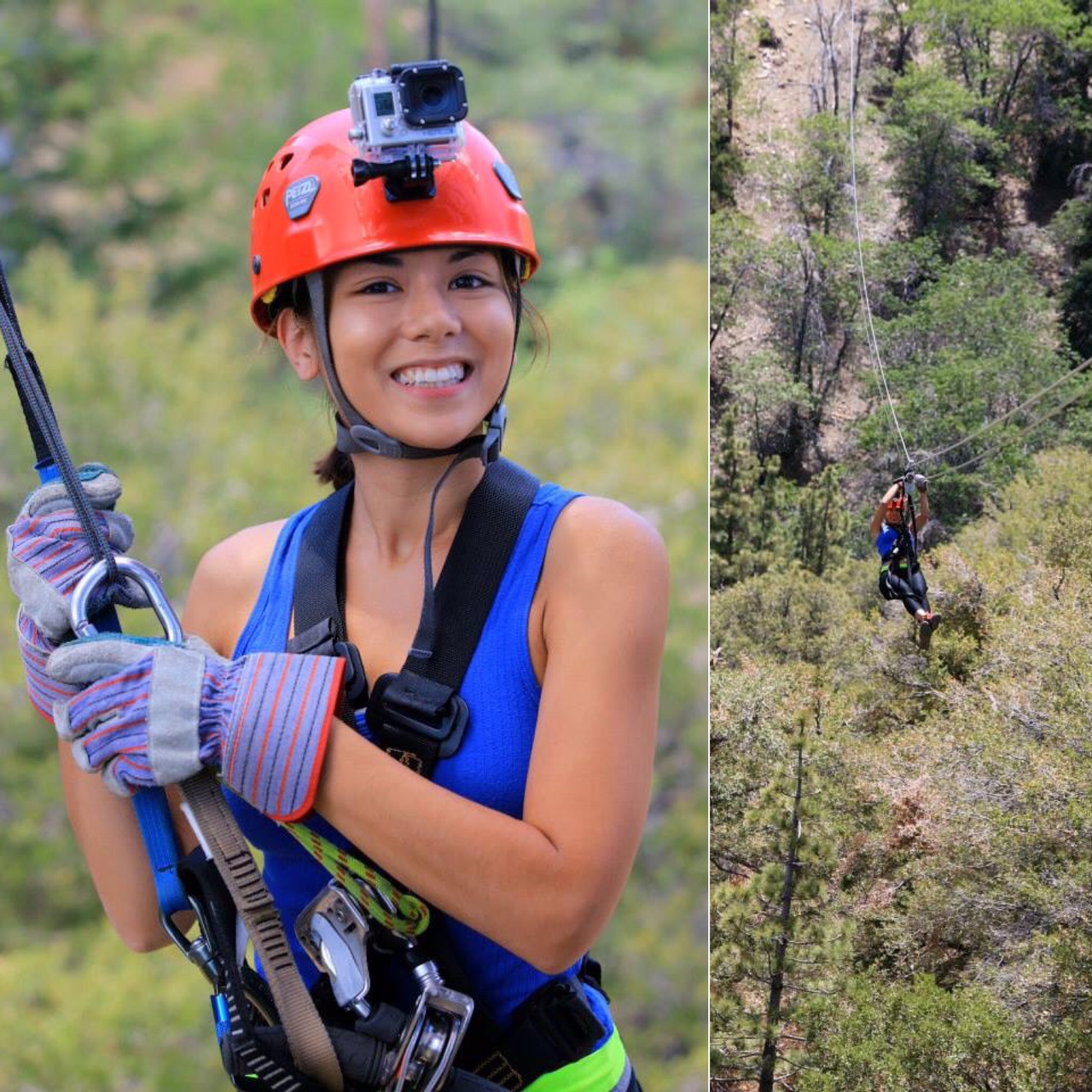 Rather than a hotel, we wanted to find somewhere rustic to stay. If you're looking for a rental home, cottage, cabin, etc., AirBNB.com is the perfect search site. For just $110 per night we rented a 100 year-old 2 bedroom home in the town of Devore, just 15 minutes from Wrightwood outside the San Bernardino National Forest.
To avoid traffic, we left on a Saturday morning. About halfway to our destination, we stopped to visit the quaint college town of Claremont, CA. It has a picture-book main street lined with cafes and shops. We had a late breakfast at the 42nd Street Bagel Cafe, which seemed to be the town's hot eatery spot.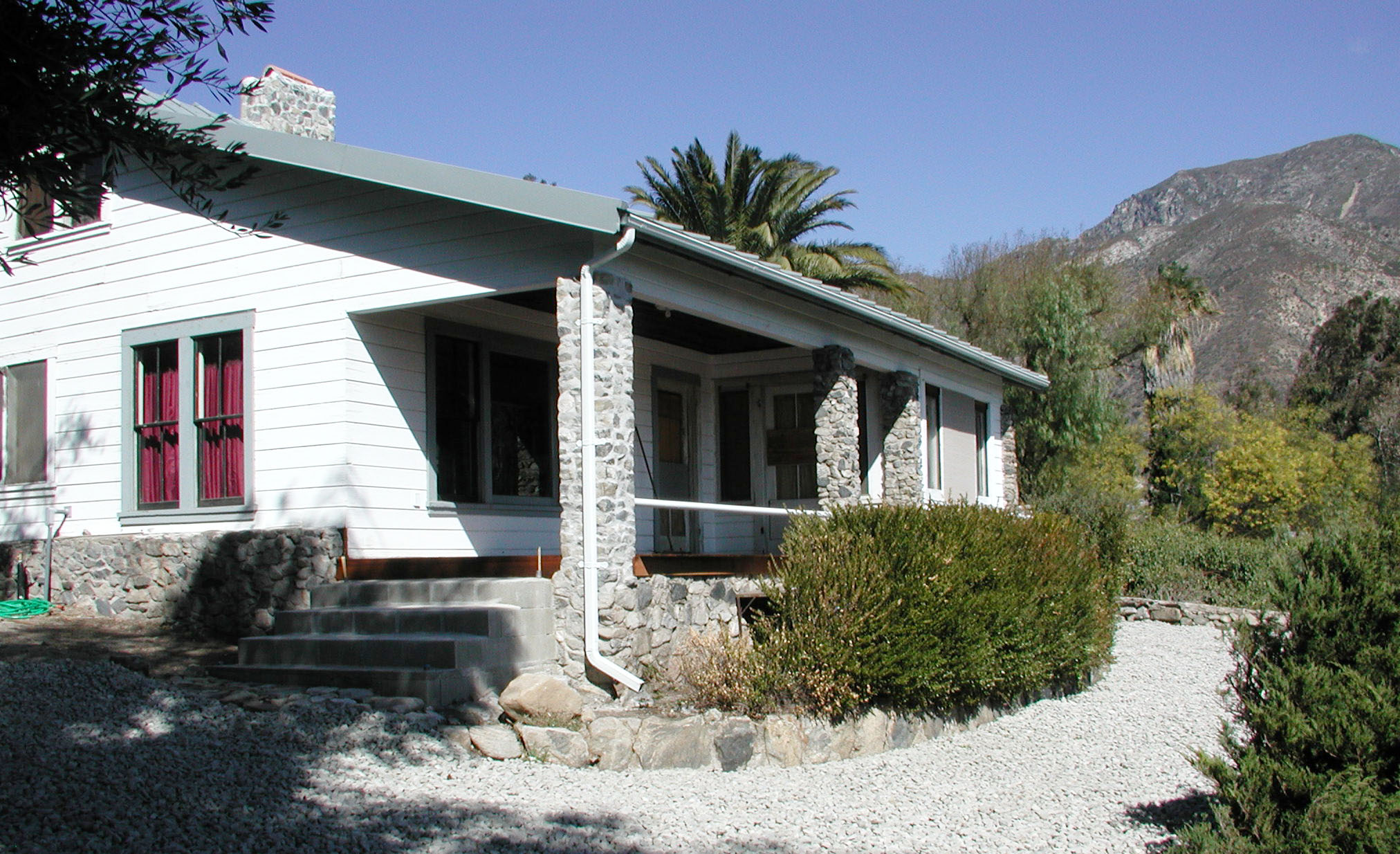 Once we were back on the road, it was only a short while before we came upon lush green mountains with tall pines, which shortly thereafter led us to the town of Devore. After following a winding dirt road we reached our rental. It was quite charming, yet I could not help but think about the horror film, "Cabin In The Woods." Inside there were photos of the original builder's family from the 19th century, a musty old attic and a spooky back house with a lock on it. In the distance, you could hear the choo-choo train going through the Cajon Pass. Legend has it; the ghosts of children can be seen and heard running along the tracks. I looked through old photo books and the guest notebook. But perhaps I shouldn't have… In October of 2011, a guest wrote, "What is that ghost's name running on the porch at night?"
Since we had the luxury of a full kitchen, we decided to pick up some groceries and cook dinner. Our best and only option was the tiny Country Store, the convenience store in town. When it came time to get our rest before ziplining, I couldn't help but be uneasy from all the stories I had read earlier.
In the morning, we took to our main attraction: Wrightwood, CA, which sits at an impressive elevation of 6,000 feet. It is what you would call a one-traffic-light kind of town. The land was originally home to the Serrano Indians, who were used to living in higher altitudes. "Serrano" means "mountaineer." While this was a Spanish nickname given to the Native-American community, they called themselves "Yuharetum," or "people of the pines." In 1891, the Serrano population had decreased significantly and was then a part of The San Manuel Reservation. Later the land evolved into a cattle ranch and is now a mountain resort community where people come from all around the country to fish, ski, hike and of course, zipline.
As for the attractions of Wrightwood, they call it the "Land of Four Seasons." When the fall creeps in, the foliage is an unbelievable sight as all of the leaves change from green to autumn colors. The area is abundant with wildlife sightings from coyotes to bears, big horn sheep and deer. Just be careful when you're hiking! In the summer, tourists can partake in plane gliding at Crystalaire or high speed water skiing and serious sport fishing at nearby Silverwood Lake. But with all of the outdoor activities, I think I discovered the most thrilling one Wrightwood has to offer. After enjoying a delicious made-from-scratch sticky bun at the town's only bakery, we headed to "NAVITAT ZIPLINE" for our Sunday adventure.
Imagine being 300 feet off the ground, attached to a long chord and zooming from one tall pine tree to the next. Zip chords are connected from tree tower to tree tower. Ziplining started during the 1970s in the Costa Rican rainforest, canopy tours originally guided guests into the treetops to experience the rich biodiversity and to learn more about the natural world. If you want to take the leap, there are a few requirements: You must weigh between 90 and 250 pounds and be at least 10 years old. This is definitely an activity in the same category as rock climbing and hiking, so athleticism and energy is a must!
While Navitat has several different tours, we opted for the MountainView Zipline. It includes six zips with two blood-pumping free-fall rappels and three short hikes among towering Ponderosa and Jeffrey pine trees. Within the 2 1/2 hour tour, you are part of a less than 10 person group with two guides. They take you through the necessary precautions and get you all strapped up with your zip gear, helmet and gloves. A shuttle takes you up into the mountains where you meet your first Zip station. The group is taught two short zips; how to maneuver through the zip ride and how to break and land back at the end point station. Once zip school is over, you're off! It's easy to get the hang of breaking and zooming in mid-air. Just be sure not to close your eyes, and remember to take in the beautiful scenery. Depending on the type of tour, packages range from $99 to $195. They provide group tours if you want to bring friends and family; and even a racing zipline.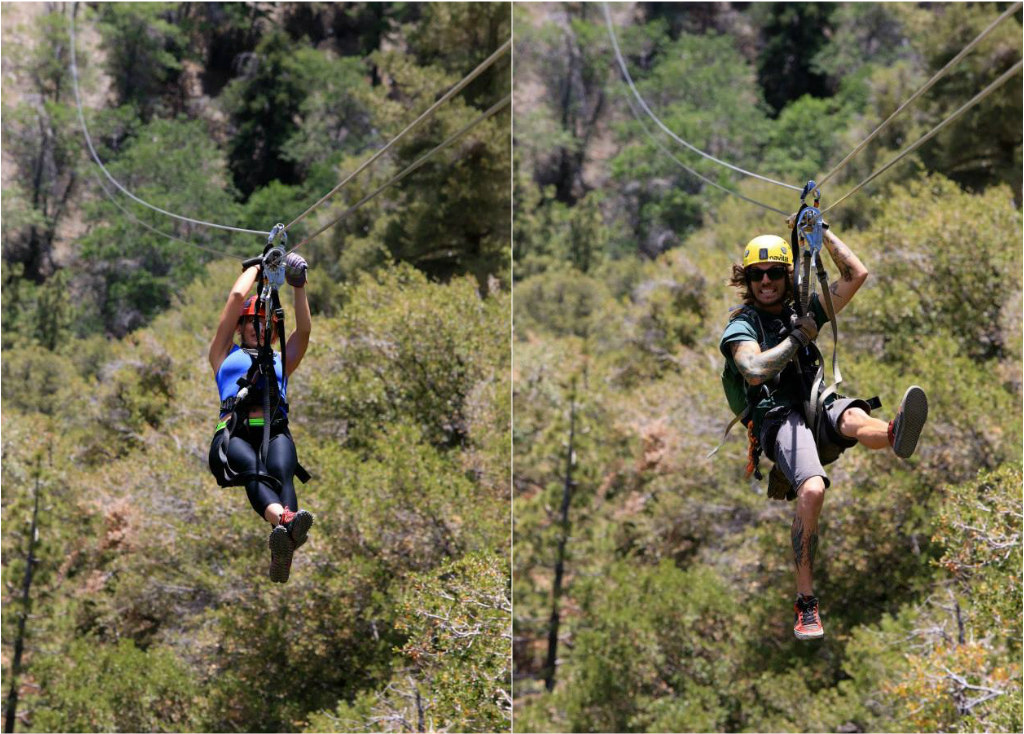 Navitat tour guides are energized and always pumping you up for your next zip ride. I have to give a shout-out to our two guides, Cory and Pohai who made our experience a thrilling one. You have to be a risk-taker and when they say "jump" – you jump! In between your zips, you have no choice but to leap hundreds of feet down from the top of a tree platform in order to get to the next station. That's when the "True Blue" comes in handy. You are strapped to a bungy-like chord; you turn your back to the edge of the platform and jump off. Not to worry, with the help of your guide and the chord, you slide through the air and down to the ground below.
Like riding a roller coaster, feeling the rush of ziplining becomes addicting the second or third try. Skiing may have once been the main visitor draw to Wrightwood, but now I think it's definitely Navitat zipline.
Once we said our goodbyes to the Navitat guides, it was late into Sunday afternoon and time to head back to LA. Luckily, it's a short ride home.
For all of the California thrill-seekers, put Wrightwood on your weekend travel list.
By Pamela Price
For more info on Wrightwood visit: http://wrightwoodchamber.org
To book your Zipline tour visit: www.navitat.com or call 1-855-NAVITAT (855-628-4828)