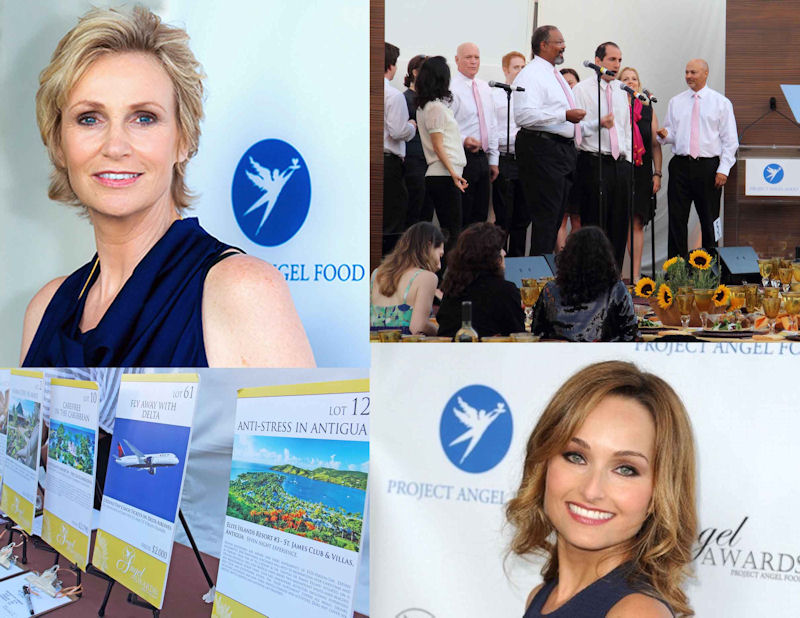 It was a beautiful and charitable evening under the stars at Project Angel Food's Angel Awards 2013 on Saturday August 10th.
The evening began with a silent auction filled with exotic vacations, gourmet dinners, wine, jewelry and more. After, the 400 guests enjoyed a Tuscan themed dinner made with organic produce from Angel Food's very own gardens. The evening's toast was to award-winning actress Jane Lynch, star of "Glee" and host of "Hollywood Game Night," for her philanthropic leadership and advocacy on behalf of local-community based charities. Giada De Laurentiis, celebrity chef and Food Network star, was also honored at the event with the organization's first Iconic Chef Award recognizing De Laurentiis' leadership in helping people connect delicious food with nutritious eating and a healthy lifestyle. A slew of celebrities came out to support the cause: Juno Temple ("Lovelace," "Afternoon Delight"), Bryce Dallas Howard ("The Help"), Seth Gabel ("Arrow," "Fringe"), Marianne Williamson (Founder, Project Angel Food), Tricia Helfer (ABC's "Killer Women"), Nolan Funk (MTV's "Awkward," "The Canyons"), Sara Rue ("Popular," "Malibu Country"), Susan Blakely (Lifetime's "The Perfect Boyfriend"), Dan Bucatinsky (ABC's "Scandal"), Don Roos (Writer/Director, "Web Therapy"), Marguerite Moreau (Samsung's "D-TEC," "Stress Position"), Christopher Redman ("Percy Jackson: Sea of Monsters," USA's "Graceland"), Rick Fox (VH1's "Hit the Floor"), Eliza Dushku ("The Scribbler"), Doug Spearman (Writer/Director, "Hot Guys with Guns"), Bridget McManus ("Cowgirl Up"), Lawrence Zarian (Style Expert for "Live w/ Kelly & Michael" and "Steve Harvey"), Mila Hermanovski ("Project Runway All-Stars"), Sam Pancake (NBC's "Growing Up Fisher"), Darren Star (Creator, "Sex and the City"), Meredith Baxter ("Glee," "Family Ties"), Samuel Larsen ("Glee" & "The Glee Project"), Kat Kramer ("Kat Kramer's Films That Change The World"), Carrie Keagan (VH1's "Big Morning Buzz Live with Carrie Keagan"), Mark Cirillo ("The Last Straight Man"), Joan Dangerfield (Producer, "It's Not Easy Bein' Me"), Richard Simmons ("Project H.O.P.E."), Geri Jewell ("Deadwood") and from "The Young and the Restless:" Jeff Branson, Jessica Collins and Christian LeBlanc.
Entertainment was be provided by The Harvard Yardbirds. Later on, a live auction was called by Dan Bucatinsky, a recent Emmy-nominee for his work on ABC's "Scandal." Dan was joined on stage by the non-profit's newly appointed CEO Laurie Lang. Money raised from the evening will help fund the preparation of over 12,000 nutritious meals a week which Project Angel Food, with help from professional chefs and local volunteers, delivers to those with HIV/AIDS, Cancer and other life threatening illnesses in Los Angeles County. Founded in 1989 by Marianne Williamson, next year will mark Project Angel Food's 25th anniversary.
Open your heart, volunteer and learn more at: www.angelfood.org