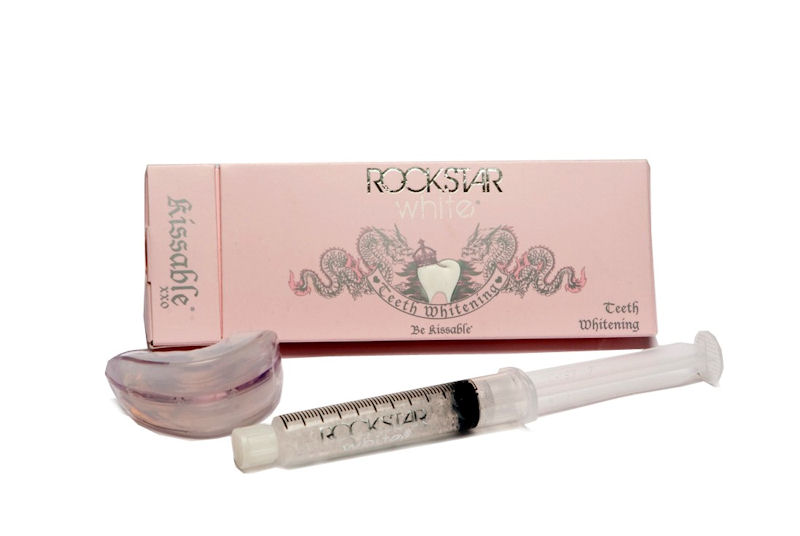 ROCKSTAR White is a high strength over the counter teeth whitening system. ROCKSTAR White was founded in 2007 by a periodontist, Dr. Dennis Hunt. He did not initially set out to create a whitening product but an antimicrobial agent for his patients that would not stain teeth like most others do. "There is a definite disadvantage for treating patients with products that stain the teeth. Patients end up not liking the looks of their teeth and get disappointed," says Dr. Hunt.
What Dr. Hunt searched for was a strong antimicrobial gel that would be safe enough to use daily and not stain teeth brown. Dr. Hunt began to experiment with hydrogen peroxide. Our bodies use hydrogen peroxide to kill bacteria and other microbes. Hydrogen peroxide is released by neutrophils when neutrophils come in contact with microbes (germs). The use of hydrogen peroxide would mimic the bodies own natural defense system and even whiten the teeth.
Dr. Hunt developed a carbamide peroxide solution that was made safe for extended use for the gums and teeth with desensitizers. The results showed the product to be a great adjunct to soft tissue management programs and post surgical wound healing. Patients loved the results. There was no more staining of the gums and teeth.
ROCKSTAR White "Be Kissable" – The pink box was designed to represent and donate a percentage of the sales profits to Breast Cancer Research.

ROCKSTAR White "High Energy" – In black packaging with a spearmint flavor.
Both the "Be Kissable" & the "High Energy" formulas are natural, safe for teeth and gums and are made in USA. Ingredients are all natural, kosher and NOT tested on animals. Rockstar White uses tried and true dental products with long safety records.
$47.95 for 27 treatments www.rockstarwhite.com
Available at global dental offices and at www.RockStarWhite.com