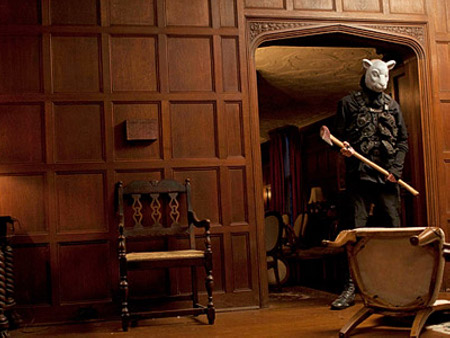 Fear is primal. The emotion doesn't have a budget. It doesn't care about A-list celebrity talent. And it can affect everyone; even someone as masculine as myself.  Shot for less than a million dollars, and featuring a cast without a single household name, director Adam Wingard's  (A Horrible Way To Die) "You're Next," manages to be one of the scariest, goriest, and most primal horror movies of this young decade.
Just like "Scream" and "Cabin In The Woods" before it, "You're Next" is a horror movie for horror fans. It reunites many of the filmmakers behind 2012's "V/H/S/" — the film that made horror anthologies cool again — with Joe Swanberg (Drinking Buddies),  Simon Barrett (Dead Birds), and Ti West (The House Of The Devil). The cast also includes such indie gore regulars as Nicolas Tucci (Choose) and Barbara Crampton (Re-Animator).
By setting up a situation that scary movie fans are familiar with, however, Wingard and Barrett (the screenwriter) are able to play with audience expectations. The first time we meet Erin (Sharni Vinson) and Crispian (AJ Bowen) as they make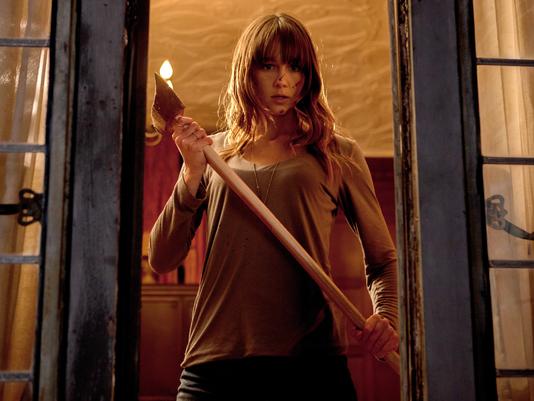 their way to a secluded mansion in the suburbs of Missouri, we are already building an opinion about the two characters. We can't help it. With her good looks and helpful personality, horror fans begin to classify Erin as a survivor, not butcher bait. But as Crispian introduces Erin to the rest of his family, we meet an entire cast filled with likable people. At first, no one fits the classic 'you're next' mold slasher movies love to use.
As Crispin and his family become under attack by a gang of barnyard animal mask wearing psychopaths, Wingard breaks the horror mold again by elevating Erin from a weekend date to a meat tenderizer wielding bad ass. Erin doesn't shy away from basements, unlocked windows, and otherwise shady situations. She runs, gung-ho, into the areas of the house typically associated with death and dismemberment. While there is plenty of bloody mutilation, Erin never shrieks, wines and cries like the typical horror movie female.
"You're Next" will more than satisfy anyone that enjoys watching movies partially shielded by hands or fingers. Even diehard horror aficionados will struggle to keep up with Wingard and Barrett's many twists and turns.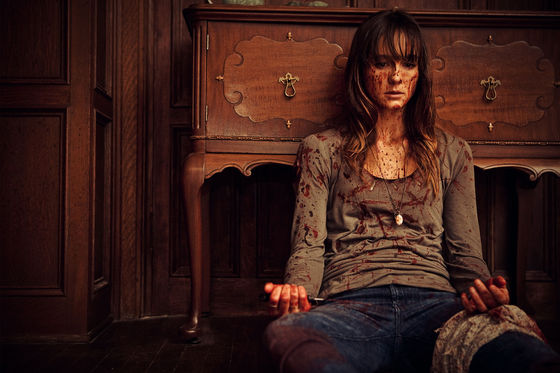 But for a movie that has so much gore and violence, it is also surprisingly funny. From inappropriate slow-motion sequences, to hilarious sibling banter amidst so much suffering, and even one particular character's desire to make love next to a dead person, "You're Next" uses the ridiculous nature of the horror genre in unique and intelligent ways.
"You're Next" isn't so much a title as it is an impending reality for Adam Wingard. The director looks destined to become Hollywood's next killer horror director. 
By David Morris