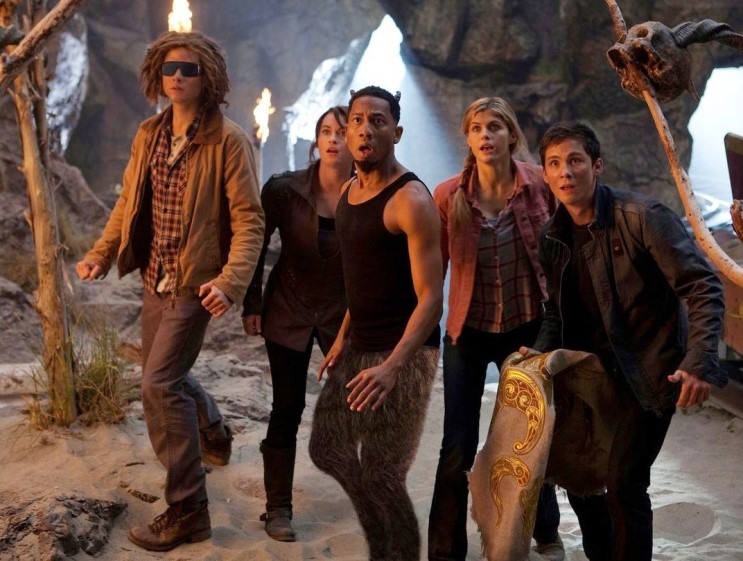 Proving that the Greek Gods are relevant far beyond High School English classes and high-brow art museums, "Percy Jackson: Sea of Monsters" is a classic hero's journey set in modern times. Even though it's been three years since the original debuted in theaters, the sequel to 2010's "Percy Jackson & The Olympians: The Lightning Thief" has definitely matured rather than wilted with age. For an ancient civilization that is lauded for its tragedies, Hollywood's adaptation of Rick Riordan's young adult novel is anything but disastrous.
In taking the directing reins away from Chris Columbus, Thor Freudenthal (Diary of a Wimpy Kid), ironically enough, is able to navigate the audience on a much more action packed, enjoyable story than the original film. The German born director doesn't waste any screen time reintroducing characters from the first movie. Instead, he immediately thrusts Percy (Logan Lerman), his half-man/half goat sidekick Grover (Brandon T. Jackson), his friend that also happens to be a girl Annabeth (Alexandra Daddario), and his Cyclops half-brother Tyson (Douglas Smith) on an epic quest to find a magical Golden Fleece.
But why does this fleece matter?
A really creative stained glass window animation explains that the soft blanket has the ability to fix the now defunct anti-demon wall that protects Percy and his friend's home. So yeah, this isn't just some L.L. Bean throw blanket. The Golden Fleece is kind of a big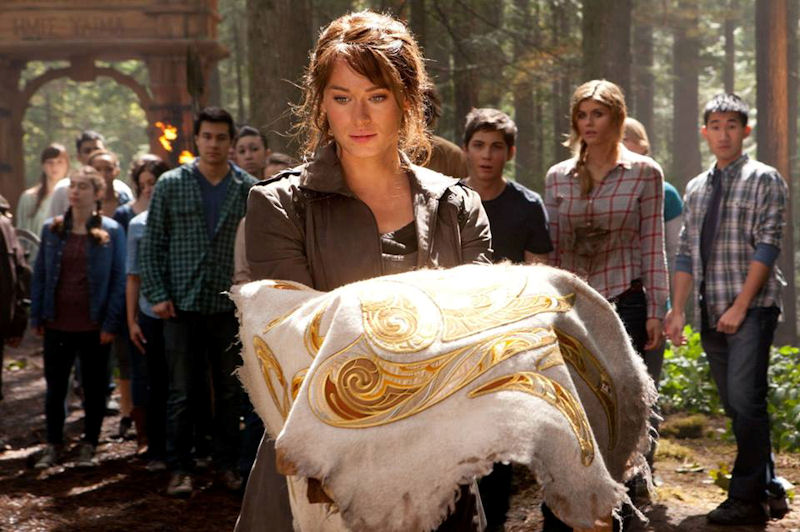 deal.
Even after saving the entire world from falling victim to Hades, Percy is feeling the full force of teenage inadequacy when we first meet him. Yes, it seems even the mighty son of Poseidon cannot help but feel a little depressed sometimes. Making matters even worse, camp-leader Mr. D (Stanley Tucci) chooses Percy's arch-nemesis Clarisse (Leven Rambin) instead of him to spearhead the quest to find the Golden Fleece.
By giving Percy an underdog quality, the audience can relate to him so much more than in the original. Despite his impressive super-powers, Percy doesn't always succeed. More often than not, he needs his friends' help to take down the giant beasts they come across. Percy might still live in the woods and fight with magical sword pens all day instead of read Cracked and Buzzfeed articles like the rest of us, but at least he's made a little more human this time around.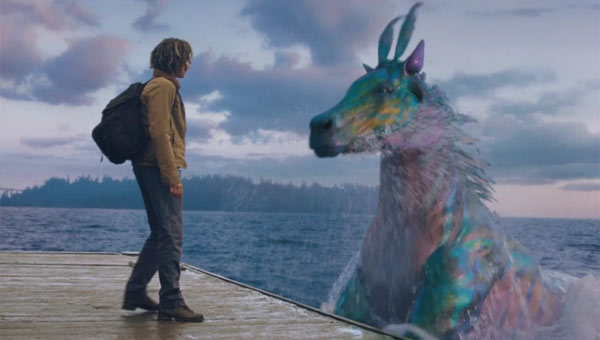 With so much emphasis placed on fantastical creatures and mythical beasts, thank the Gods for Fox's superb special effects department. From daunting hellish ghouls to majestic, rainbow colored Hippocampi (fun fact: the plural form of hippocampus is, in fact, hippocampi), every monster from Greek mythology is brought to life in glorious 3D. With the impressive visual effects work by Shaun Friedberg, it's easy to see why Percy needs to rely on his cronies for more than just comedic relief.
While Pierce Brosnan doesn't reprise his role as the hairy Centaur Mr. Brunner, Thor Freudenthal's "Percy Jackson: Sea of Monsters" is the best possible sequel to the franchise. By elevating the performances of as many of the original cast members as possible (especially Logan Lerman's Percy), focusing on the human half of demi-gods more than the all-powerful side, and setting up a story that has plenty of room for great action sequences, Freudenthal shows that he is a cinematic bard of the highest degree.
By David Morris
http://www.percyjacksonthemovie.com/us/