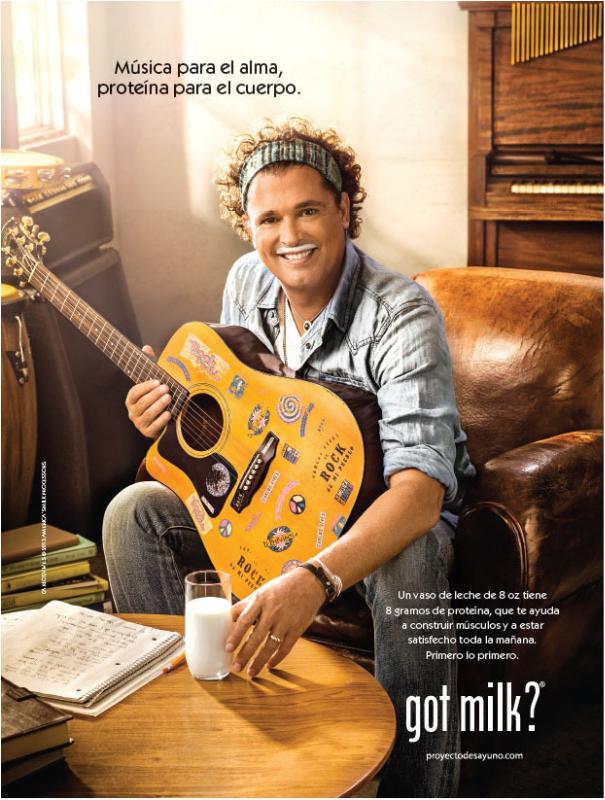 Here's a little "Got Milk?" promo! Currently on world tour, multi-platinum recording artist, actor, entrepreneur, and father of four, Carlos Vives powers his mornings with milk's high quality protein at breakfast. Best known for his care-free essence and deeply rooted music style, Carlos isn't laid back about his family's nutrition.  He ensures that he and his children start every day with a good breakfast including naturally nutrient-rich milk. With 9 essential nutrients including more protein than an egg, it's a go-to for this busy dad.
Making it into the hearts and homes of Hispanics across the country with his vallenato tropi-pop fusion tunes, and adoration for his family… it was no surprise he is the perfect choice as the face of the new Hispanic got milk? campaign. The got milk? ad with Carlos Vives will launch in national Hispanic magazines next month highlighting the benefits of starting the day with milk's 8 grams of protein in every 8oz serving.
"I love to drink an ice cold glass of milk with breakfast.  It gives me protein and other nutrients I need and energy to help me get through my morning and prepare for my performances," said Vives.