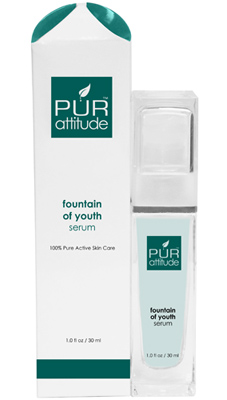 Ever heard of the Fountain of Youth? What if you could find it in a bottle? PUR attitudeTM announced the release of Fountain of Youth, an anti-aging serum that addresses the multi-faceted scientific aspects of aging skin and produces a safe, high-performing antidote. 
Founder David Pollock says, "This product was in development for three years. But, more accurately, it is the result of decades of industry research in natural skin care that I have had the pleasure to take a leadership role in. I've always believed it was possible to create this type of product naturally. And it is my pleasure to bring Fountain of Youth to the market so that people can benefit from this research."
Fountain of Youth is enhanced with the power of natural HyaluronixTM technology, which delivers up to one thousand times its weight in water, binding moisture deeply into the skin. This power-packed serum combines proprietary Hyaluronix with advanced peptide science to increase the production of collagen and elastin to create firmer skin and less visible wrinkles. It includes:
54% Increase in skin oxygenation

90% Increase in skin hydration

Visibly reduces wrinkles up to 56%

Increases cell renewal by up to 85%

Boosts collagen & firms skin up to 128%

Cleanses & exfoliates in one time-saving step
For more information, go to www.PURattitude.com.