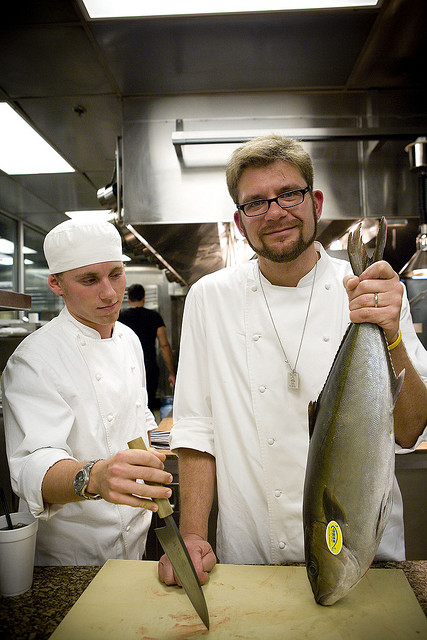 It's almost that time of year again… THE TASTE food extravaganza. The Los Angeles Times today announced the co-hosts for its annual celebration of the Southern California culinary scene.
Esteemed chefs Michael Cimarusti, Sang Yoon, Nancy Silverton and cocktail chef Matthew Biancaniello will each join a member of The Times renowned Food staff to present one of the five distinctive events that comprise THE TASTE's Labor Day weekend festivities, held again at Paramount Pictures Studios.
From the Opening Night kick-off celebration on Friday, August 30th to the final sip taken at Cocktail Confidential on Sunday, September 1st, each TASTE event will feature unlimited tastings, specialty cocktails, wine seminars, live demos with our hosts (and more) and, of course, inspired conversations.
Opening Night Presented by Tequila Don Julio. All of our hosts and many of the weekend's participating chefs and bartenders will come together for a special opening night soirée with a focused collection of tastings, distinctive cocktail and wine offerings, and live entertainment. Limited tickets available; Fri., Aug. 30th, 7:30 to 11:30 p.m.
Field to Fork – Hosted by Russ Parsons, Times Food Editor, and Michael Cimarusti, Chef/Owner of Providence, Chef/Partner of Connie and Ted's. A day inspired by fresh, local ingredients and the pleasures of cooking – and eating – seasonal dishes; Sat., Aug. 31st, 11 a.m. to 3 p.m.
Flavors of L.A. – Hosted by Jonathan Gold, Times Restaurant Critic, and Sang Yoon, Chef/Owner of Father's Office and Lukshon. An evening of authentic dishes from around the world via the best local restaurants; Sat., Aug. 31st, 7:30 to 11:30 p.m.
Labor Day Block Party – Hosted by Noelle Carter, Times Test Kitchen Director, and Nancy Silverton, Chef/Co-Owner of Osteria Mozza and Pizzeria Mozza, and Founder of La Brea Bakery. A bash saluting those perfect end-of-summer dishes, to be enjoyed with family and friends; Sun., Sept. 1st, 11 a.m. to 3 p.m.
Cocktail Confidential – Hosted by Betty Hallock, Times Deputy Food Editor, Jessica Gelt, Times Food & Night Life Writer, and Matthew Biancaniello, Los Angeles Cocktail Chef. A night dedicated to the gastronomic creations and libations that typify cocktail culture; Sun., Sept. 1st, 7:30 to 11:30 p.m.
Tickets are available now:
Opening Night: $125, limited availability
All other TASTE events: $50 early-bird discount through July 14th or $65 in advance and $85 at the door
A 20% discount on individual tickets is available to all Los Angeles Times members.
For those looking to make a weekend out of it, select area hotels are offering ticket and accommodation packages.
Los Angeles Times THE TASTE is produced in association with Best Events. Sponsors include Cadillac, Icelandic Glacial, Stella Artois and Svedka. Details and tickets: www.latimes.com/thetaste.