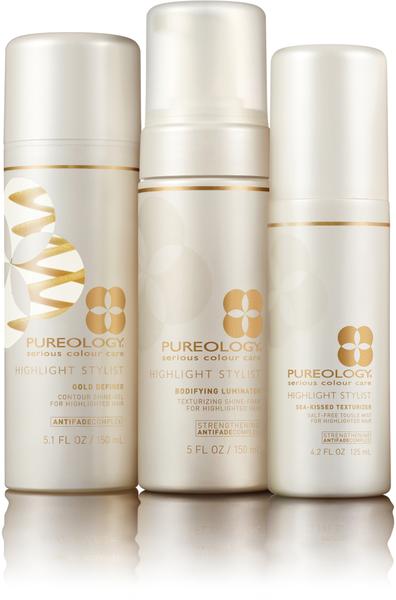 As highlighted hair has a higher porosity than other colour-treated hair types, it requires special attention. Pureology introduces Highlight Stylist, the first-of-its-kind lightweight texture and highlight enhancers.
The Highlight Stylist system contains unique styling formulas – powered by Red Algae extract and Pureology's proprietary Strengthening AntiFadeComplex™– that lightly texturize and define hair while protecting highlights and enhancing colour vibrancy. Unlike regular styling products, natural reflective porosity fillers even out excessive light traps, creating a smooth reflective surface while styling, for maximum shine. The result is multiplied colour vibrancy and longer lasting hair colour, guaranteed. This system is free of salt, parabens and mineral oil and includes a full range of products that are designed to not only preserve hair colour from root to ends with a shine-gel, shine-foam, and salt-free tousle spray but also strengthen the hair fiber.
For Smoothing Frizz Control
Gold Definer™ contour shine-gel: Gold mica-infused formula controls frizz and illuminates highlights with lustrous shine. Great for a long-lasting smooth blowout. Can be used on wet or dry hair.
For Voluminous Body
Bodifying Luminator™ texturizing shine-foam: Lightweight formula adds lasting body and fullness while illuminating highlights with multi-dimensional shine.
For Tousled Waves
Sea-Kissed Texturizer™ salt-free tousle mist: Colour conscious, salt-free spray creates lightweight, day-at-the-beach texture with radiant shine. Added texture benefit when layered without adding weight or stickiness.
The Highlight Stylist collection features:
Reflective Porosity Fillers: Olive, apricot and jojoba oils help fill in the gaps on the cuticle to bring out optimum brilliance.
Natural Texturizer: Naturally derived, food grade red algae provides lightweight texture without dulling, mattifying or weighing hair down.
Strengthening AntiFadeComplex™: Keravis-infused complex provides internal and external strengthening for breakage protection and optimum colour retention.