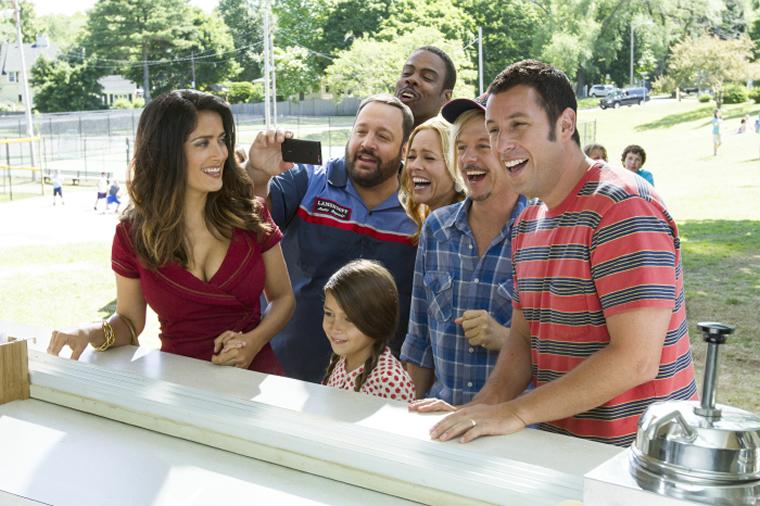 Adam Sandler is one of those reliable actors that always gives the audience the same type of performance in every film he releases.  More often than not, Sandler and the rest of his raunchy  rag-tag clan of comedic hooligans lay the jokes low and aim their slapstick groin kicks and punches even lower. "Grown Ups 2" is the typical "Happy Madison" romp, but enjoyable acting and a stellar cast elevate the film to a level the original was never able to reach. Even with the putrid scent of a burb snart still wafting in the air, Sony's sequel to last year's "Grown Ups" comes away smelling a lot fresher.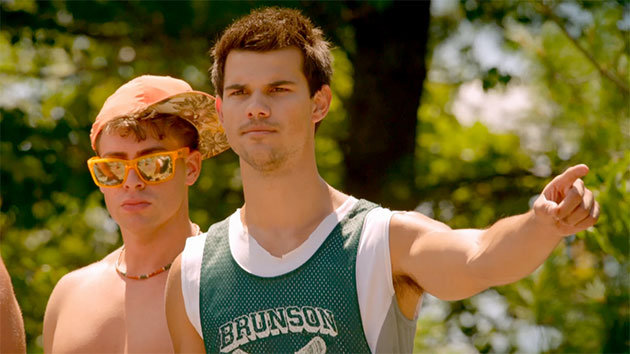 Just like in the first film, "Grown Ups 2" makes sure to give each of its four main stars (Adam Sandler, Kevin James, Chris Rock, and David Spade) just enough individual camera time before binding them at the hip for the remainder of the film. These brief introductions allow each character to clearly express their respective narrative arc, as well as give them the opportunity to make the audience laugh before passing the comedic baton along to the next friend. Larry (Sandler) needs to learn how to stick up for himself, Eric (James) has to accept his children for who they are, Kurt (Rock) must embrace his African American roots, and Marcus (Spade) should probably learn to get along with his son before he ends up killing him. All of these internal conflicts are centered around a giant summer vacation party that is going to be held at Larry's house. While this simplistic plot structure may not be very original, it does lead to some hilarious comedy.
Larry, Eric, Kurt, and Marcus have apparently become a lot closer in the 10 months since Larry quit his Hollywood Agent job
 and moved back to his hometown. Now, instead of poking fun at each other, they let loose on the local townspeople — especially a group of lacrosse loving frat bros headlined by Taylor Lautner. This type of verbal sparring is so much better. No character is safe from "Roast" style ridicule, but no one is brought to tears either.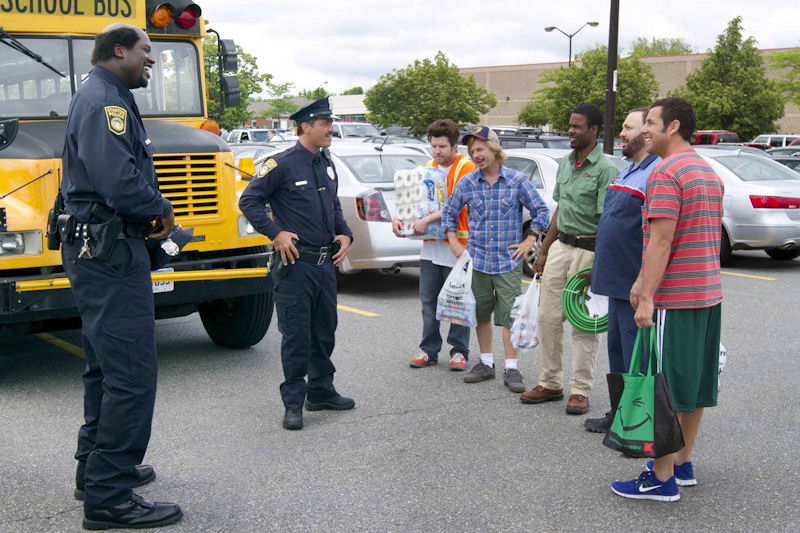 Taylor Lautner isn't the only fresh addition to the cast. Nick Swardson, Jon Lovitz, Shaquille O'Neal, Andy Samberg, and even Wayne Gretzky's daughter Paulina share the screen with the original cast. No matter how small the role, each supporting cast member fully embraces his or her role, and helps to elevate the performances of the regular cast.
On the "Sandler scale of stupidity," a patent pending expression I just coined, "Grown Ups 2" falls somewhere between "50 First Dates" and "Click." It is definitely not his worst film, by a long shot, but some of the film's jokes still feel a little dated for 2013. Both die-hard and casual Sandler fans, however, will still thoroughly enjoy this flick.
Oh, and those of you still trying to figure out what a Burb Snart is will just have to go see the movie to find out. I don't want to spoil the surprise for you.
By David Morris