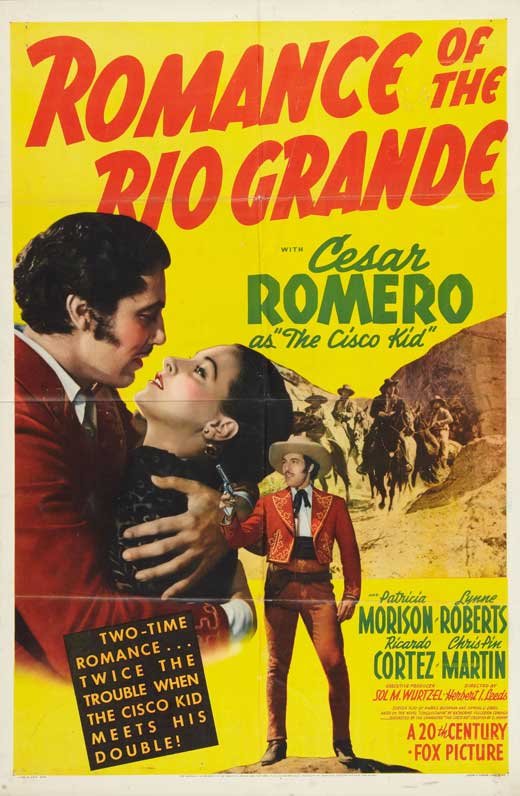 Twentieth Century Fox Home Entertainment is debuting a new collection of classic films on DVD from their popular Fox Cinema Archives throughout the month of July.Launched in 2012, Fox Cinema Archives includes more than 180 classic films drawing from the studio's rich catalog. The collection dives into the studio's vault to resurrect some of the legendary films of the twentieth century to release on DVD for the first time.
In the coming weeks, 23 classic films will be added to the archives, offering film aficionados the opportunity to purchase a variety of iconic films at major top-tier retailers. Available now…
Romance of the Rio Grande (1941), 73 min.

When a rancher's grandson is found murdered, The Cisco Kid, played by Cesar Romero, doubles for him in order to see who is plotting to inherit the ranch. The film also stars Patricia Morison and Lynne Roberts.
A Walk with Love and Death (1969), 90 min.
Directed by John Huston, this story set during the Hundred Years' War follows a student who has abandoned his studies in Paris and pairs with a young noblewoman (Anjelica Huston) with whom he has fallen in love with.
The Salzburg Connection (1972), 93 min.
Barry Newman plays Bill Mathison, an American lawyer on vacation in Austria who gets more than he bargained for. When his photographer vanishes, he becomes involved in an international thriller surrounding a chest that contains the names of Nazi collaborators.
Hilda Crane (1956), 87 min.
Jean Simmons plays Hilda Crane, a New York City woman who returns to her hometown after two failed marriages. Once there, she entices the town gossip and an ex-lover, only to have his overbearing mother try to sabotage their relationship.
Mardi Gras (1958), 107 min.
A military school cadet (Pat Boone) enters a contest and wins a date for his graduation with a beautiful French movie star (Christine Carère). However, when the two meet during Mardi Gras and hit it off, him not knowing her identity, her agent and the movie studio publicize their romance, putting their love to the test. Mardi Gras was nominated for an Oscar® for Best Music, Scoring of a Musical Picture and won a Golden Laurel® for Top Male Musical Performance (Boone).
A Flea in Her Ear (1968), 94 min.
When a woman (Rosemary Harris) suspects her husband (Rex Harrison) of having an affair, she sets a trap for him but ends up being the one surprised. Louis Jourdan and Rachel Roberts also come along for the wild ride.
Staircase (1969), 98 min.
Based on Charles Dyer's Broadway play about a gay couple, Staircase stars Rex Harrison and Richard Burton as a pair of aging hairdressers in this film directed by Stanley Donen and with original music provided by Dudley Moore.