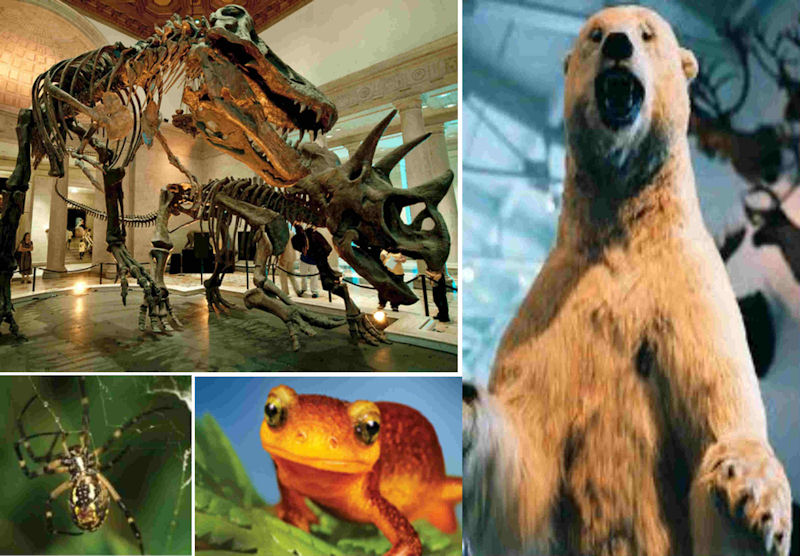 Saturday in Los Angeles reached a high of 100%+! I had to get out of the heat so I ventured to somewhere cool (on many different levels): The Natural History Museum. You can spend an entire day exploring all of the different exhibits. Their new ad campaign, "Newt and Improved" attracted my attention.
Before rushing to see the Newt addition, I stepped into the Dinosaur Hall – one of the most fascinating sights. The LA Museum has some of the few completed dinosaur fossil forms in the world. Inside are more than 300 real fossils, and 20 complete dinosaurs and ancient sea creatures. For families, there are interactive touch screen videos where children can learn fun dino facts. Walk through the Dino Lab to go behind the scenes where museum archeologists study and treat found fossils.
Across the hall are the lessons of evolution with an exhibit of mammals. Downstairs is the Insect Zoo. If you're squeamish around bugs – don't worry, they're either dead on display or crawling behind glass. Experts are on hand to answer your questions about these incredible insects from African spiders to scorpions.
Outside is the Nature Lab, a ½-acre urban habitat where visitors can track species with our scientists, spot hummingbirds and butterflies, take nature walks, learn to garden, get their hands dirty, or wander through the lush greenery.
As for the star of the hour – The California Newt may be small but it's a beautiful creature with a bright orange body. The Newt and everything the museum has to offer is well worth the trip downtown LA. Make the NHM a must-see this summer!
For address and ticket info visit: http://www.nhm.org