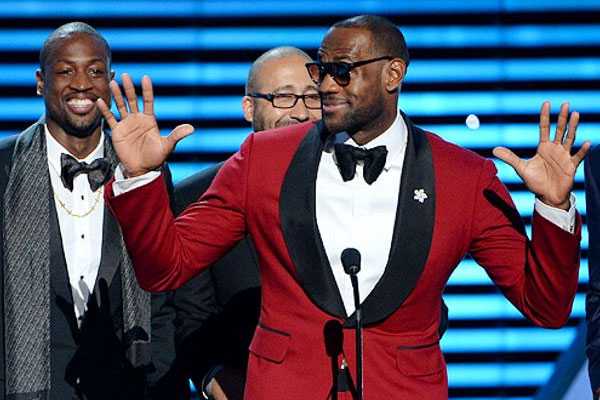 Capping off a great year in sports, athletes, celebrities, and socialites were out in full force for the 2013 ESPY Awards yesterday. While there were plenty of winners last night, not everyone was able to go home a winner. With Jon Hamm handling hosting duties, and Selena Gomez as on of the many presenters, this year's ESPYs were one to remember. NBA star LeBron James was the true star of the night, as he went home with three awards. Here is a list of this year's winners.  
Best MLB Player: Miguel Cabrera
Best Male Olympic Athlete: Michael Phelps
Best Male College Athlete: Johnny Manziel
Best Championship Performance: LeBron James
Best NBA Player: LeBron James
Best NFL Player: Adrian Peterson
Best Breakthrough Athlete: Colin Kaepernick
Best Comeback Athlete: Adrian Peterson
Best Game: Heat Vs. Spurs Game 6
Best Record-Breaking Performance: Michael Phelps
Arthur Ashe Award For Courage: Robin Roberts
Best Female Athlete: Serena Williams
Best Moment: Jack Hoffman
Best Upset: Florida Gulf Coast Over Georgetown
Best Male Athlete: LeBron James
Jimmy V Perseverance Award: Team Hoyt (Dick and Rick Hoyt)
Best Play: Jadeveon Clowney
Best Team: Miami Heat
For a full list, head to http://espn.go.com/espys/2013/.