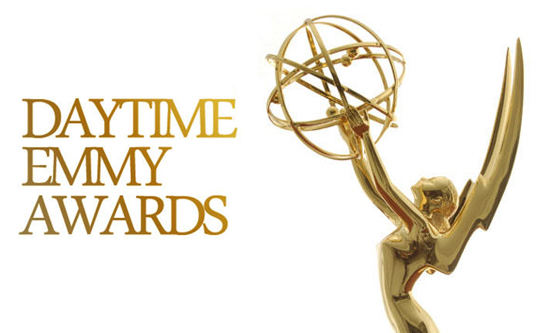 The 40th Annual Daytime Entertainment Emmy® Awards return to the prestigious Beverly Hilton Hotel in Beverly Hills, CA this year and will be telecast tonight Sunday evening, June 16, 2013 at 8-10 p.m., ET/PT on the Turner Broadcast Networks, HLN.
ABC's Good Morning America's Sam Champion will host along with HLN's own A.J. Hammer and Robin Meade. Additionally, Kathy Griffin,Rachael Ray, Dr. Drew Pinsky, Erika Slezak, Kristen Alderson, Nancy Lee Grahn, Lindsey Morgan, Freddie Smith, the ladies of "The Talk" including Julie Chen, Sharon Osbourne, Sara Gilbert, Aisha Tyler and Sheryl Underwood, Jason Thompson, Chandler Massey and Jacqueline MacInnes Wood have also been confirmed to present. As for the nominees up for the golden statuette…
OUTSTANDING DRAMA SERIES
The Bold and the Beautiful                                CBS
Bradley P. Bell, Executive Producer
Rhonda Friedman, Edward J. Scott, Supervising Producers
Ronald W. Weaver, Senior Producer
MarkPinciotti, Coordinating Producer
Cynthia J. Popp, Colleen Bell, Casey Kasprzyk, Producers
Days of Our Lives                                                 NBC
Ken Corday, Executive Producer
Lisa de Cazotte, Greg Meng, Co-Executive Producers
Janet Drucker, Tim Stevens, Coordinating Producers
Albert Alarr, Producer
General Hospital                                                   ABC
Frank Valentini, Executive Producer
Mary-Kelly Weir, Michelle Henry, Mercer Barrows, Producers
One Life To Live                                                   ABC
Frank Valentini, Executive Producer
Suzanne Flynn, Senior Producer
John Tumino, Mary-Kelly Weir, Sonia Blangiardo, Producers
Jacqueline Van Belle, Coordinating Producer
The Young and the Restless                             CBS
Maria Arena Bell, Jill Farren Phelps, Executive Producers
Jay Gibson, Consulting Producer
Sally McDonald, John Fisher, Tony Morina, Supervising Producers
OUTSTANDING CHILDREN'S ANIMATED PROGRAM
Kung Fu Panda: Legends of Awesomeness           Nickelodeon
Peter Hastings, Executive Producer
Bret Haaland, Co-Executive Producer, Supervising Producer
Randy Dormans, Gabe Swarr, Supervising Producers
Andrew Huebner, Producer
Penguins of Madagascar                                             Nickelodeon
Bob Schooley, Mark McCorkle, Executive Producers
Bret Haaland, Co-Executive Producer
Nick Filippi, Ant Ward, Chris Neuhahn, Supervising Producers
Andrew Huebner, Producer
Robot and Monster                                                        Nickelodeon
Dave Pressler, Joshua Sternin,
J.R. Ventimilia, Executive Producers
Martin Leeper, Jim Schumann, Supervising Producers
Monique Beatty, Producer
Teenage Mutant Ninja Turtles                                     Nickelodeon
Joshua Sternin, J.R. Ventimilia, Peter Hastings,
Ciro Nieli, Executive Producers
Ant Ward, Supervising Producer
MacGregor Middleton, Producer
WordGirl                                                                           PBS
Deborah Forte, Executive Producer
David Trexler, Supervising Producer
Danielle Gillis, Producer
John Lynn, Line Producer
OUTSTANDING CHILDREN'S SERIES
The Aquabats! Super Show!                                     HUB NETWORK
Sander Schwartz, Bob Higgins, Jon Berrett,
Christian Jacobs, Scott Schultz, Executive Producers
Ritamarie Peruggi, Supervising Producer
Nate Rogers, Justin Lyon, Producers
Irene Diaz Oncley, Line Producer
Everyday Health                                                           SYNDICATED
Dave Morgan, Peter Sniderman, Mark Koops, Jared Tobman,
Ben Wolin, Mike Keriakos, Executive Producers
Mike Odair, Camie Holmes, Eric Day, Co-Executive Producers
R.L. Stine's The Haunting Hour The Series            HUB NETWORK
Dan Angel, Billy Brown, Harvey Kahn,
Kim Arnott, Executive Producers
Jane Stine, Joan Waricha, Co-Executive Producers
Charles Lyall, Dawn Knight, Supervising Producers
SciGirls                                                                            PBS
Richard C. Hudson, Executive Producer
Kathleen Shugrue, Co-Executive Producer
Angie Prindle, Senior Producer
Angela Ewald, Paula Engelking, Producers
Joan Freese, Lisa Regalla, Sarah Carter, Jessica Andrews, Co-Producers
Emily Stevens, Joan O'Brien, Managing Producers
OUTSTANDING PRE-SCHOOL ANIMATED PROGRAM
Bubble Guppies                                                       Nickelodeon
Jonny Belt, Robert Scull, Executive Producers
Ellen Martin, Helen Lebeau, Scott Dyer,
Pam Lehn, Supervising Producers
Allie Strawbridge, Coordinating Producer
Lynne Warner, Producer
Jason Pattan, Line Producer
Dinosaur Train                                                         PBS
Lisa Henson, Halle Stanford, Craig Bartlett,
Wong Kok Cheong (KC), Executive Producers
Sue Bea Montgomery, Producer
Disney Jake and the Never Land Pirates         Disney Channel
Rob LaDuca, Executive Producer
Bradley Bowlen, Line Producer
Mark Seidenberg, Produced and Story Edited by
Justin Time                                                              Sprout
Frank Falcone, Mary Bredin, Executive Producers
Christine Davies, Producer
OUTSTANDING CULINARY PROGRAM
Best Thing I Ever Made                                   Food Network
David Hoffman, Tom Rogan, Lauren Lexton, Eddie Saenz, Executive Producers
Lisa Hockly, Co-Executive Producer
Joan Rantz, Supervising Producer
Erin McCormack, Julia Sir, Producers
Deb Jackson, Line Producer
Bobby Flay's Barbecue Addiction                Food Network
Bobby Flay, Kim Martin, Executive Producers
Frances Alswang, Co-Executive Producer
Lauren Thompson, Jillian Gibbs, Producers
Rebecca Bregman, Line Producer
Giada At Home                                                 Food Network
Dan Fox, Anne Fox, Executive Producers
Recipe Rehab                                                  SYNDICATED
Dave Morgan, Peter Sniderman, Mark Koops,
Jared Tobman, Ben Wolin, Mike Keriakos, Eric Day, Executive Producers
Joann Cianciulli, Clay Murphy, Mike Mihovilovich,
Sheva Mokarram, Co-Executive Producers
Trisha's Southern Kitchen                             Food Network
Ellen Rakieten, Pete McPartland, Jr., Executive Producers
Meghan Hoffman Baehr, Ayesha Rokadia,
Danielle Fiorito, Gary Green, Producers
Francesco Giuseppe Pace, Line Producer
OUTSTANDING GAME SHOW
Cash Cab                                                        Discovery Channel
Antony Tackaberry, Allison Corn, Tom Cohen,
Ben Bailey, Kelly Lueschow, Executive Producers
Stan Hsue, Nick O'Gorman, Supervising Producers
Brian Dean, Coordinating Producer
Colleen Bulger, Kara Janeczko, Angela Harmon, Talia Parkinson, Producers
Ruth Johnston, Kathleen Bailey, Sarah Cattano, Line Producers
Michael Nigro, Christopher Sgueglia, Directors
Adam Markowitz, Jon Chase, Matthew Pack,
Sal Savo, Adam Tobin, Brian Greene, Matthew Schaer, Writers
Family Feud                                                    SYNDICATED
Gabrielle Johnston, Executive Producer
Kristin Bjorklund, Supervising Producer
Brian Hawley, Supervising Producer
Jim, Roush, Coordinating Producer
Sarah Dansby, Producer
Julio Alva, Line Producer
Brad Slaight, Jan Dubin, Segment Producers
Ken Fuchs, Director
Jeopardy!                                                        SYNDICATED
Harry Friedman, Executive Producer
Rocky Schmidt, Lisa Broffman, Supervising Producers
Deb Dittmann, Senior Producer
Bob Sofia, Coordinating Producer
Brett Schneider, Producer
Kevin McCarthy, Director
Steve D. Tamerius, Debbie Griffin, Jim Rhine,
Mark Gaberman, John Duarte, Robert McClenaghan, Writers
Billy Wisse, Editorial Producer/Writer
Michele Loud, Editorial Supervisor/Writer
Let's Make a Deal                                          CBS
Mike Richards, Dan Funk, Executive Producers
Chris Ahearn, Graham Shaw, Supervising Producers
Joseph Mancuso, Coordinating Producer
Amanda Hayward, Supervising Prize Producer
Ben Tritle, Producer
Tyler Marquess, Line Producer
Lenn Goodside, Director
The Price Is Right                                          CBS
Mike Richards, Executive Producer
Evelyn Warfel, Co-Executive Producer
Adam Sandler, Producer
Stan Blits, Sue MacIntyre, Co-Producer
Vanessa Voss, Prize Producer
Tracy Verna Soiseth, Consulting Producer
Ryan Polito, Michael Dimich, Directors
Who Wants To Be A Millionaire                 SYNDICATED
Rich Sirop, Executive Producer/Writer
Meredith Vieira, Co-Executive Producer
Brent Burnette, Geoff Rosen, Supervising Producers
Rob George, Director
Doug Abeles, Craig Rowin, Head Writers
Sara Schaefer, Arthur Chung, Bryan Lasseter,
Danielle Thomson, David Levinson Wilk, Writers
OUTSTANDING LEGAL/COURTROOM PROGRAM
Judge Judy                                                     SYNDICATED
Timothy Regler, Randy Douthit, Executive Producers
Victoria Jenest, Supervising Producer
Kirk Leins, Christopher Thomas, Coordinating Producers
Shannon Weber, Cybil Jordan, Senior Producers
Alex Martinez, Matt Pomfret,
Marisa van den Borre, Gina Madrid, Producers
Judge Judy Sheindlin, Host
Last Shot with Judge Gunn                         SYNDICATED
Matt Battaglia, George Jones, Executive Producers
Mary Ann Gunn, Executive Producer, Host
Rick Roberts, Supervising Producer
Christian Gunn, Producer
The People's Court                                        SYNDICATED
Stu Billett, David Scott, Executive Producers
Philip Vandervort, Supervising Producer
Michele Eppolito, Senior Producer
Liz Marley, Theresa Milana,
Michele Meyd Kosinski, Kathryn Posch, Producers
Judge Marilyn Milian, Host
Curt Chaplin, Harvey Levin, J. Douglas McIntosh, Co-Hosts
OUTSTANDING LIFESTYLE PROGRAM
CAPTURE w/ Mark Seliger                            YouTube
Kevin Law, Executive Producer
Home & Family                                                Hallmark
Woody Fraser, Marty Tenney, Executive Producers
Natalie Thomas, Stacey Patterson, Dan Trunfio, Senior Producers
Monica Acuna, Judith Benezra, Nicholas Birren,
Peter Henken, Jaclyn Merchant, Milena Monrroy,
Laura Pierson, Ronilyn Reilly, Jessica Robertson,
Susan J. Sullivan, Veronica Torres, Amy Webber, Producers
Hayley Christopher, David Lowe, Jennifer Proctor,
Michael Hinkley, Debbie Supnik, Consulting Producers
Susan Sherayko, Line Producer
HOOKED UP w/ Tom Colicchio                     YouTube
Kevin Law, Tom Colicchio, Executive Producers
The Martha Stewart Show                            Hallmark
Martha Stewart, Michael Morrison, Executive Producers
Lisa Wagner, Christina Deyo, Senior Supervising Producers
Fran Brescia-Coniglio, Maryann Vanderventer, Supervising Producers
Greta Anthony, Lenore Welby, Laurie Hepburn, Senior Producers
Nikki Elkins, Barbara Fight, Stephanie Fitzhugh, Mary Forrest,
Courtney Knapp, Molly McGuiness, Mary Elizabeth, Lawrence,
Nell O'Hara, Ashley Nolan, Producers
Calia Brencsons-Van Dyk, Line Producer
My Generation                                                   PBS
David Pepper, Larry Gannon, Executive Producers
Doug Vollmayer, Coordinating Producer
Karen Ryan, Senior Producer
Terri Tolliver, Producer
Andy Field, Regina Lewis, Del Walters, Bita Ryan, Kim Sedmak,
Diane Roberts, John Donvan, Steve Schnee, Deborah Long,
Stephen Menick, Mark Mottern, Bill Boggs, Marilyn Bydalek,
Dean Hovell, Patty Hartwell, Tara Mergener, Del Walters,
Val Zavala, Lauren Cardillo, Tracey Vail, Tetiana Anderson,
Mike Cerre, Nina Halper, Don Fish, Mark Wile, Donna Inserra Worsham,
Thomas Kaufman, Dick Bangham, Segment Producers
This Old House                                                    PBS
Michael Burton, Executive Producer
Deborah Hood, Senior Series Producer
Jennifer Wells, Sarah Monzon, Producers
OUTSTANDING MORNING PROGRAM
CBS Sunday Morning                                        CBS
Rand Morrison, Executive Producer
Estelle Popkin, Senior Broadcast Producer
Gavin Boyle, Jason Sacca, Amy Rosner, Senior Producers
Mary Lou Teel, Anthony Laudato, Mary Raffalli, Alan Golds,
Amiel Weisfogel, Edward Forgotson, Jon Carras, Reid Orvedahl,
Kay M. Lim, David Rothman, Amol Mhatre,
John R. D'Amelio, Peter Goodman, Douglas W. Smith, Producers
Cathy Lewis, Editorial Producer
Ramon Parkins, Entertainment Producer
Kim Skeen, Producer/Washington
David Small, Joseph Frandino, Carol A. Ross, Lauren Barnello,
Ed Givnish, Maria Nicoletti, Editors/Producers
Robin Sanders, Planning Producer
Charles Osgood, Anchor
Bill Geist, Lee Cowan, Maurice Rocca, Rita Braver, Serena Altschul,
Sharyl Attkisson, Anthony Mason, Smith Tracy,
George Pozderec, Martha Teichner, Correspondents
Addison Green, Meteorologist
Ben Stein, Nancy Giles, Faith Salie, William Flanagan, Contributing Commentators
David Edelstein, Film Critic
Good Morning America                                     ABC
Robin Roberts, George Stephanopoulos, Lara Spencer,
Josh Elliott, Sam Champion, Anchors
Tom Cibrowski, Senior Executive Producer
Chris Vlasto, Executive Broadcast Producer
Sheila Sitomer, Executive Producer Program Development
Margo Baumgart, Matt Frucci, Ethan Nelson, Senior Broadcast Producers
Santina Leuci, Executive Editorial Producer
Sandra Aiken, Angela Ellis, Seth Fenton, Kenneth Kneeland,
Catherine McKenzie, Denise Rehrig, Kristin Sebastian, Jay Shaylor, Senior Producers
Virginia Moseley, Sara Just, Senior Producers, Washington
Mark Robertson, Senior Editorial Producer
Karen Rhee, Entertainment Producer
Kaitlyn Folmer, Justin Weaver, Deputy Editorial Producers
Cathy Becker, Sam Brooks, Hana Karar, Karen Leo, Yoni Mintz,
Patty Neger, Brian O'Keefe, Alberto Orso,
Morgan Zalkin, Lourdes Leahy, Ronnie Reiss, Coordinating Producers
Jesus Ayala, Taylor Behrendt, Clark Bentson, Tara Berardi,
Kim Berryman, Brandon Bodow, Darcy Bonfils, Cameron Brock,
Kris Campbell, Stephan Cohen, Bill Cunningham, Patrick Doherty,
Ross Eichenholz, Monica Escobedo, Cliff Gelb, Elena Genovese-Picard,
Mitch Goulding, Lora Grassilli, Joan Griffin, Kelly Hagan,
Jennifer Harrison, Angus Hines, Cole Kazdin, Amanda Keegan,
Bryan Keinz, Erin Keohane, Josh Kleinman, Matt Knox,
Ben Krolowitz, Sarah Kunin, Ashton Marra, Marlei Martinez,
Tracey Marx Bernstein, Kate McCarthy, Scott McCartney,
Jamie McCarty, Greg McCown, Matthew McGarry, Rich McHugh,
Kelly McKelvey, Kevin McMillen, Shardé Miller, Phoebe Natanson,
Bruno Nota, Emily O'Donnell, Mellen O'Keefe, Bethany Owings,
Sabrina Parise, Felicia Patinkin, Jennifer Pereira, Sabrina Peduto,
Mary Pflum, George, Pilla, Carole Podell, Kimberly Randolph,
David Reisner, Matthew Reynard, Daisha Riley, Bruno Roeber,
Robert Rudman, Michael Ryan, James Scholz, Scott Shulman,
Natasha Singh, Liz Sintay, Sarah Springer, Carson Stokebrand,
Cari Strassberg, Chris Strathmann, Gina Sunseri,
Thea Trachtenberg, Anthony Underwood, Vanessa Weber,
Robin Weil, Maureen White, Anna Wild, Gary Wynn, Suzanne Yeo, Producers
Max Golembo, Gerard McNiff, Meteorologist Producers
Belinda Walker, Producer/Head Writer
Jacqueline Calayag, Ellen Carl, Karen Compton, Alisha Davis,
Don Ennis, Mitch Gallob, David Gerlach, Raquel Hecker,
Deb Humes, Cherry Key, Edmund Levin, Brett Levy,
Dennis Murray, Lara Naaman, Molly Shaker, Jack Sheahan,
Simone Swink, Joe Tuzzo, Laura Zaccaro, Producers/Writers
Kyle Morris, Maria Stefanopoulos, Cindy Shiftan Kimberly Titone
Antoinette Dean, Jennifer Colantonio, Jilie Amar, Operations Producers
Katie Bosland, Courtney Condron, Katie Conway, Ali Ehrlich,
Emily Gertler, Sabina Ghebremedhin, Eric Jones, John Kapetaneas,
Mi Seon Lee, Jennifer Leong, Shahriar Rahmanzadeh, Kait Richmond,
John Santucci, Emily Stanitz, Jason Stine, Jim Vojtech, Segment Produce
Today Show                                                          NBC
Jim Bell, Don Nash, Executive Producers
Krista Brunson, Matt Carluccio, Sigi De Vos, Tammy Filler, Scott Foster,
Jennifer Hilton, Audrey Kolina, Debbie Kosofsky, Noah Kotch, Elizabeth Leist,
Melissa Lonner, Mary Alice O'Rourke, Meaghan Rady, Steve Thode,
Dee Dee Thomas, Marc Victor, Matt Zimmerman,Senior Producers
Christine Cataldi, Joanne LaMarca, Robert Powell, Jennie Thompson,
Jamie Zozzaro, Supervising Producers
Roberto Bailey, Adam Miller, Coordinating Producers
Jaclyn Levin, Senior Publishing Producer
Richard Adams, Jacqueline Agnolet, Ernie Angstadt, Steve Ascher,
Mike Austin, Amanda Avery, Rupert Barker, Jayme Baron, Stephanie Becker,
Chapman Bell, Allison Berger, Rich Bonnabeau, Katie Booker, Susan Bowser,
Katharine Buckley, Kerry Byrnes, Jared Carullo, Claire Cashin, Robert Ciridon,
Sarah Clagett, Sabrina Clay, Brian Cohen, Katherine Cook, Durrell Dawson,
Rachel DeLima, Katie Distler, Colleen Dudgeon, Mary Ellen Duffy,
Victoria Duncan, Melissa Dunlop, Tracy Elrod, Ada Famulari, Cecilia Fang,
Rana Farhat, Rainy Farrell, Yael Federbush, Erin Feeney, Vivian Fel,
Tammy Fine, Tony Freinberg, Liz Fulton, James Gaines, Feliciano Garcia,
Christine Giardina, Emily Goldberg, Andrew Goldstein, Doug Gould,
Matthew Greenfield, Erica Grody Levens, Lindsay Grubb, Julie Gurovitsch,
Rebecca Halperin, Bill Hatfield, Brittany Haviland, Sarah Heidarpour,
Jane Marie Hitch, Deb Huberman, Emil Gerard Jablonski, Eric Jackson, Melanie Jackson,
Ali Jones, Minah Kathuria, Evan Klupt, Megan Kopf, Marc Koslow,
Rory Kress, Candace Kuo, Elizaveta Kvint, Angela LaGreca, Michele Leone,
Jennifer Long, Patricia Luchsinger, Antoinette Machiaverna, Paul Manson,
Zoe Marcus, Carol Marquis, Melea McCreary, Lee Miller, Richard Minner,
David Naggiar, Elizabeth Neumann, Donna Nicholls, Bridget Nurre,
Jackie Olensky, Wesley Oliver, Molly Palmer, Max Paul, Chemene Pelzer,
Sara Pines, Ariella Prince, Meredith Reis, Sean Reis, Gil Reisfield,
Ric Romo, Sarah Rosefeldt, Vanessa Rowson, Lexi Rudolph, Colleen Sanvido,
Dave Scheier, Rebekah Schoenfeld, Brittany Schreiber, Robin Sherman,
Rekha Shetty, Amanda Sidman, Stephanie Siegel, Robin Sindler,
Lindsay Sobel Dyner, Amanda Starnes, Amy Stetson, Lauren Sugrue,
Jim Thompson, Karen Trosset, Donald Tsouhnikas,
Joshua Paul Underwood-Davis, Curtis Vogel, Josh Weiner, Ian Wenger,
Lea Whitener, Charisse Williams, Grace Yavana, Alicia Ybarbo,
Kerri Zimmer, Matt Zimmerman, Mary Ann Zoellner, Producers
Ann Curry, Willie Geist, Savannah Guthrie, Matt Lauer,
Natalie Morales, Al Roker, Anchors
Kathie Lee Gifford, Hoda Kotb, Hosts
Jenna Bush Hager, Bob Dotson, Jamie Gangel, Sara Haines, Lester Holt,
Jeff Rossen, Kerry Sanders, Jenna Wolfe, Correspondents
Dr. Nancy Snyderman, Chief Medical Editor
OUTSTANDING NEW APPROACHES –
ENHANCEMENT TO A DAYTIME PROGRAM OR SERIES
The Ellen DeGeneres Show                             SYNDICATED
Ellen DeGeneres, Mary Connelly,
Ed Glavin, Andy Lassner, Executive Producers
Kelly Davies, Senior Web Producer
Daniel Leary, Digital Producer
Little Children, Big Challenges: Divorce        PBS
Carol-Lynn Parente, Executive Producer
Kevin Clash, Co-Executive Producer
Melissa Dino, Supervising Producer
Tim Carter, Senior Producer
April Coleman, Coordinating Producer
Benjamin Lehmann, Producer
Jane Lee, Co-Producer
Kristin Cook, Web Producer
Stephanie Longardo, Line Producer
Glace Chou, App and Console Director
David Brown, App Producer
Joseph Robinson, Technical Director
Jenny Gioia, Web Content Manager
mtvU's Against Our Will Campaign                MTVU
Stephen Friedman, Chris McCarthy, Paul Ricci,
Noopur Agarwal, Amy Campbell, Sophia Cranshaw, Jason Rzepka, Executive Producers
Jeff Woodton, Producer
Neal White, Arend Miller, Cosmo Jones, Cy Cary,
Casey Acierno, Rachel Goldner, Mark Tichy, Web Producers
Erhan Erdem, Writer
SciGirls                                                                 PBS
Richard C. Hudson, Executive Producer
Kathleen Shugrue, Co-Executive Producer
Angie Prindle, Senior Producer
Angela Ewald, Paula Engelking, Producers
Ryan Cannon, Web Producer
Joan Freese, Series Interactive Producer
Laura Beukema, Interactive Gaming Coordinator
Robert Bruza, Web Executive Producer
Sean Newton, Web Art Director
Ryan Ring, Web Technical Director
Lisa Regalla, Sarah Carter, Science Editors
Emily Stevens, Joan O'Brien, Managing Producers
Kyle Blakeborough, Interactive Media Manager
OUTSTANDING NEW APPROACHES –
ORIGINAL DAYTIME PROGRAM OR SERIES
The Beauty Inside                                              YouTube, Facebook
PJ Pereira, Chief Creative Officer
Jeff Ferro, Producer
Elisa Moore, Broadcast Producer
Erin Davis, Senior Interactive Producer
Drake Doremus, Director
Richard Greenberg, Neil Ramanan, Writers
Topher Grace, Matthew Gray Gubler,
Mary Elizabeth, Winstead, Performers
Jaime Robinson, Executive Creative Director
Jason Apaliski, Creative Director
Chaz Whitworth, Art Director
Chuck Vanderchuck                                           PBS
Deborah Forte, John Lynn, Jef Kaminsky, Executive Producers
David Trexler, Supervising Producer
Janette Afsharian, Shannon Palmer, Web Producer
Jack Ferraiolo, Creator/Writer
Design Squad Nation                                           PBS
Kate Taylor, Senior Executive Producer
Marisa Wolsky, Bill Shribman, Executive Producers
Dave Peth, Senior Producer
Melissa Carlson, Geoff Adams, Marcy Gunther, Eric Handler, Producers
Tara Taylor, Designer
Caz Downing-Bryant, Kal Gieber, Web Developers
Get the Math                                                           PBS
Jill Peters, Executive Producer
Michelle Chen, Producer
Bob Morris, Director
Edward Goldberg, Editor
Glenn Westrom, Interactive Producer
Deborah Ives, Lead Content Advisor
For more nominees go to: www.emmyonline.tv.