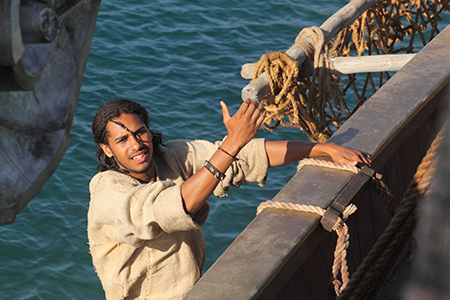 The 12-episode 'Sinbad' follows the epic sea journey of the flawed hero Sinbad, played by newcomer Elliot Knight, who embarks on a quest to rid himself of a curse and embrace his destiny, as he is forced to flee from his home town of Basra.
On board The Providence, an intriguing band of travelers is thrown together, including taciturn Norwegian sailor Gunnar (Elliot Cowan/'Marchlands'), agile jewel-thief Rina (Marama Corlett/'The Devil's Double'), and haughty and aristocratic Nala (Estella Daniels/'Thorne'). Completing the ship's complement is the odd-ball cook (Junix Inocian/'The 51st State') and the cerebral doctor Anwar (Dimitri Leonidas/'Grange Hill').
'Sinbad' premieres this Saturday, June 8, at 9 PM ET.