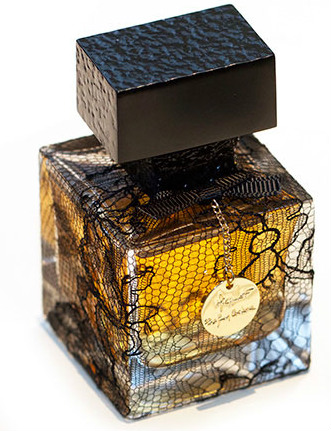 Fashion designer Denis Durand recently launched his first perfume by M. Micallef which is renowned for its deluxe brand. Through their close friendship and artistic cooperation, a glamourous, mystic and sophisticated perfume was born: Le Parfum Couture.
The fragrance composition explodes on citrus head notes spiced with cinnamon. Intense and complex, the heart and the base cleverly balance the rose, orange blossom and honey softness with the strength of animalis and woody notes. The fragrance is made in the kingdom of Grasse, France.
Dressed with hand sewn delicate Chantilly black lace, the bottle is adorned with a little satin bow and a golden medal with the initials of the two artists.
Head Notes: Ceylon cinnamon, Italy tangerine
Heart Notes: Bulgaria rose, orange blossoms, honey and animalis
Base Notes: sandalwood, patchouly, amber and white musk.
Bottle: Spray
Range: 50 ml EDP 
Availability: April 2013
Retail price: $190