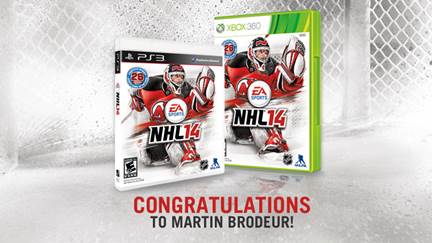 New Jersey Devils goaltender Martin Brodeur has been selected by fans as EA's "NHL14" cover athlete. Brodeur defeated Columbus Blue Jackets goalie and Vezina Trophy winner, Sergei Bobrovsky to claim the cover. The "NHL 14" cover will be the first to feature a goalie since John Vanbiesbrouck appeared on the cover of "NHL '97". "NHL 14" will be available on September 10, 2013.
"The support I've received throughout the cover vote campaign has been incredible," said Brodeur. "My kids pushed me to participate in the campaign, and they are really excited to see their dad on the cover of the game they play all the time. I want to thank all the NHL fans who campaigned and voted for me."
"We would like to congratulate Martin Brodeur on being selected by the fans as the EA SPORTS NHL 14 cover athlete," said Adam Larry, NHLPA Director of Licensing and Associate Counsel. "This year's cover vote built off the momentum generated last year, successfully engaging hockey fans with the 60 NHL players who participated in the NHL 14 campaign."
Hosted on NHL.com for the second straight year, the EA NHL 14 campaign gave fans the opportunity to select the face of the "NHL 14" cover. Fans cast more than 22 million votes in the second annual cover athlete campaign.