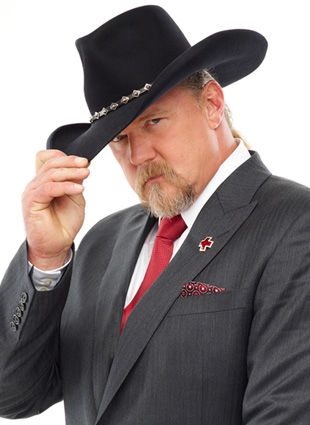 The American Red Cross honored award-winning country music star and Red Cross spokesman Trace Adkins this past weekend with the Crystal Cross for his support of the humanitarian organization. The Crystal Cross award honors celebrities who have shown exemplary support of and service to the Red Cross mission.
"Trace brings humor, honesty, hard work, and grit to everything he does," said Red Cross President and CEO Gail J. McGovern. "We could not ask for a better representative of the Red Cross."
Adkins was personally helped by the Red Cross when his family survived a fire and he joined the American Red Cross National Celebrity Cabinet in 2012. He just won, on behalf of the Red Cross, this season of Donald Trump's "All-Star Celebrity Apprentice". Adkins competed against magician Penn Jillette on Sunday and already raised more than $700,000 for the Red Cross through his participation with this season of All-Star Celebrity Apprentice.
During last night's awards ceremony, Adkins entertained an audience of Red Cross Tiffany Circle Summit attendees for a short performance at the organization's Washington, DC headquarters. The Tiffany Circle is a group of women who donate $10,000 or more to their local Red Cross chapters annually.
"When my home was claimed by fire last year, Red Cross volunteers were among the first on-site," Adkins said. "They looked after my family when I couldn't be there and offered help. We were fortunate because we could replace the things we lost, but that's not always the case for every disaster victim. That's when the Red Cross steps in. I am supporting the mission of the Red Cross and hope to help them reach more people in need."