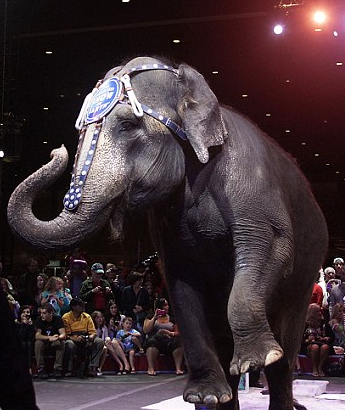 What kind of person would harm an innocent animal in a drive-by shooting? Unfortunately, there are too many people out there who are willing to beat and kill animals, whether big or small. The latest victim is an Asian elephant named Carol from the Ringling Bros. and Barnum & Baily Circus. She was hit in the neck Tuesday by a single bullet shot from a passing vehicle in Tupelo, Mississippi.
Carol is expected to make a full recovery. "I heard a loud, a very loud boom. Like a bomb went off," said the animal's trainer, Catherine Carden, who has been with Carol since she was a teen. If the bullet had hit the elephant a few inches lower or higher, the damage would have been much more severe, according to veterinarian, Dennis Schmitt.
The elephant is now resting comfortably in Springfield, Miss. Mississippi authorities, meanwhile, continue to look for suspects in the case. There is a $32,000 reward for information leading to the animal's assailant.