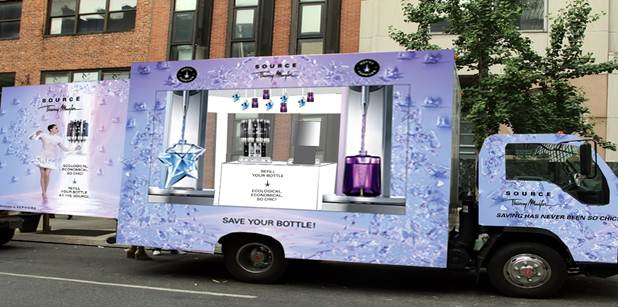 Over 20 years after launching the first source and refillable bottles, allowing you to have your perfume bottle recharged before your eyes, Thierry Mugler is teaming up with Sephora to make this experience even more exciting. In honor of its 20th Anniversary in the United States, Thierry Mugler presents the groundbreaking fragrance fountain; taking it to the streets of New York City this week with a mobile Source truck.
The glamorous Source truck will bring you to the world of Thierry Mugler and its Source fairy…spreading celestial Angel perfume and radiant Alien perfume samples directly to you! You will be invited inside the truck to "choose" and watch your favorite scent as it is filled at the new quadruple Source.
 
These events will take place from Tuesday April, 10th to Sunday April 14th in front of your favorite NYC Sephora shops:
 
Wednesday April 10th: Sephora 86th Street and Lexington
144 East 86th Street (Between Lexington and 3rd Avenues)
 
Thursday April 11th: Sephora 76th Street and Broadway
2164 Broadway (Between 76th and 77th Streets)
 
Friday April 12th: Sephora Meatpacking
21-27 Ninth Avenue (Between Little West 12th Street and West 13th Street)
 
Saturday April 13th: Sephora Fifth Avenue
597 Fifth Avenue (Between 48th and 49th Streets)
 
Sunday April 14th: Sephora Union Square
45 East 17th Street (At Union Square West and Park Avenue South)
 
 Follow Thierry Mugler on Twitter (@MuglerCircle) and Facebook to learn more about the Source truck! #SaveYourBottle
 
Thierry Mugler has also launched a Source Virtual Treasure Hunt contest on Facebook to coincide with the new Source launch at Sephora! Through this interactive game, you are invited to go on Facebook and participate in a virtual Treasure Hunt. Using Google Street Views and tips, you can prowl the streets of New York to find Angel perfume and Alien perfume bottles to refill – and once you have found the truck, you have found the Source!
 
This exciting challenge will take place April 2nd  – April 22nd, 2013.