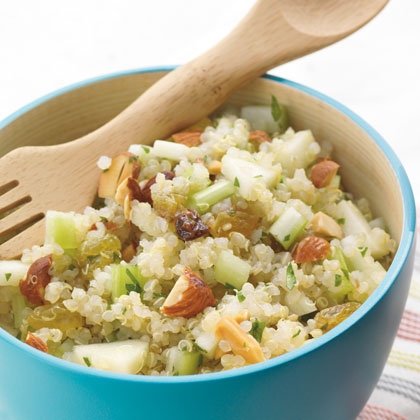 In honor of Earth Day – let's get healthy with http://spoonful.com/'s delivious Quinoa recipe. You may look at it and think ehh, that does not seem appetizing… but it's high in protein and with the right combination of ingredients, it's delicious.
What you need:
1 cup quinoa, rinsed
2 cups water
2 tablespoons honey
1/4 cup lemon juice
1/2 teaspoon coarse salt
3 tablespoons olive oil
1 cup peeled, diced tart apple, such as Granny Smith
1/3 cup golden raisins
1/3 cup finely chopped parsley
1/2 cup coarsely chopped almonds, toasted
Coarse salt and pepper
Preparation:
In a medium-size saucepan, combine the quinoa and water, then bring them to a boil. Reduce the heat and simmer, covered, until the quinoa is tender and the water is absorbed, about 15 minutes. Transfer the quinoa to a large bowl, stir, and let it cool completely.

In a small bowl, whisk together the honey, lemon juice, and salt. Gradually whisk in the oil until blended.

Add the apple, celery, raisins, parsley, and almonds to the quinoa and toss the ingredients well. Add the dressing and toss once more to coat the salad. Season it with salt and pepper to taste. Serve at room temperature. Serves 6 to 8.