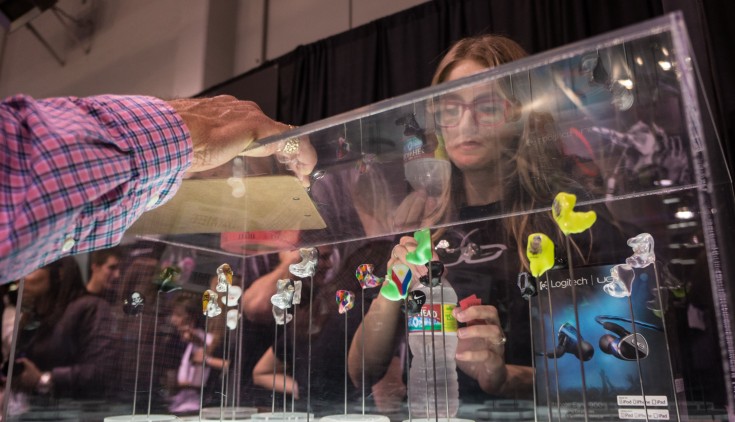 Attending my first NAMM show this past January, I wasn't quite sure what to expect. I have been hearing about this event for years, but never made the effort to go, for one reason or another. Little did I know what I had been missing. It is everything I could have imagined and much, much more! As so many of my musician friends had said, "It's like being a kid in a candy store!" Any and everything that you could ever want in terms of instruments and music related items are there by the droves.
Lighting, sound, drums, guitars, amplifiers, basses, pianos, keyboards, horns, violins, if it can play music or has to do with live performances; you will find it at NAMM. The National Association of Music Merchants (NAMM) is the granddaddy of product trade shows and has been in existence since 1901. And for the 97,000 strong who attended this year's convention, it was 4 days of seminars, showcases, introductions of new products, and music, music, and more music. So much, that one cannot enjoy it all in just one day. Oh, and celebrities; let us not forget the celebrity sightings, from the 8th Wonder of the world Stevie Wonder, to American Idol's Randy Jackson and all in between, it was a virtual who's-who of artists and musicians.
Others worth mentioning were; Brian Wilson of the Beach Boys, Sarah MacLachlan, Neal Schon of Journey, Tito and Jackie Jackson and George Benson, just to name a few. All there either hawking a sponsors' gear they endorse or in some cases, just checking out the new technology and toys on display. The other amazing thing about this show is it is not open to the public, and the countless signs in and around the Anaheim Convention Center reminds you of that fact ad nauseam. So everyone there, for all intents and purposes, is somehow connected to the industry of music. I'm sure there were some party-crashing looky-loos, especially some of the ones dressed as Wonder Woman and other strange characters, but still pretty exclusive.
Since I decided to attend this year, I was on a mission with one goal in mind; to find out more about in-ear monitor systems and their increasing popularity to vocalists everywhere. Stories I've read regarding some tried-and-true singers, who claim these systems have either saved, restored or extended their singing careers are becoming common place. For example; Rod Stewart had experienced difficulties singing live for years, and especially after undergoing emergency surgery for throat cancer in the early 2000s. In an excerpt from his book, "Rod: The Autobiography" he writes, "As the eighties wore into the nineties, I faced an increasing struggle with my voice… More and more shows had to be wiped out. It got to the point where I was virtually uninsurable. I'd walk around feeling as though I'd been gargling barbed wire… I started taking steroids.
Prednisone tablets, to be precise, and soon I was well on my way to developing an addiction. By March 1991, I'd graduated to a cocktail of drugs in a syringe which I'd inject before a show, normally into my hand." He eventually solved the problem with his throat by adopting an in-ear monitor which stopped him from straining his voice on stage, and he credits the device with saving his career. Stewart adds, "Technology intervened in the shape of an in-ear monitor. The effect was transformative: I could hear myself; I no longer had to roar quite so ferociously, my voice recovered and the cancellations tapered off. In fact, without them, I'd have been finished as a live performer 20 years ago." Quite a ringing endorsement from the man known for his raspy voice.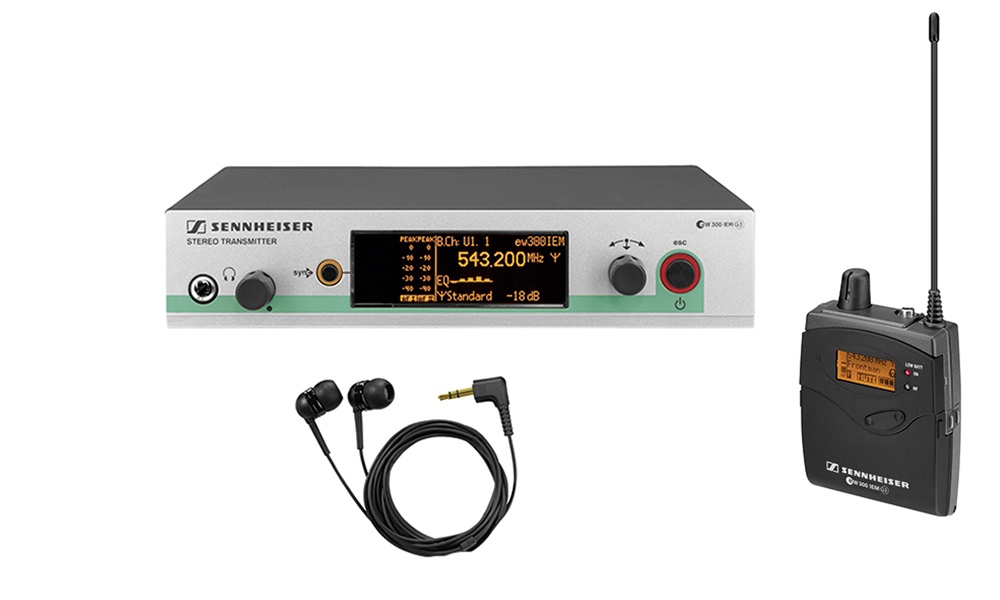 Another notable case is the Who's Pete Townsend who has suffered from tinnitus – a condition that produces a painful ringing and buzzing in the ears – for many years. Townsend told Rolling Stone; "If my hearing is going to be a problem, we're not delaying shows. We're finished. I can't really see any way around the issue." This was before trying in-ear Monitors at the recommendation of legendary songwriter Neil Young. And after visiting Musician's Hearing Services, Townsend had this to say; "I have just been fitted with the monitors that they provided and listened to some music. These in-ear monitors are fabulous, just as they predicted." These are major testimonials from iconic musicians who are no novices when it comes to sound. So my research turned up quite a few companies who make in-ear monitor systems and in-ear monitors, but I narrowed it down to what I consider the top two in each category.
For the in-ear monitor audio systems I chose Sennheiser and Shure and for the in-ear monitors themselves, I chose Future Sonics and Ultimate Ears. All of these companies were represented at NAMM. Unfortunately, Shure representatives never responded to our requests and Sennheiser responded, and told us they would provide us with a unit to review, but never followed through. Therefore, I can only assess Shure's products based on consumer reviews and not from personal experience. I spoke with Marty Garcia, who is the founder of Future Sonics, and innovator of the in-ear monitor concept. And I also communicated with a tech specialist at Ultimate Ears about their products. But first, let's talk about the systems. Shure's P9TRA425CL-G6 Wireless In-Ear Monitor System is a combination of superb audio quality, robust RF performance, and category-leading features for the most demanding professional applications. Precision front-end RF filtering significantly reduces dropouts from RF interference, and the enhanced digital stereo encoder provides excellent stereo separation and audio clarity. Priced at around $1,400, this unit has solid reviews for performance, but the reviews were not so great for the in-ear monitors that come with the unit. Sennheiser's ew 300 IEM G3 In-Ear Wireless Monitor System is equivalent to the Shure system in every way.
Featuring an adaptive-diversity receiver, the receiver pack uses the headphone cable as a secondary antenna for flawless reception. The 5 band equalizer integrated in the transmitter also allows you to personalize the sound even further. Extremely versatile and easy to use. These units are priced at $1,000, and have the same drawback as the Shure, which is the ear monitors that come with the unit are not of great quality. I was fortunate enough to get the Sennheiser unit myself (with no help from the company), and I found the sound quality to be superb. If the Shure model is any better, I can't imagine how. Regarding the "In-Ear Monitors," Ultimate Ears was generous enough to give us a pair of their top-of-the-line brand new custom "Vocal Reference Monitors," ($999) which I used with the Sennheiser system and the sound of these monitors are quite impressive. It made singing with live music so much easier and effortless. You have a completely isolated mix that allows you to hear every note you sing as clear as a bell. This prevents a vocalist from experiencing voice fatigue as quickly as you might when performing without the aid of these personal monitors. "Often, singers exhaust their voices in an effort just to hear themselves above the instruments and amplifiers. It puts a tremendous strain on their voice," said Philippe Depallens, vice president and general manager of Ultimate Ears. The "Vocal Reference Monitors" act as an earplug and reduce overall stage volume by up to 26 decibels through passive noise cancellation. This brings the sound pressure levels down so that vocalists can hear their own voice more clearly.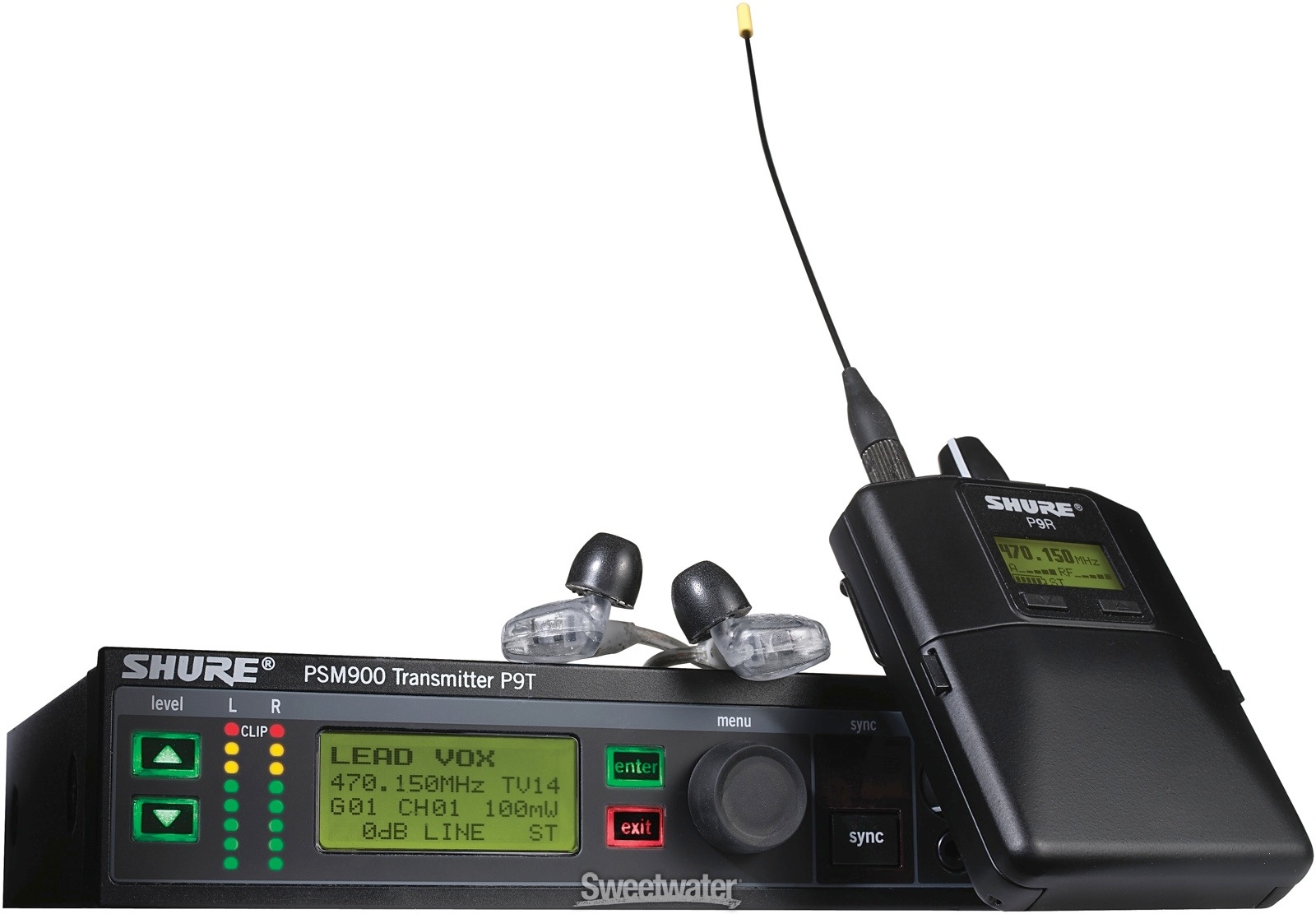 Second, instead of hearing a full frequency mix like most other monitors, the three balanced armatures in each ear are engineered to emphasize the general voice band, with frequency response between 90Hz – 8kHz, so that singers can hear what's most important to their performance. This technology is a god-send for vocalists. And according to Future Sonics Marty Garcia, who first developed the in-ear monitors over a quarter of a century ago, he originally created the monitors to eliminate wedges and backline speakers on stage, therefore reducing clutter. But then the concept morphed into something greater. Marty said, "It's all about competitiveness. The guitar player turns up because the bass player plays louder, and then the drummer hits harder because the acoustics are bad and the band members can't hear themselves. Then the guitar player turns it up more, but vocalists can only get the wedges or side-fills so loud because of feedback, and they start screaming into the mic. So personal monitors became a vocal cords issue. Gloria Estefan, Reba McEntire and Phil Collins all had vocal cord issues, where they had to cancel shows to rest their voices. They are all on Ears now. Phil once canceled an entire tour due to vocal cord strains. But when he switched to in-ears, that issue went away and he was able to get back on the road. To me, having personal monitoring is more of an issue of saving vocal cords: preventing somebody from blowing their voice out."
I was not given a pair of the Future Sonic in-ear monitors to compare, so I can't tell you if they're better or worse than the UE brand. But, it would be my guess that because Marty is an audio engineer by trade, and invented this technology, his brand must be something to be reckoned with. On the other hand, I can say from my experience, I would recommend the UE's to musicians and singers looking for a quality pair of in-ear monitors, because they lived up to all of my expectations as a live performer. And their list of clientele is equally impressive. Artists singing Ultimate Ears' praises are; Alanis Morrisette, Barry Manilow, Bette Midler, Carrie Underwood, Mariah Carey, Christina Aguilera, Earth, Wind & Fire, Gladys Knight, Justin Timberlake, Babyface, Justin Bieber, Kelly Clarkson, Bonnie Raitt, Lady Gaga, Aerosmith, Celine Dion, Eagles, Britney Spears and Natalie Cole just to name a few. In fact, it's easier to name who doesn't use UE than who does. And now you can add LATF to their growing list of satisfied customers. Mission accomplished! My search ended at NAMM, because I found what I was looking for and the way I see it; sooner or later, every vocalist worth his or her salt will want to have a pair. Or should I say, need to have a pair. For more info on the products:
http://ultimateears.logitech.com/