Rihanna is rocking Haute Couture on her Diamonds World Tour, which just launched earlier in March. Riccardo Tisci of the House of Givenchy designed the singer's first act costumes. LATF has the inside look…

For her concert entrance, Rihanna wears a black floor-length ruffled silk crepe cape with 3D collar embroideries and black nappa leather thigh high bootswith lacing details. Inspired by the house's timeless organza cape, the custom made version for Rihanna is the first piece to appear on stage, dark and romantic, before the costume's big reveal. After removing her black Givenchy Haute Couture by Riccardo Tisci cape, she reveals a three-piece printed and embroidered costume.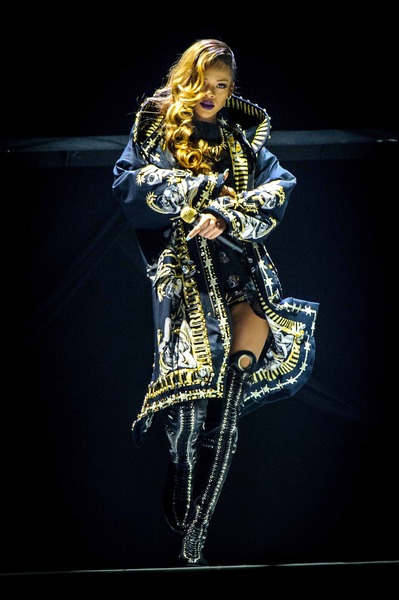 For this opening act, Riccardo designed a masculine over-sized black printed and hand embroidered parka, channelling his signature mix of streetwear and Haute Couture. The print features the strong sensual iconography of his Givenchy by Riccardo Tisci Menswear Fall-Winter 2013 collection.
Under the parka, Rihanna wears a black and white nappa leather bra with gold stars embroideries and gold buckles, once again mixing Haute Couture techniques and his obsession for heavy sportswear elements. The bondage feel brought by the multi-strapped bra is then softened by a pair of silk satin mini-shorts made in a matching print.
Rihanna's opening costume is completed by a shark tooth gold metal necklace with an engraved military plaque in the back (which reads the word 'RIRI'), Haute Couture sunglasses with gold metal hardware elements and white crystal stud earrings.
She's rockin' it when she's wearin' it. www.givenchy.fr