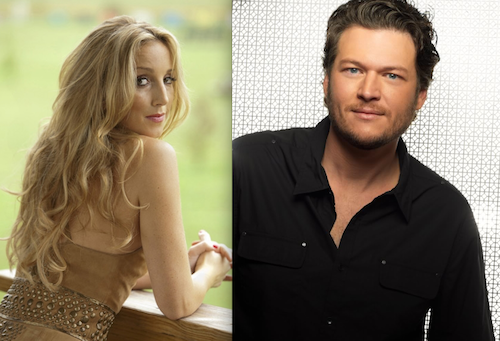 CMA Award winner and The Voice coach, Blake Shelton, has joined country music force Ashley Monroe for a brand new duet premiering today. Their original collaborative effort, "You Ain't Dolly (And You Ain't Porter)," harkens back to the roots of country music giving each of these musicians a chance to trade twangy insults in a southern drawl. "It's borderline mean, but we love each other, so it isn't," Monroe said of the tone of their track.
The title references the partnership between Dolly Parton and Porter Wagoner, who worked together to create a variety of joint hits in the 1960's and 70's. Monroe knew she wanted Shelton to play the Porter role in her tune because, as she put it, "He's country as dirt, and he's a walking encyclopedia of country music. He sang the hell out of it."
Aside from Shelton's musical acumen, Monroe was also drawn to his personality, which she's had ample opportunity to assess as a member of the country trio Pistol Annies with Shelton's wife, Miranda Lambert. "Blake's voice just slays me, but he's also a great friend, and we have that kind of playful relationship," Monroe added. "You Ain't Dolly" is off of Monroe's latest album "Like A Rose," due out March 5th.
Click here to listen to the duet.
By: D.D.