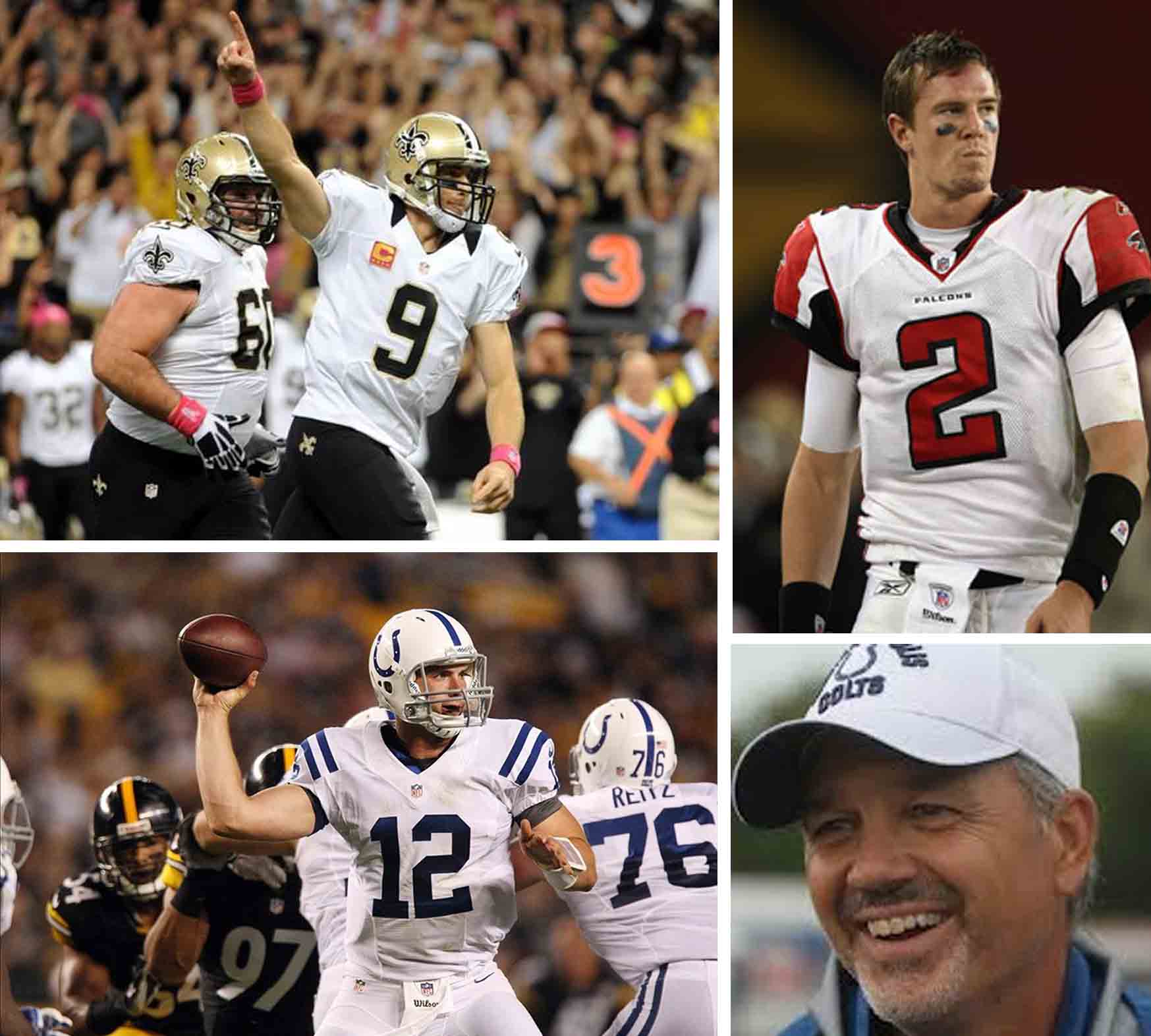 The Colts Win One for the Gipper:  The Indianapolis Colts were the toast of the NFL in Week 5, as they stunned the heavily-favored Green Bay Packers, 30-27, on Sunday afternoon only days after Colts head coach Chuck Pagano was diagnosed with leukemia. Rookie quarterback Andrew Luck connected with veteran receiver Reggie Wayne on a four-yard touchdown pass with only seconds remaining to defeat Green Bay, as Pagano watched on in delight from his hospital bed.
"In my 40 years in this business, I've never been prouder of a team and how they battled back," Colts owner Jim Irsay said. "I've been in a lot of winning locker rooms, Super Bowl locker rooms, but I've never had an experience like this. People talk about money, what the team is worth, those kinds of things, but this was priceless. Absolutely priceless."
Players and coaches on both teams wore shirts with the phase "Chuckstrong" on the front. And soon after delivering an emotional post-game speech, Irsay headed straight for Pagano's hospital room to deliver him the game ball personally."We walked in, he (Pagano) got up, we all embraced and shed some tears and Chuck said, 'You know I don't feel so sick right now.'"
Record-Breaking Night in New Orleans: The 2009 Super Bowl champions New Orleans Saints got off the schneid in style, winning their first game of the season, 31-24, Sunday night over the San Diego Chargers, on a night when quarterback Drew Brees broke a historic passing record. New Orleans was led by four touchdown passes from Brees, the first of which broke Johnny Unitas' 52-year old record for most consecutive games (48) with a touchdown pass.
"I guess you really couldn't have written a better script for tonight," Brees said. "To break the record, to get the win, and the fashion in which we won – really a complete team effort all the way around."
The night was extra special for the Saints players because they got to play in front of head coach Sean Payton, assistant coach Joe Vitt and general manager Mickey Loomis, all of whom are serving various suspensions in connection with the NFL's bounty-gate investigation. NFL Commissioner Roger Goodell allowed the three leaders of the Saints to attend the game after a special request was made by Brees. "I love my coach, so I was glad he could be here," Brees said. "[it was] special for our team…I'm just overcome with emotion right now."
Parity Reigns Once Again: Through five weeks of play in the 2012 regular season, the NFL has continued to solidify its reputation as the most unpredictable and balanced professional sports league in the world. Any team can truly beat any other team on "Any Given Sunday." Among the 32 NFL teams, only one from each conference remains undefeated – the 4-0 Houston Texans in the AFC and the 5-0 Atlanta Falcons in the NFC.
The Falcons are led by Pro Bowl quarterback Matt Ryan, who at just 27-years-old ranks 1st in the NFL in touchdown passes (13) and 2nd in passing yards (1,507). Despite the fast start, Atlanta has not won a playoff game since 2004 and must exorcise its post-season demons before it will be considered a legitimate title contender. Meanwhile the undefeated Texans are favored by 9 points on Monday night against the hapless New York Jets in New York and are generally considered the best team in the NFL. And for good reason. The Texans currently rank 2nd in both points scored and points allowed per game, one year after winning a playoff game with their third-string quarterback.
Only one team has gone winless this season, the perpetually inept Cleveland Browns. But should the Browns even count? Cleveland has amassed a dreadful 18-50 record since 2008, and appears to be headed for yet another rebuilding season.
By Lance Williams