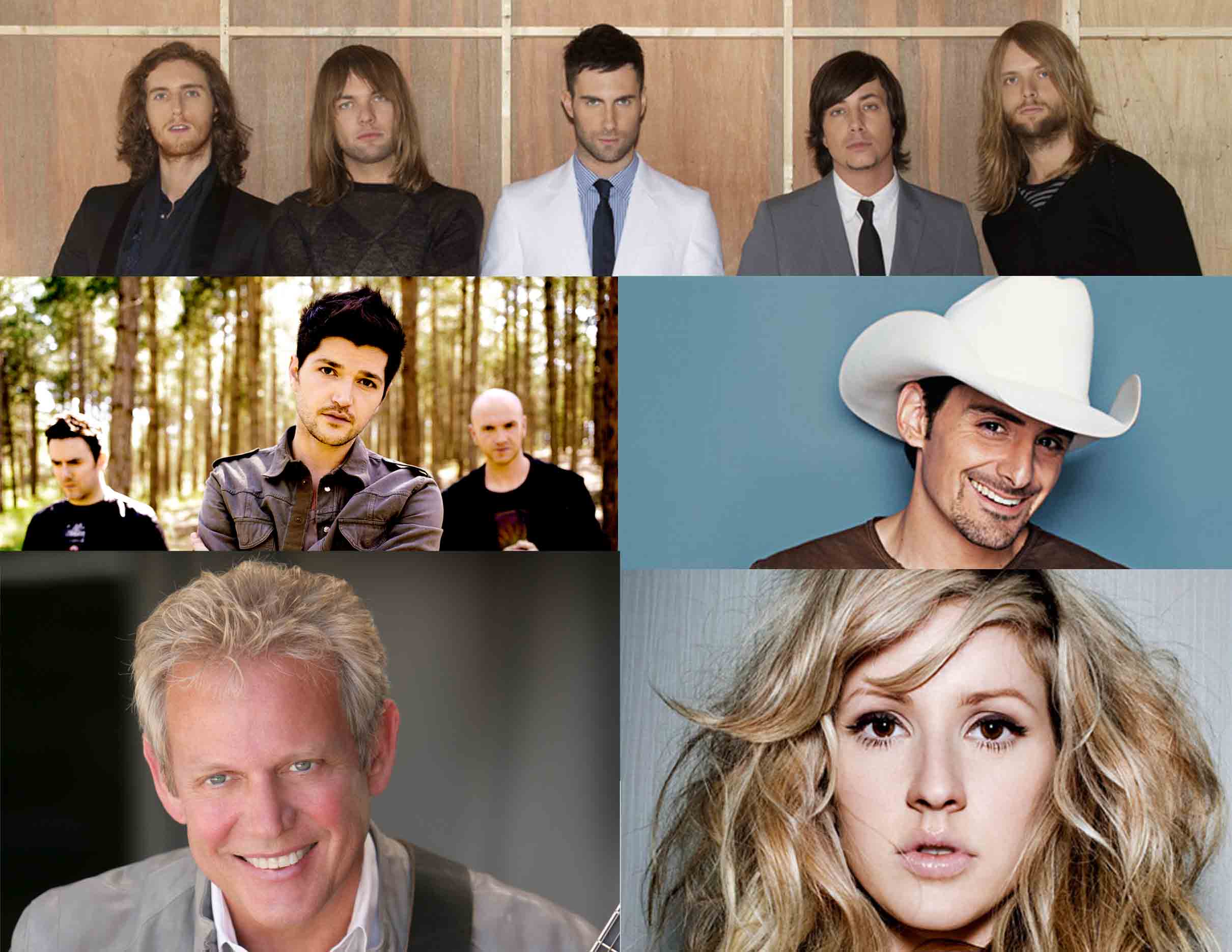 FRIDAY 10/19
Where: Orpheum Theater
This Friday the mega-popular band with a slew of hits under their belt, Maroon 5, is coming to L.A.'s Orpheum Theater. Led by front man Adam Levine, this group started strong when they debuted in 2002 with four singles, and they've only gained momentum since. This is sure to be a great performance. After all, a man that claims to have moves like Mick Jagger can't exactly afford to phone it in.
SATURDAY 10/20
Where: The Greek
Saturday night the Irish band that described the uneven aching of a broken heart to all of America in their hit song, "Breakeven" is coming to the Greek Theater. The Script is full of passionate pop that will no doubt have the venue full of fans on their feet. Hopefully this show will be as big as the band's ballads. Watch out for LATF's review of the concert.
Where: The Hollywood Bowl
Brad Paisley is known for bringing a little bit of rock and roll to country, and this Saturday he's bringing it all to the Hollywood Bowl. With 16 #1 country songs, he'll have no shortage of fan favorites to choose from for this performance.
Ellie Goulding, Rita Ora and PSY
Where: House of Blues Sunday
The House of Blues will be filling their house a whole lot of talent this Saturday night for a Halloween Masquerade. With a lineup like Ellie Goulding, Rita Ora and the new sensation, PSY, this Halloween themed event will be scary good. Come out and see a group of musical chart-toppers for the price of one.
SUNDAY 10/21
Where: The Troubadour
Don Felder of the legendary classic rock group, The Eagles, will be performing at The Troubadour this Sunday. Though he may not be the most famous Don of the group, he is not to be discounted when it comes to his influence on the music of The Eagles. Co-writer of what is possibly their most famous hit, "Hotel California," among others, Felder is a musician that deserves to be recognized in his own right.
By: D.D.