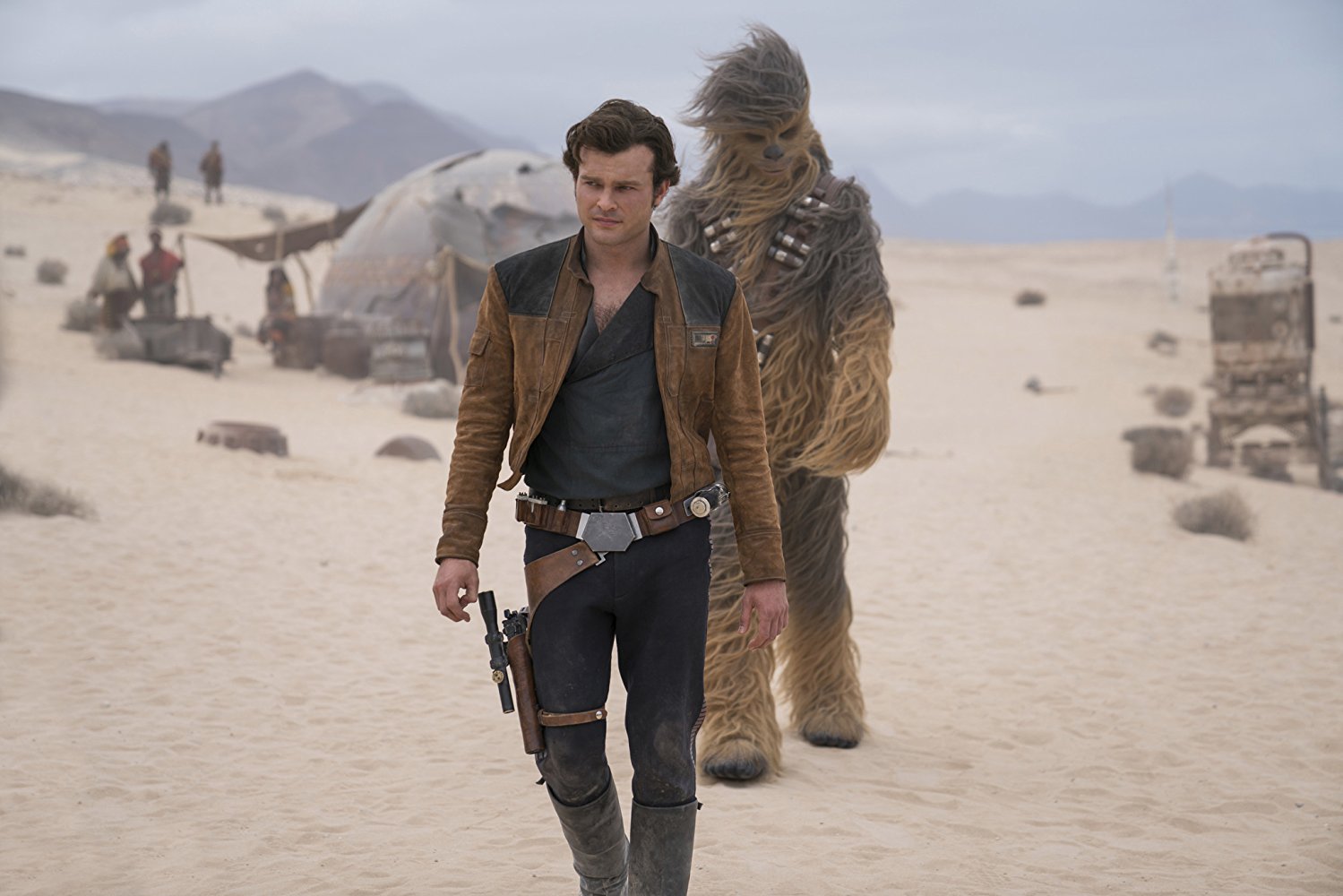 With their second Star Wars anthology film following the 2016 release of "Rogue One," Lucasfilm focuses their latest stand-alone effort on the exploits of Han Solo, the lovable scoundrel smuggler-pilot made famous by Harrison Ford, here played by Alden Ehrenreich, in "Solo: A Star Wars Story," a fabulously entertaining space western costarring Woody Harrelson, Emilia Clarke and Donald Glover.
Enthusiastically directed by Ron Howard from a script co-written by "The Empire Strikes Back" screenwriter Lawrence Kasdan and his son Jon Kasdan, this latest installment in the beloved franchise is a rollicking space adventure brimming with eye-popping action sequences, huge stakes, and overall satisfying storytelling. Deftly exploring the origins of some of the franchise's favorite characters, while also introducing a few nicely realized new additions, "Solo" deepens the Star Wars universe's heady mythology while at the same time offering audiences a truly memorable cinematic experience. And while the film runs a little long and hits some pacing problems in the second act, "Solo" has so many standout moments that they more than make up for the slight shortcomings. Elevating this highly anticipated entry is a superb cast highlighted by Alden Ehrenreich's charismatic turn as Han Solo, which pulls off the tricky task of honoring Harrison Ford's portrayal without coming off like an imitation, and Donald Glover's effortlessly cool take on fan favorite Lando Calrissian.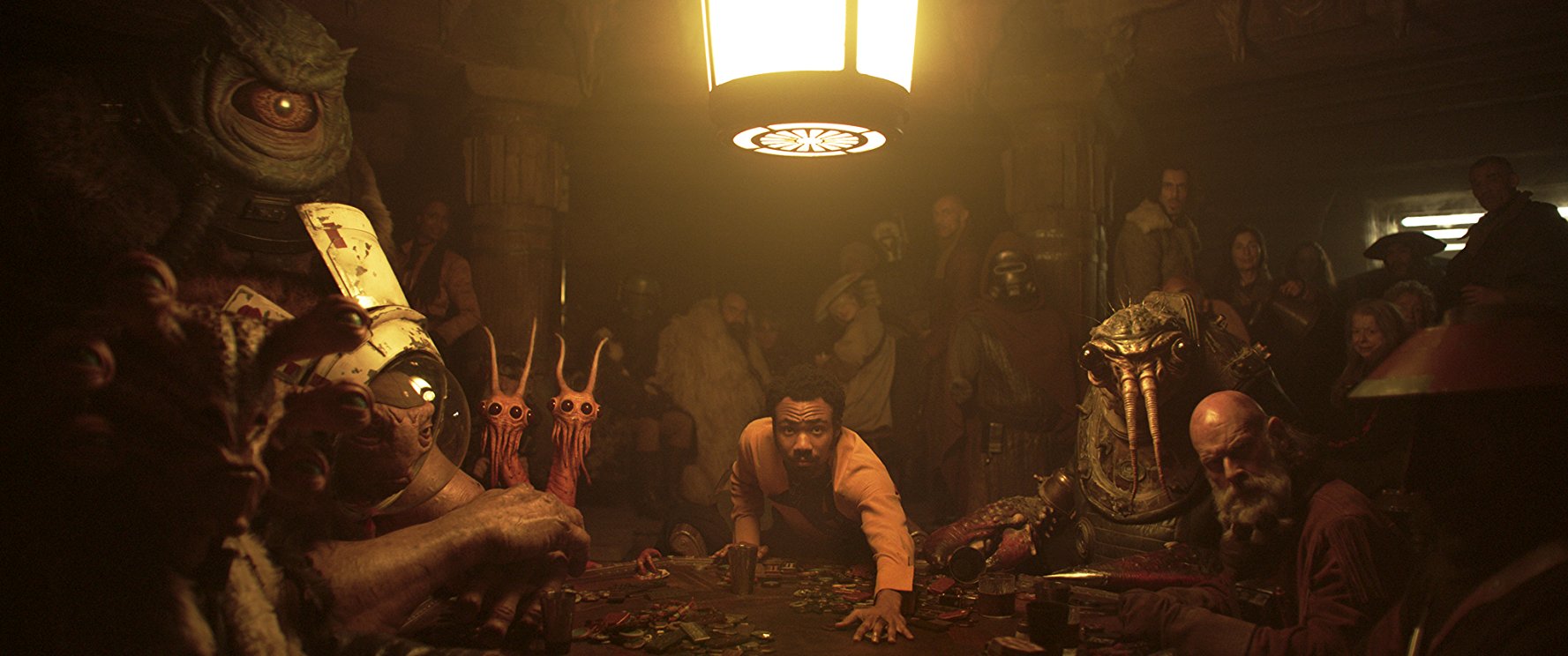 "Solo: A Star Wars Story" follows the youthful adventures of the iconic character Han Solo (Alden Ehrenreich), beginning with his early days as a street urchin on his home planet of Corellia alongside his first love, Qi'ra (Emilia Clarke), a mysterious beauty who is soon drawn into the criminal underworld, thanks in no small part to Dryden Vos (Paul Bettany), a crime lord and the leader of Crimson Dawn.
Through a series of events, Han becomes indebted to Dryden, which in turn sends him and his future Wookiee copilot Chewbacca (Joonas Suotamo) to the mining planet of Kessel on a daring heist mission. Together with career criminal and thief Tobias Beckett (Woody Harrelson), as well as his tough-as-nails gangster wife Val (Thandie Newton), the unlikely group risk it all to get their hands on a batch of coaxium, a rare mineral used as fuel. Of course, complications arise along the way, including no shortage of double-crosses, not to mention some fateful encounters with gambler extraordinaire Lando Calrissian (Donald Glover), whom they track down in hopes of obtaining his ship, The Millenium Falcon.
Despite the exhaustively reported behind-the-scenes complications related to the firing of original directors Phil Lord and Christopher Miller, the finished film directed by Ron Howard bears no evidence of creative differences or onset dustups. However, despite an engaging plotline and some truly extraordinary action sequences, at two hours and fifteen minutes, "Solo" inevitably hits some pacing problems, though not enough to entirely derail the proceedings. Acclaimed cinematographer Bradford Young ("Arrival") brings a gritty realism to the intergalactic exploits, capturing the inspired action sequences with maximum entertainment value. First-rate special effects befitting a film in the heralded franchise, an appropriately monumental score by John Powell (along with John Williams' indelible original theme), and crisp editing by Pietro Scalia round out the technical highlights. The production and costume design is also a sight to behold, from the brilliantly conceived planets, each of which stand out in their own right, right on down to Lando's wonderfully elaborate getups.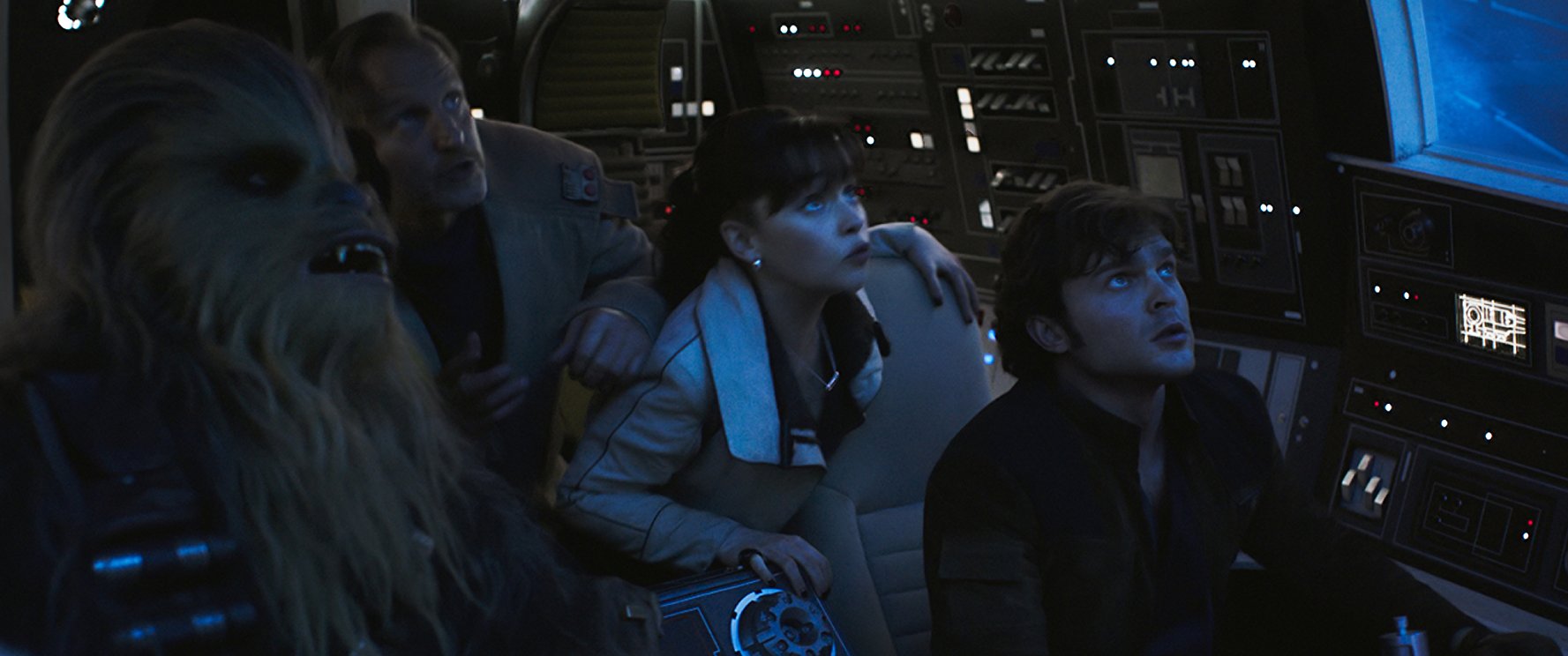 In previous films like "Hail, Caesar!" and "Rules Don't Apply," audiences have had the opportunity to witness the charm and acting chops of Alden Ehrenreich, but "Solo" gives the talented young actor a role for the ages, and he rises to the occasion at every turn. What could've easily felt like a cheap imitation of Harrison Ford turns out to be anything but, with Ehrenreich finding the right balance between honoring his predecessor while making the character uniquely his own. Similarly, Donald Glover plays Lando Calrissian, the iconic character suavely portrayed by Billy Dee Williams, as an impossibly stylish gambler with an aptly outsized personality, and the role fits him like a glove. As for the others, Woody Harrelson adds another solid performance to his ever-expanding resume in the form of the hardened career criminal Beckett, Emilia Clarke excels as Qi'ra, Han's strong-willed and always entertaining love interest, and Paul Bettany exudes pure villainy as Crimson Dawn gangster Dryden Vos.
There is more than enough working in its favor to declare "Solo: A Star Wars Story" out of this galaxy.
By Lucas Mirabella
Rated PG-13 for scenes for sequences of sci-fi violence/action
Running Time: 135 minutes