The legend of King Arthur is mainly comprised from fable and folklore. Although the heroic tale has been adapted several times for the silver screen, none compares to Guy Ritchie's latest filmmaking effort, which is nothing short of exhilarating. With a stellar cast lead by Charlie Hunnam ("Sons of Anarchy"), "King Arthur: Legend of the Sword" is a fast-paced, action-packed adventure with majestic visual and special effects that will keep your eyes glued to the screen for its lengthy 126-minute running time.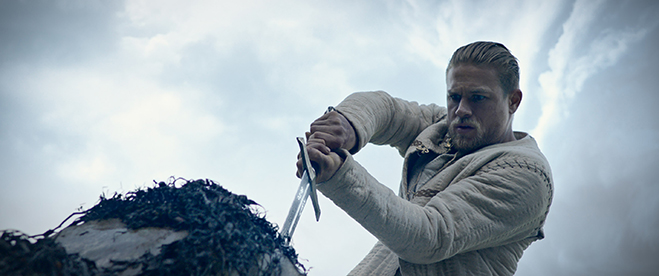 Along with his dynamic directing style, Ritchie has also demonstrated a talent for crime films with his unique touch on the Sherlock Holmes franchise. The filmmaker has ingeniously woven the best of both techniques into "King Arthur," weaving high-energy action sequences through a meaty story of vengeance and retribution.
Many American audiences learned the fable of King Arthur from Disney's 1963 animated movie, "The Sword in the Stone." With a conspicuously missing Merlin, we learn how Arthur came to be an orphan. As a small child, his father the King (Eric Bana) is murdered. The castle is overthrown by his evil uncle, Vortigern (Jude Law) and Arthur is taken in by a brothel where he learns to fight, thieve and defend himself in the violent streets of Londinium. As the years pass, a dark cloud hangs over Vortigern's head. He is threatened by the thought that the true heir to the throne is still alive. Arthur grows into a man and soon discovers his power of being the only one capable of pulling the famed sword Excalibur from the stone and assuming the crown.
Merlin sends the magical Mage (Astrid Bergès-Frisbey) in his place to aid Arthur in his fight to defeat his Uncle. With the help of his trusty clan, including Bedivere (Djimon Hounsou) and Goosefat Bill (Aidan Gillen), Arthur attempts to save the kingdom.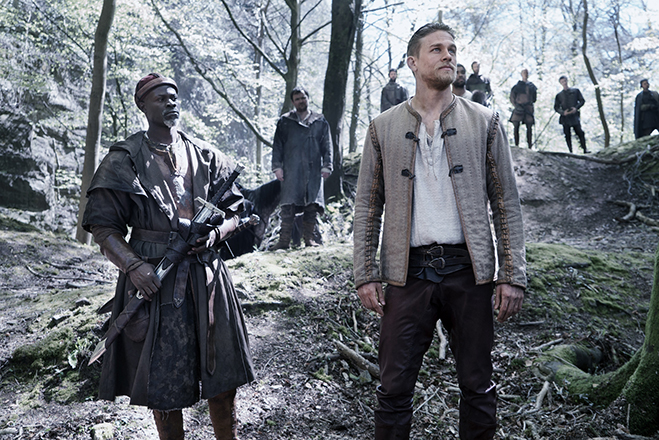 Action aside, it takes an army of filmmakers to deliver a visually impressive medieval film. Between the production design, hairstyling, SFX-makeup team and costumes by Annie Symons (Dracula),"King Arthur" is incredibly rich in color and detail. Utilizing his Sherlock Holmes team, Ritchie implements his notable "ultra-fast" cuts along with Editor James Herbert.
The dialogue is quick, clever and cunning thanks to a screenplay by Joby Harold ("Awake"), Lionel Wigram and Ritchie himself. They managed to pack as much humor into the script as they did action.
Portraying the title role, Hunnam was perfectly cast. Rising to stardom as Jax Teller on FX's hit series, "Sons of Anarchy," the British actor brings a similar grit and resilience to Arthur. While he's had top billing in big budget movies such as "Pacific Rim," stepping into the shoes of a "King" has Hunnam proving that he can play a blockbuster leading man. Supporting co-stars Hounsou and Bergès-Frisbey have a likeable chemistry with Hunnam throughout the film.
If anyone has proven that they play villains best, it's Jude Law. Throughout his career, Law has shown an incredible versatility; from Dicki Greenleaf in "The Talented Mr. Ripley," to Dr. Watson in Sherlock Holmes and the romantic love interest in "The Holiday." The actor seems to have found his way into more cryptic roles as of late, with "The Young Pope" and now as the sadistic, power-hungry Vortigern. Perhaps this dark performance will gain Law even more wicked roles.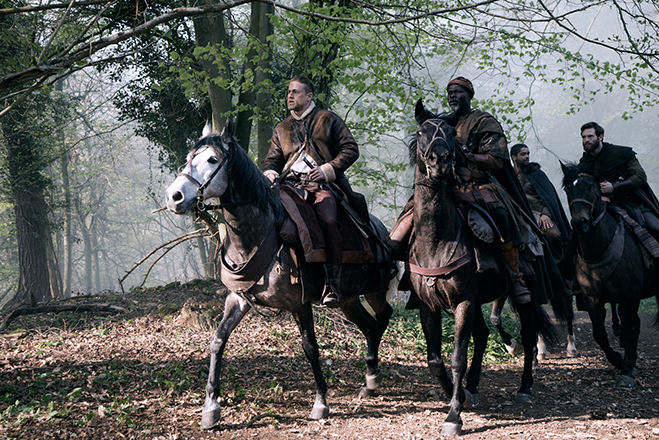 The summer blockbuster season is off to a great start with "Guardians of the Galaxy Vol 2" and now "King Arthur: Legend of the Sword." Ritchie's magical medieval movie adds a new action-adventure twist to one of the most famous fables of all time.
By Pamela Price
Running Time: 126 minutes
Rated PG-13 for sequences of violence and action, some suggestive content and brief strong language