Drumroll for W Hotels and Coca-Cola's first W Sound Suite! The suite will launch in North America at W Seattle.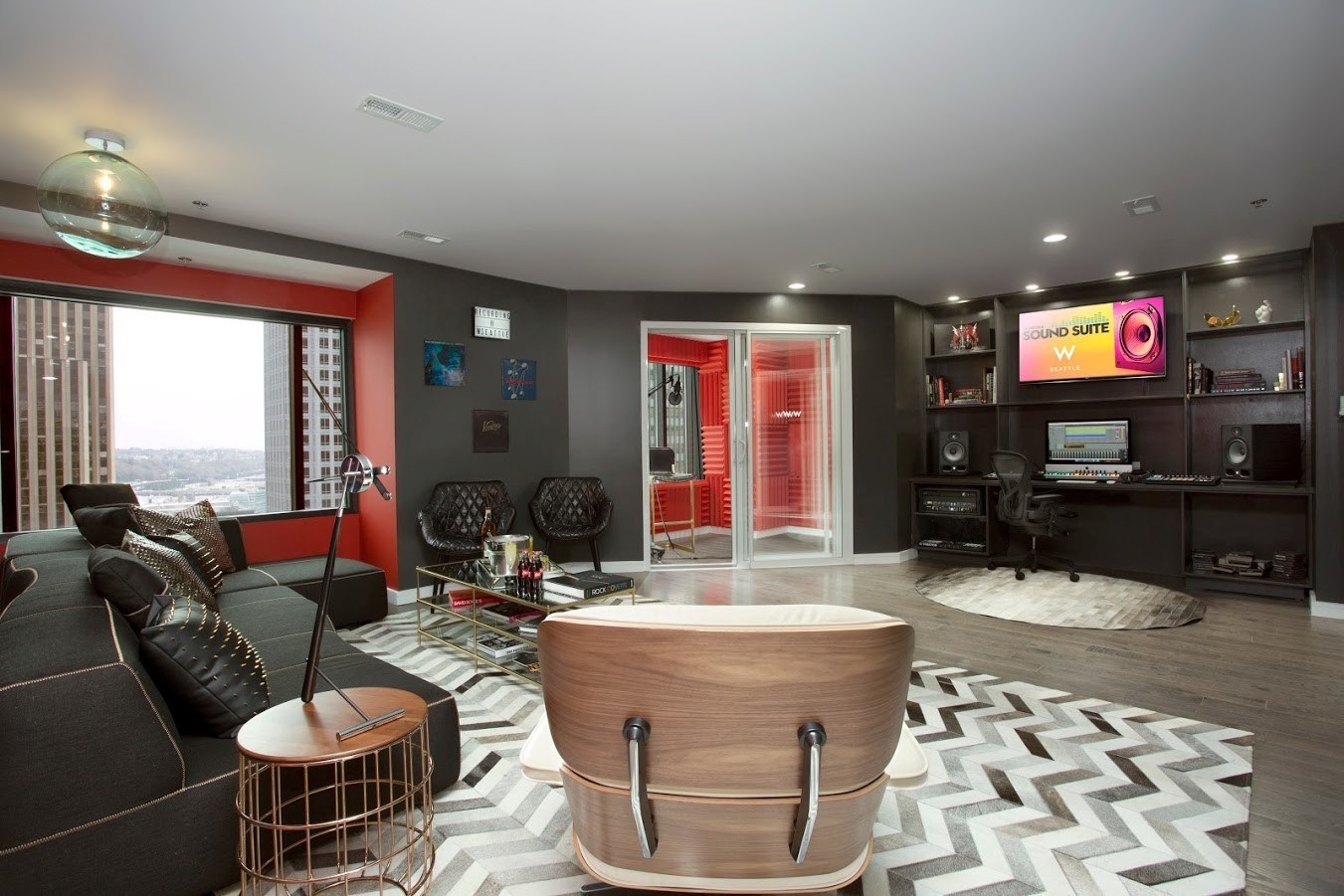 The private music studio, writer's room and lounge offers a retreat for musicians and producers to write and record tracks while on the road. Hotel guests are also able to get in on the fun by booking the studio to live out their rockstar dreams.
"As one of the most iconic music capitals in the world, I couldn't think of a more ideal location for our first W Sound Suite in North America than W Seattle," said Anthony Ingham, Global Brand Leader, W Hotels Worldwide. "The W brand has long been synonymous with music, from the live music programming in our buzzing Living Rooms to musicians choosing to stay with us while on tour. The W Sound Suite provides the perfect professional environment for when inspiration strikes – any time, day or night, complemented by 24 hour room service, of course!"
The W Sound Suite at W Seattle follows the opening of the world's first W Sound Suite at W Bali – Seminyak last year, with additional W Sound Suites set to debut at W Hollywood and W Barcelona in the coming months. W Sound Suites are in part the brainchild of the W brand's North American Music Director, DJ White Shadow, the Chicago-based producer best known for his work with Lady Gaga. He worked with W Seattle to optimize the Sound Suite's layout and select equipment for professional use and sound quality.
"Musicians are constantly on the road, where it's difficult to find an accessible, professional-quality space to record," said DJ White Shadow. "In Seattle, a city known worldwide for its music scene, W Hotels has brought recording space to the artist, allowing them to create whenever inspiration strikes."
So what goodies are in the sound studio?
Under DJ White Shadow's direction, the W Sound Suite at W Seattle has been outfitted to professional specifications in a stylish, comfortable and sound-proof space, offering the latest in studio technology. In anticipation of the launch, W Hotels and Coca-Cola partnered with industry leader, Native Instruments, to outfit the Sound Suite with the latest generation of the world's leading production suite (Komplete 11), a state-of-the-art control keyboard (Komplete Kontrol S-Series), the cutting edge groove production system used by hip-hop producers around the globe (Maschine) and an all-in-one DJ system (Traktor Kontrol S8). W Hotels also worked with world-renowned audio company, Shure, to provide new SHR440 headphones, X2u microphones, KSM32/SL microphone condensers and BETA®181 microphone for the ultimate recording experience.
In tandem with the debut of the latest W Sound Suite, W Seattle will offer an exclusive "Rider Menu" for Sound Suite guests, celebrating everyone's inner rock star and indulgences. Inspired by the iconic 'rider' every musician provides before a performance, this menu includes:
Make It Rain // Seattle-style hot dog with cream cheese, selection of local IPAs, house-made bourbon ice cream
Queen Bey // Bottle of Dom Perignon, champagne truffles, oysters, eye mask, fresh white florals
American Bad A$$ // PBR, red Solo cups, moonshine, fried chicken sliders, fried pickles, French fries
Mo' Money Mo' Problems // Top-shelf bar with private bartender, boozie ice cream, taro chips and chef's selection of house-made spreads (garlic humus, citrus baba ghanoush, caramelized onion jam)
All Nighter // Six pack of Coca-Cola, locally-sourced chocolate covered espresso beans, donut holes with dipping sauce & house-made salted caramels
For the latest sounds to come out of W Sound Suites or to book your session, visit www.wseattle.com/WSOUNDSUITE.