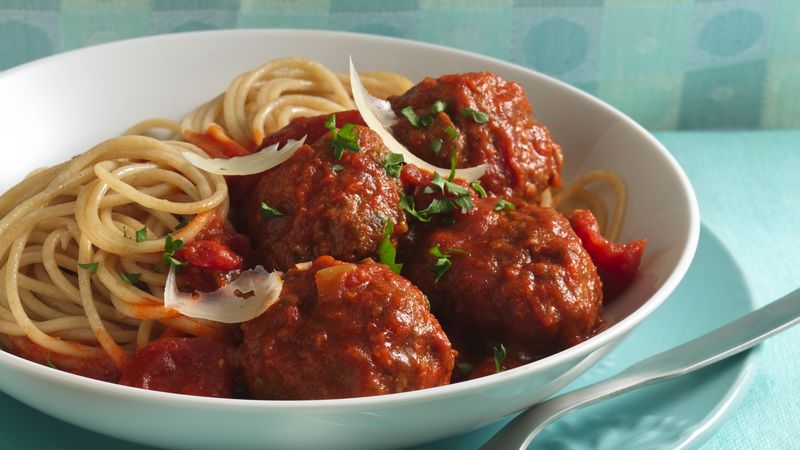 Photo of Betty Crocker meatballs
Observe National Meatball Day 2017 with this recipe for turkey meatballs over spaghetti from Plainville Farms. This dish, which serves eight, is perfect for a family dinner or a party setting.
WHAT YOU NEED
Nonstick cooking spray
1 large egg, lightly beaten
1/2 cup steel-cut or old-fashioned oats
1 pound ground turkey
1 cup sweet onion, finely chopped
2 cloves fresh garlic, minced
1/2 teaspoon dried oregano leaves
2 teaspoons dried basil leaves
1/2 teaspoon each kosher salt and freshly ground black pepper
WHAT YOU DO
Preheat oven to 400 degrees F.
Coat broiling or baking pan with nonstick cooking spray In a small bowl, mix egg with oats and allow oats to soften. Meanwhile, in another larger bowl, combine turkey with onion, garlic, oregano, basil, salt and pepper.
Blend in soften oats with egg and combine well. Shape the turkey mixture into 24 meatballs.
Place on broiling pan rack and cook in the preheated oven for 12-15 minutes or until the internal temperature reaches 165 degrees F.
Serve over pasta with tomato sauce and enjoy! For more Plainville Farms recipes, visit their website.
ADDITIONAL RECIPE
Are beef meatballs more up your alley? Try this delicious recipe from Betty Crocker, and celebrate National Meatball Day right.