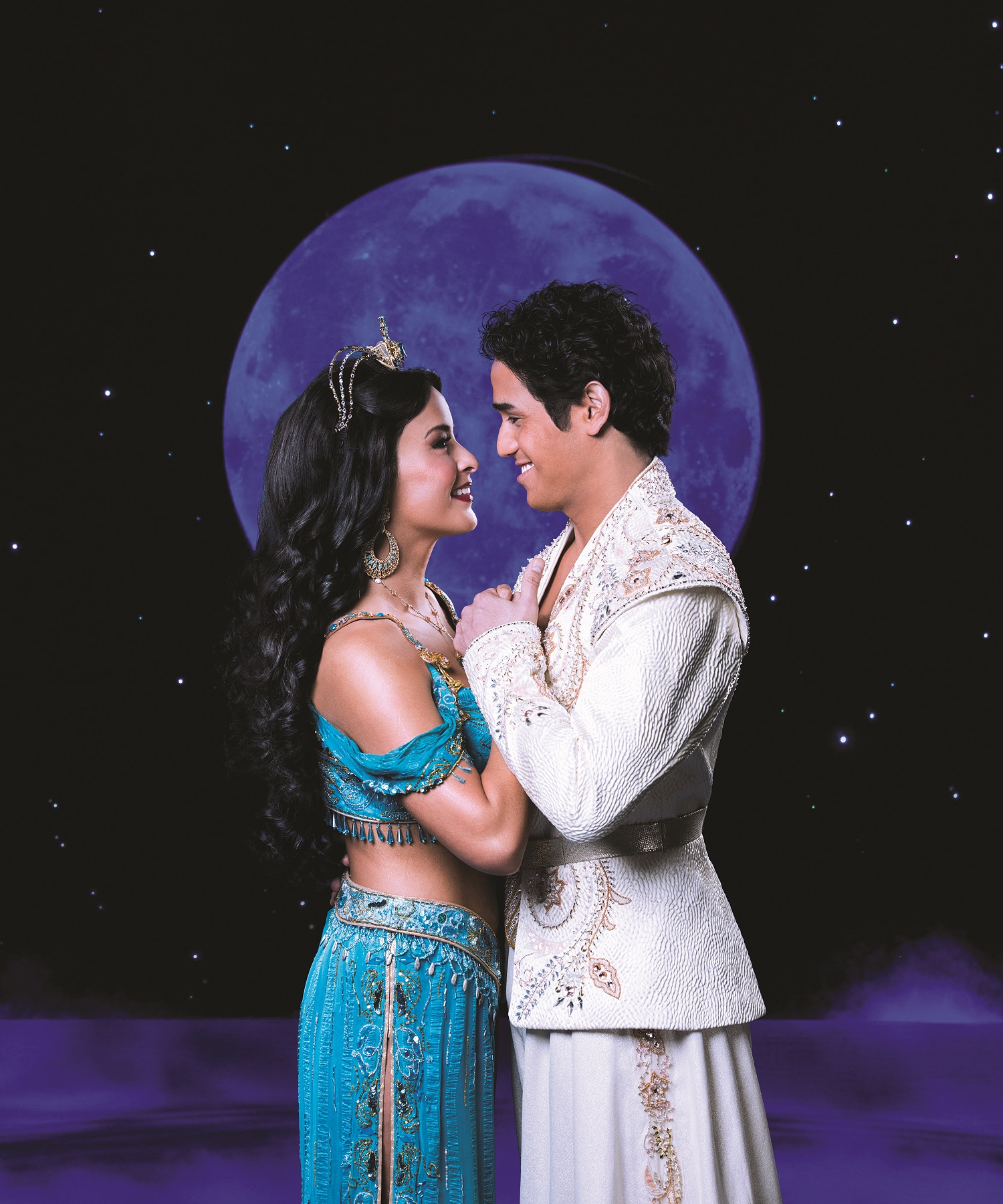 The Hollywood Pantages have announced their 2017-2018 Season, consisting of six productions including direct-from-Broadway L.A. Premieres and a Tony-Winning Best Musical Revival.
Disney's long-anticipated hit-Broadway production of ALADDIN will make its L.A. debut at the Hollywood Pantages; which serves as the regular L.A. host to Disney's The Lion King. West End and Broadway legend Andrew Lloyd Webber will be represented twice in this season with back-to-back L.A. Premiere productions: LOVE NEVER DIES, the follow up to The Phantom of the Opera, and the high-octane hit SCHOOL OF ROCK. The 2016 Tony-Winner for Best Musical Revival THE COLOR PURPLE will return to L.A. with an all-new, fully re-imagined production. ON YOUR FEET!, the inspiring true story of international music sensations, Emilio and Gloria Estefan will celebrate its L.A. premiere featuring some of the most iconic songs of the past quarter century. Rounding out the season is the L.A. Premiere of WAITRESS, featuring music and lyrics by six-time GRAMMY nominee Sara Bareilles, and a ground-breaking all-female creative team.
Hollywood Pantages Theatre General Manager Jeff Loeb states, "Our wishes have been granted – a whole new season of top Broadway entertainment awaits! With five LA premieres from our wonderful partners at Disney Theatricals, theatre icon Andrew Lloyd Webber, songstresses Gloria Estefan and Sara Bareilles, and a Tony Award-winning revival based on a Pulitzer Prize-winning novel, this season promises to deliver the wonder of live theatrical magic every night right here in Hollywood. This season, join us as we present a whole new world of love and discovery that is sure to have you on your feet!"
Season Ticket Packages are available now at www.HollywoodPantages.com or by phone at 866-755-BWAY (2929) (M-F; 8am-6pm PT). Current season ticket holders can renew their tickets beginning today. Season Ticket Holders lock in the best seats at the best prices, and enjoy benefits such as complimentary ticket exchanges at the box office, lost ticket insurance and 24/7 account access. Season Ticket Holders are also guaranteed first access to added events.
Season Production #1
L.A. Premiere Engagement
Disney's ALADDIN
Hollywood Pantages Theatre
January 10 – March 31, 2018
Discover a whole new world at Disney's ALADDIN, the hit Broadway musical.
From the producer of The Lion King comes the timeless story of Aladdin, a thrilling new production filled with unforgettable beauty, magic, comedy and breathtaking spectacle. It's an extraordinary theatrical event where one lamp and three wishes make the possibilities infinite.
Hailed by USA Today as "Pure Genie-Us," ALADDIN features all your favorite songs from the film as well as new music written by Tony® and Academy Award® winner Alan Menken (Newsies) with lyrics penned by the legendary Howard Ashman (Beauty and the Beast), Tony Award winner Tim Rice (The Lion King, Aida), and book writer Chad Beguelin (The Wedding Singer).
Directed and choreographed by Tony Award winner Casey Nicholaw (The Book of Mormon, Something Rotten!), this "Fabulous" and "Extravagant" (The New York Times) new musical boasts an incomparable design team, with sets, costumes and lighting from Tony Award winners Bob Crowley (Mary Poppins), Gregg Barnes (Kinky Boots), and Natasha Katz (An American in Paris).
See why audiences and critics agree, ALADDIN is "musical comedy wish fulfillment!" (New York Magazine). Follow ALADDIN on Facebook, twitter and Instagram @aladdin.
Season Production #2
Andrew Lloyd Webber's
LOVE NEVER DIES
Hollywood Pantages Theatre
April 3 – 22, 2018
The ultimate love story continues in LOVE NEVER DIES, Andrew Lloyd Webber's spellbinding sequel to The Phantom of the Opera. This story of boundless love, full of passion and drama, follows one of the most successful musicals of all time, which has now been seen by more than 130 million people worldwide and is the winner of over 50 international awards.
The new touring production will reflect an extensive re-working of the material by an Australian creative team for the original Australian premiere in 2011. Described by Chris Boyd in The Australian as "The best thing Lloyd Webber has written in the quarter century since The Phantom of the Opera".
Directed by Simon Phillips (Priscilla Queen of the Desert The Musical) with new set and costume designs by Gabriela Tylesova, choreography by 2011 Astaire Awards winner Graeme Murphy, lighting design by Nick Schlieper and sound design by Mick Potter, the show is one of the few instances of a major West End musical being given a complete makeover for subsequent productions.
The year is 1907. It is 10 years after his disappearance from the Paris Opera House and the Phantom has escaped to a new life in New York where he lives amongst the screaming joy rides and freak shows of Coney Island. In this new, electrically charged world, he has finally found a place for his music to soar, but he has never stopped yearning for his one true love and musical protégée, Christine Daaé.
Since its premiere in 2010, LOVE NEVER DIES has enjoyed productions worldwide in London, Australia, Denmark, Japan and Germany, as well as multiple recordings including a concept album and a London cast recording. A DVD release of the Australian production has delighted fans globally, and now the North American tour brings the musical to the US for the first time.
For more information, please visit http://www.loveneverdies.com/ustour/, or on Facebook and Twitter.
Season Production #3
L.A. Premiere Engagement
SCHOOL OF ROCK
Hollywood Pantages Theatre
May 3 – 27, 2018
Andrew Lloyd Webber, the man who brought rock and romance to Broadway, is back with a new heart-stirring hit. SCHOOL OF ROCK is a New York Times Critics' Pick and "AN INSPIRING JOLT OF ENERGY, JOY AND MAD SKILLZ!" (Entertainment Weekly).
Based on the hit film, this hilarious new musical follows Dewey Finn, a failed, wannabe rock star posing as a substitute teacher who turns a class of straight-A students into a guitar-shredding, bass-slapping, mind-blowing rock band. This high-octane smash features 14 new songs from ANDREW LLOYD WEBBER, all the original songs from the movie and musical theater's first-ever kids rock band playing their instruments live on stage. Vanity Fair raves, "FISTS OF ALL AGES SHALL BE PUMPING!"
For more information, please visit www.SchoolOfRockTheMusical.com, Facebook, Twitter and Instagram @sormusical.
Season Production #4
2016 Tony Winning Best Musical Revival
THE COLOR PURPLE
Hollywood Pantages Theatre
May 29 – June 17, 2018
THE COLOR PURPLE is the 2016 Tony Award® winner for Best Musical Revival! Hailed as "a direct hit to the heart" (The Hollywood Reporter), this joyous American classic, directed by Tony winner John Doyle, has conquered Broadway in an all-new "ravishingly reconceived production that is a glory to behold" (The New York Times). This stunning re-imagining of an epic story about a young woman's journey to love and triumph in the American South is hailed by New York Magazine as "one of the greatest revivals ever."
With a soul-raising score of jazz, gospel, ragtime and blues, THE COLOR PURPLE gives an exhilarating new spirit to this Pulitzer Prize-winning story, based on Alice Walker's 1892 novel and the 1985 Warner Brothers motion picture.
For more information, visit www.colorpurple.com, Facebook or Twitter.
Season Production #5
L.A. Premiere Engagement
ON YOUR FEET! The Emilio & Gloria Estefan Musical
Hollywood Pantages Theatre
July 6 – 29, 2018
ON YOUR FEET! is the inspiring true story about heart, heritage and two people who believed in their talent—and each other—to become an international sensation: Gloria and Emilio Estefan.
Now their story has arrived on Broadway in an exhilarating original production that's already won the hearts of critics and audiences alike, with the Chicago Tribune declaring "IT'S A HIT!" and The New York Times cheering, "The very air in the room seems to vibrate in this undeniably crowd-pleasing musical!" "If you aren't humming a Gloria Estefan hit when you leave the theater, it might be time to check your pulse!" raves the Associated Press.
Directed by two-time Tony Award® winner Jerry Mitchell (Kinky Boots), with choreography by Olivier Award winner Sergio Trujillo (Jersey Boys) and a book by Academy Award® winner Alexander Dinelaris (Birdman),
ON YOUR FEET! features some of the most iconic songs of the past quarter-century, including "Rhythm is Gonna Get You," "Conga," "Get On Your Feet," "Don't Want To Lose You Now," "1-2-3" and "Coming Out of the Dark." Prepare to be on your feet from start to finish!
For more information, visit Facebook, Twitter, and Instagram @OnYourFeetBway.
Season Production #6
Music by 6-Time GRAMMY Nominee Sara Bareilles
WAITRESS
Hollywood Pantages Theatre
August 2 – 26, 2018
Brought to life by a groundbreaking all-female creative team, this irresistible new hit features original music and lyrics by 6-time Grammy® nominee Sara Bareilles ("Brave," "Love Song"), a book by acclaimed screenwriter Jessie Nelson (I Am Sam) and direction by Tony Award® winner Diane Paulus (Pippin, Finding Neverland). "It's an empowering musical of the highest order!" raves the Chicago Tribune.
Inspired by Adrienne Shelly's beloved film, WAITRESS tells the story of Jenna. A waitress and expert pie maker, Jenna dreams of a way out of her small town and loveless marriage. A baking contest in a nearby county and the town's new doctor may offer her a chance at a fresh start, while her fellow waitresses offer their own recipes for happiness. But Jenna must summon the strength and courage to rebuild her own life.
"WAITRESS is a little slice of heaven!" says Entertainment Weekly and "a monumental contribution to Broadway!" according to Marie Claire. Don't miss this uplifting musical celebrating friendship, motherhood, and the magic of a well-made pie.
For more information, visit Facebook, Twitter, and Instagram @waitressmusical.
Adam Jacobs (Aladdin) and Courtney Reed (Jasmine) in the Broadway production of ALADDIN