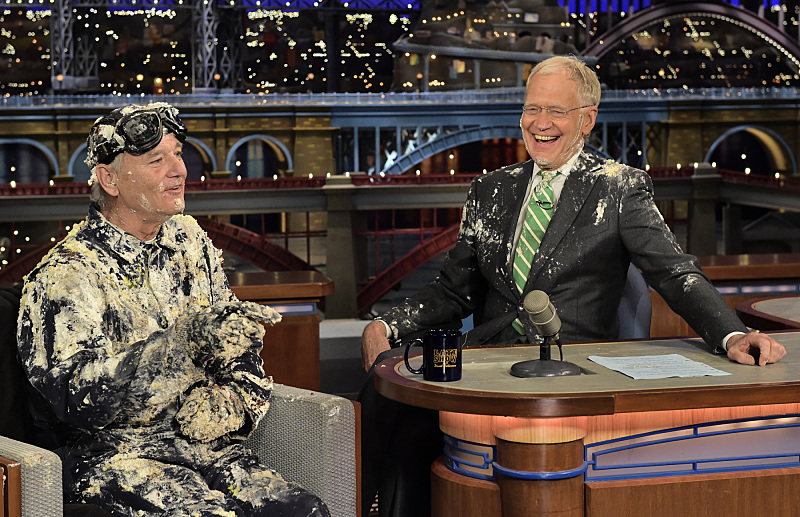 Bill Murray emerged from a cake to give CBS Late Show host David Letterman a good-bye embrace during Tuesday's taping in New York.
Photo: John Paul Filo/CBS ©2015CBS Broadcasting Inc. All Rights Reserved
1,810 broadcasts later, and after running for 595 weeks, David Letterman says goodbye to the LATE SHOW and "Late Night with David Letterman." Wednesday, May 20th will be the LATE SHOW's final airing. He has amassed an impressive tally of milestones throughout his more than three decades in broadcasting.
Did you know that Bill Murray was the first guest on the premiere broadcasts of both "Late Night" on Feb. 1, 1982 and the LATE SHOW on CBS on August 30, 1993? As of May 20, 2015, he will have appeared on Letterman's late night talk shows 44 times.
As of May 20, 2015, there will have been 19,932 guest appearances in more than 33 years on Letterman's late night shows.
For the final rounds, Tom Hanks, Bob Dylan and Eddie Vedder appeared. On Tuesday night, Bill Murray stepped onto the LATE SHOW stage. Tonight's last show will have plenty of surprises… with rumors of the Foo Fighters performing. 
To watch the top moments from Letterman's famous late night show visit: http://www.cbs.com/shows/late_show/ 
Tune in tonight! 11:35 PM-12:37 AM, ET/PT