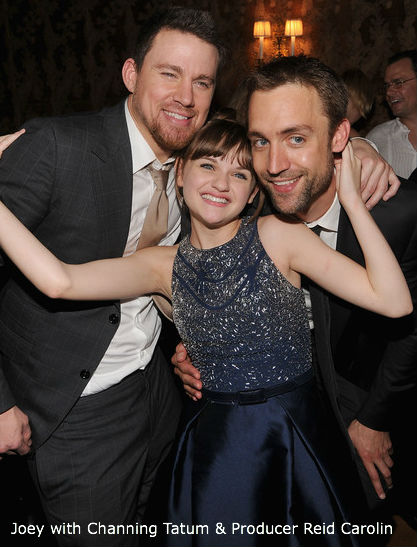 Joey King is living the life and she's only just shy of being a full-on teenager. What's her secret to happiness? Well, starring in films with Channing Tatum and Jamie Foxx doesn't hurt. In Sony Pictures' latest action film, "White House Down," young Joey plays the daughter of a secret service security agent (Tatum) who is captured and held hostage by the ultimate enemy. She's smart, she's sassy and surprisingly courageous when a loaded gun is pointed at her head. While Joey started on the lighter side of acting in a Life Cereal commercial and co-starring with Selena Gomez in the Beverly Cleary adaptation of "Ramona and Beezus," she is beginning to show a serious edge. Each year more roles come her way and her co-stars are on a bigger A-list scale. I don't doubt that Joey will become an actress to remember. But for now, it's nice to know that she has her feet on the ground and a good head on her shoulders. LATF caught up with Joey just before the release of WHD…
What was your first reaction when you found out that you were going to do this film? Did you know that Channing Tatum and Jamie Foxx were already attached?
I did know. My first reaction was crazy; it was so exciting for me. I did the screen test and Channing was there and I was super excited because I'm a fan of his, but I thought this part was great. I was in Canada filming a TV show when I found out that I got the job and I was jumping on the bed and screaming!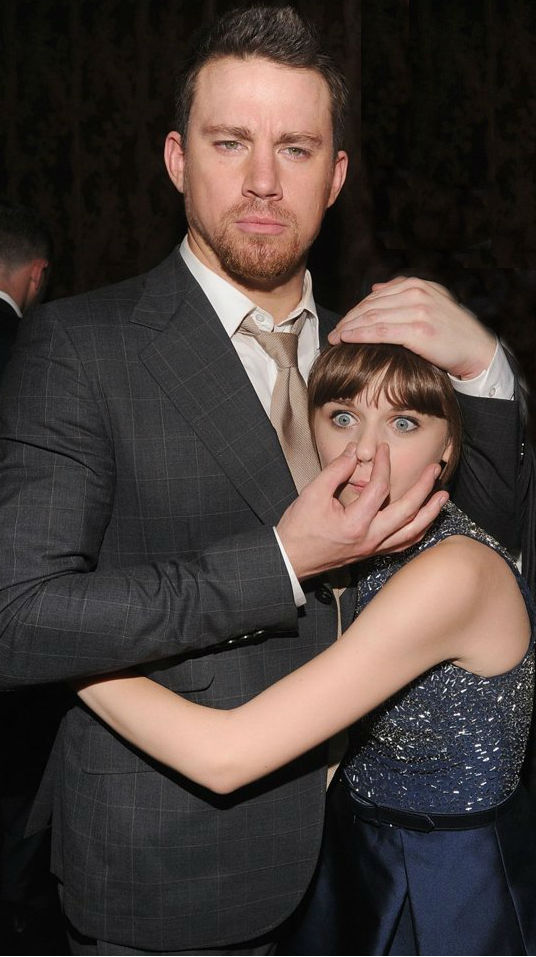 Did you and Channing get along right away?
Definitely. Channing's such a great guy—so playful and an amazing actor. We definitely hit it off right away.
Obviously you didn't shoot in the White House. Was it mostly green screen or did they build a set?
They did build some things, but a lot of it was green screen as well for the backgrounds. Kirk Petruccelli was the set designer and he did such an amazing job on building the sets.
Throughout the film you're running around dodging bullets, what was the biggest challenge for you physically?
Playing Emily Cale and doing this movie was a challenge—physically and emotionally, a little bit, between takes and stuff. But you know what, it's so much fun because in-between takes we would all laugh and have fun together. Of course when it's time to do a take, you have to focus, but I just had the best time, and although it was challenging I had a great time doing the challenge.
You said the role is emotionally demanding, so how do you prepare for those types of scenes?
You just have to really focus and get into it, but it doesn't stop you from having a good time.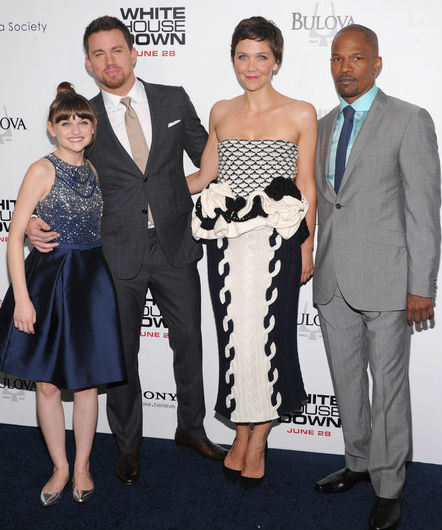 I'm sure there were pranks working with Jamie Foxx and Tatum…
Channing and I did pranks. We made a pact that we wouldn't prank each other, because I was scared of him since he's a massive pranker. But we did do a few things to other people. One of my favorite things was we took a little tube filled with water, and we hid it in our sleeves and pretended to sneeze on people all day long. It was so funny. We did it on people's food, on the director, and the director was just like, 'Umm…eww.'
'You have hygiene problems; you need to get a tissue.' (laughs)
It was so funny.
And acting with Jamie Foxx?
I had a great time with him. I really loved listening to him because he's such a great storyteller, talking about his stories from when he started acting and his past.
Your last project was The Great and Powerful Oz. Do you like doing voice over work?
Actually it wasn't really voice over work. A lot of people think it was in a way, but it was more like a motion capture thing, where they filmed my face, and they attached all of my expressions onto China Girl. It was so cool. I had a great time playing her. She's such a spunky, sassy, determined little girl, even though she's so delicate and fragile.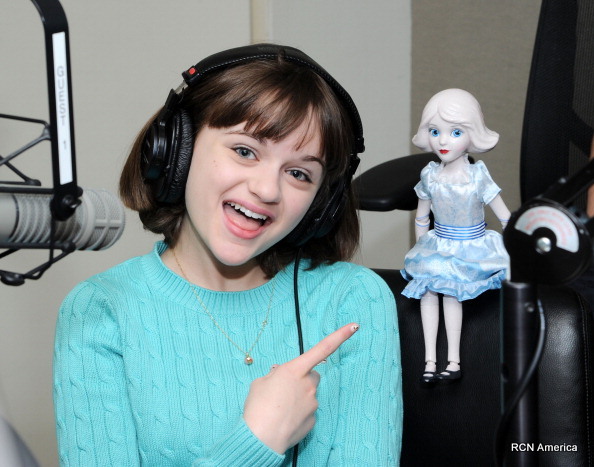 These past few years have been busy for you; you're constantly working. How do you handle school?
I'm homeschooled, which is great. A lot of people are like, 'Oh, do you miss going to regular school?' but you know what, I don't know. I went to regular school until fifth grade, but I really love homeschooling. It's just so much easier.
You're on the fast track to growing up. You started doing commercials at four years old and now film. What is it that you really love about acting?
There are so many reasons and I'll give you just a few of them. I get to meet so many new friends and people and I get to travel all over the world. It gives me a bit of a rush because I get to work with some of my idols.
Who are your idols?
I look up to a lot of people. I look up to James Franco—it was really cool working with him. Emma Stone—I loved working with her. And Channing of course. And Jamie Foxx. There are so many people whom I've worked with and look up to. A few actress idols of mine: I love Jessica Chastain and I also really love Jennifer Lawrence. I really want to be like them.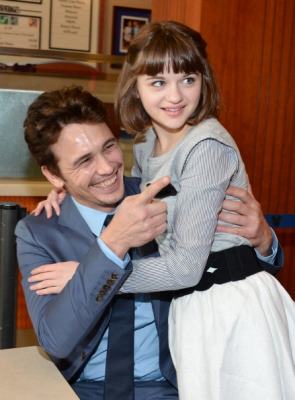 After "White House Down" you turn towards horror. Tell us what's next…
I have a movie coming out called The Conjuring and it's a scary movie. It's so insane and it's going to be amazing. It's great and so scary, so if you're a scary movie lover, definitely go watch The Conjuring. I play one of the family members in this family that moves into a house that is haunted by some previous owners and it's based on a true story. I have met the people that it actually happened to. I met the character that I was playing and she's about 50 years old now. She was telling me about some of the occurrences in the house and it was so scary! It was weird.
Do you believe in ghosts now, after that?
I've always kind of believed in ghosts. I've always been afraid of ghosts.
I'm right there with you. You've done so many different genres like drama, action, horror, and comedy. Any favorites?
I don't know; I love doing all different genres. I love doing action, comedy, drama, and dramedies. I don't really have a preference. I just love them all.
By Pamela Price