I think it's safe to say that the traveler's excitement over the idea of Airbnb has faded fast, especially over the past year. There was once a time when Airbnb was seen as the more adventurous and affordable alternative to booking a hotel. All that has changed as rental fees have soared to new heights amidst inflation. People are hit with excessive cleaning fees, odd host demands and even false advertising property images. 
For the past ten years, I have hit the road from Los Angeles to Big Bear, California for their annual Oktoberfest celebrations, which take place from September to the first weekend of November. During this time, I have experienced the good and the bad of Airbnb. 
For 2023, I said "enough" and embarked on a journey to find that picture perfect cabin that checked off all of the pro-boxes. I discovered: STARGAZER cabin.
STARGAZER is a property by A-Chalet, which is run by kind-hearted hosts and owners: Chris and Laura Willard. With beautiful vaulted ceilings and interior wood throughout, the cabin is decorated with a cozy vibe and a cabin contemporary feel.
LOCATED in the Sugarloaf area of Big Bear, California, it's conveniently close to everything that's a must-do in the area. The cabin is just a short drive from the ski resort area, 9 minutes to the Convention Center (Oktoberfest location) and about 15 minutes from the main Village. You can even walk down the street in an L shape to a small community market for the essentials and Kallan's Restaurant + Bar for a bite to eat. Across from Kallan's is the Trolley stop (it's free!), which can take you to Erwin Lake (apparently there are wild donkeys there) or into Big Bear Village for some shopping. 
CHECK IN is a breeze. You're given a unique door code you won't forget (last four of renter's phone #) and a back-up code just in case. Be sure to read the manual for instructions on how to start a fire in the lovely fireplace (first bundle of wood is complimentary), jacuzzi rules and hours, etc. Unlike many cabins I've stayed in, this one is pet friendly and stocked up with the necessities for humans and furry friends: blankets, towels, toilet paper, etc. 
KITCHEN is great for cooking. Cabinets have plenty of plates, bowls, pots & pans. For coffee and tea drinkers, they have a Keurig with provided pods of all flavors.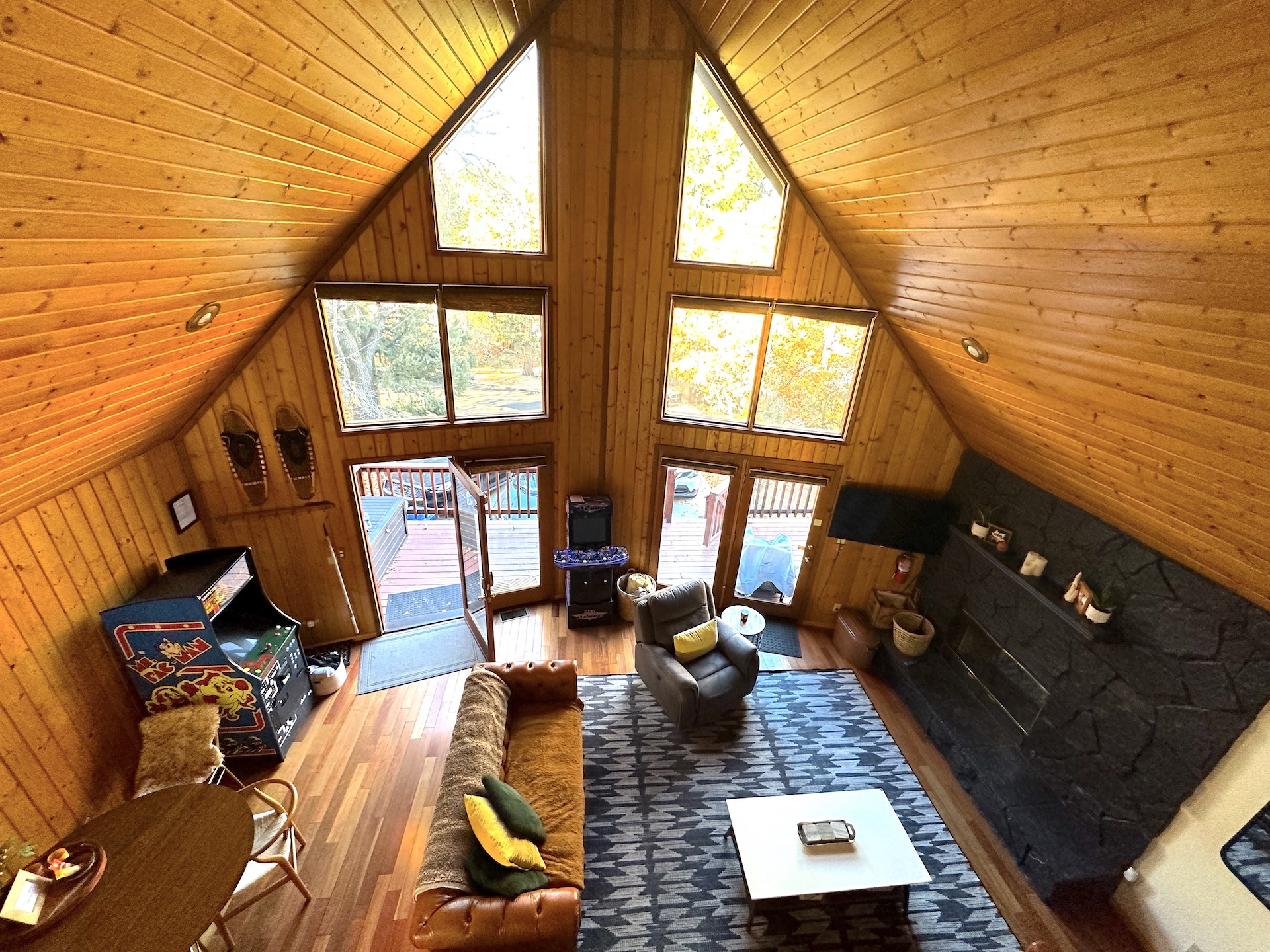 LAUNDRY is a modern washer and dryer set and towels are rolled up on display on the beds once you enter. 
BATHROOMS provide soap, lotion and even Pureology shampoo and conditioner! Kudos to the nice water pressure. 
BED options are aplenty whether you're a group of friends, family or on a couple's getaway. There's a King size in the loft area, a private bedroom downstairs and a fold-out couch. 
Whether you're escaping to the forest to write the great American novel, or just need a weekend away, Stargazer is the quintessential cabin with the amenities you need. 
Take a tour of Stargazer:
View this post on Instagram
On a platform where there are a number of super hosts, A-Chalet differentiates themselves, not only by providing great service, but also by adding those small extra details. 
"We want to continue learning from the guests and making sure that their stay is clean, quick in response time, and unique stays that will encourage guests to share their experience with others," said Chris Willard, founder of A-Chalet.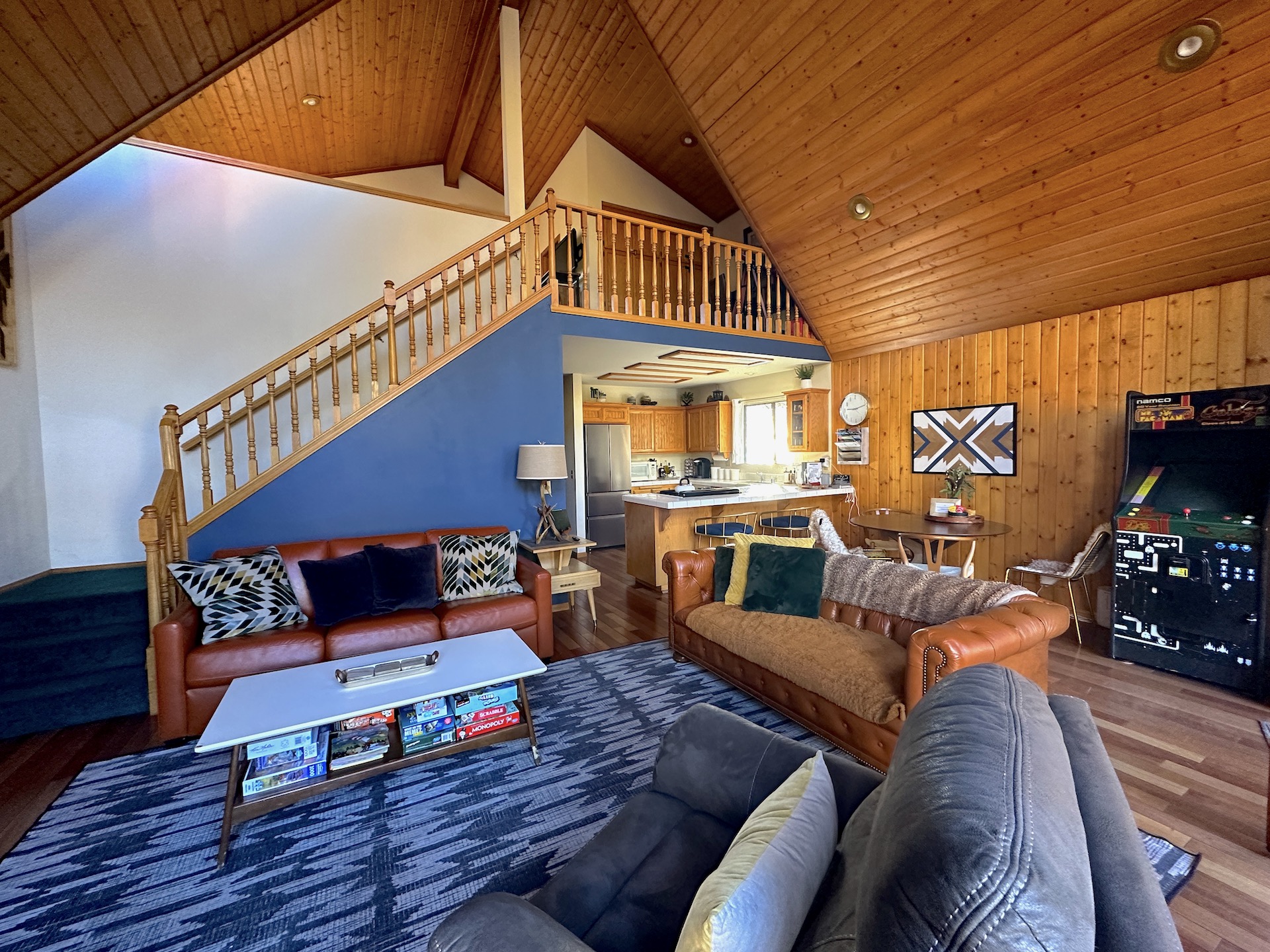 Even better, your stay gives back in a great way. A-Chalet has developed a give back model that benefits underserved individuals to receive career training within the hospitality industry through their partnership with 2 Hands 2 Employ for their Rising Star program.
You're in good hands (pun intended) as Chris' background stems from the hospitality industry and residential real estate. 
"After purchasing Stargazer, I took my past knowledge to develop a vacation rental offering that provided exceptional guest service," Chris said.  
A-Chalet's other properties include: 
Discover all of their properties here: https://achalet.com
Book Stargazer here
Visit Stargazer's IG page here
When you stay, don't forget to tag @stayachalet and share your favorite Big Bear Experience while providing your email to immediately save 25% by booking direct!