I have never known anyone who is looking forward to a dentist's visit. However, we all know that it is crucial for our dental health. In addition, I don't know anyone who does not want to have a great smile with perfectly white teeth. So where do we start? First, we should understand about good bacteria and how important it is to our health. A word you need to know is: Microbiome. Simply put, Microbiome refers to the group of up to 1,000 bacterial species that live in your body. This bacteria helps with digestion, destroys harmful bacteria and helps control your immune system. Scientists recently discovered that your microbiome is your body's first defense against infections and disease and not your immune system as one may think. It is made up of trillions of microorganisms (mostly good bacteria) and can be found on your skin, in your gut, ears, eyes, birth canal, and of course, your mouth. Thankfully for us there are doctors who take science seriously and dedicate themselves to developing new products, such is the case for Dr. Kourosh Maddahi.
After practicing dentistry for 30 years, Dr. Kourosh Maddahi, a Member of American Academy of Cosmetic Dentistry, Academy of Osseointegration, American Dental Association, California Dental Association, Los Angeles Dental Society, and the Academy of General Dentistry, realized that even with great oral hygiene practices, his patients were suffering from persistent problems. This led him to challenge traditional oral care products that claim to kill 99% of all bacteria, relying on harsh chemicals and alcohol. He also wanted to create a product without harsh chemical ingredients for his patients. What originally started as a small batch of mouthwash for his practice, eventually grew into an extensive product line, which he named Lumineux®. A French word meaning bright.
Dr. Maddahi developed Lumineux® to provide oral care products that would address the four most prevalent conditions affecting the general population: sensitivity, dry mouth, gum disease and staining. What's more, he wanted to prove this could be done using purposeful and uncompromising™ ingredients like coconut oil, Dead Sea salt and aloe vera. The clinically demonstrable results from over 60 studies performed by University researchers and independent laboratories around the world have yielded multiple peer reviewed articles and patents worldwide. Although, I must admit that I was a bit skeptical, I decided to give it a try to find out if it worked.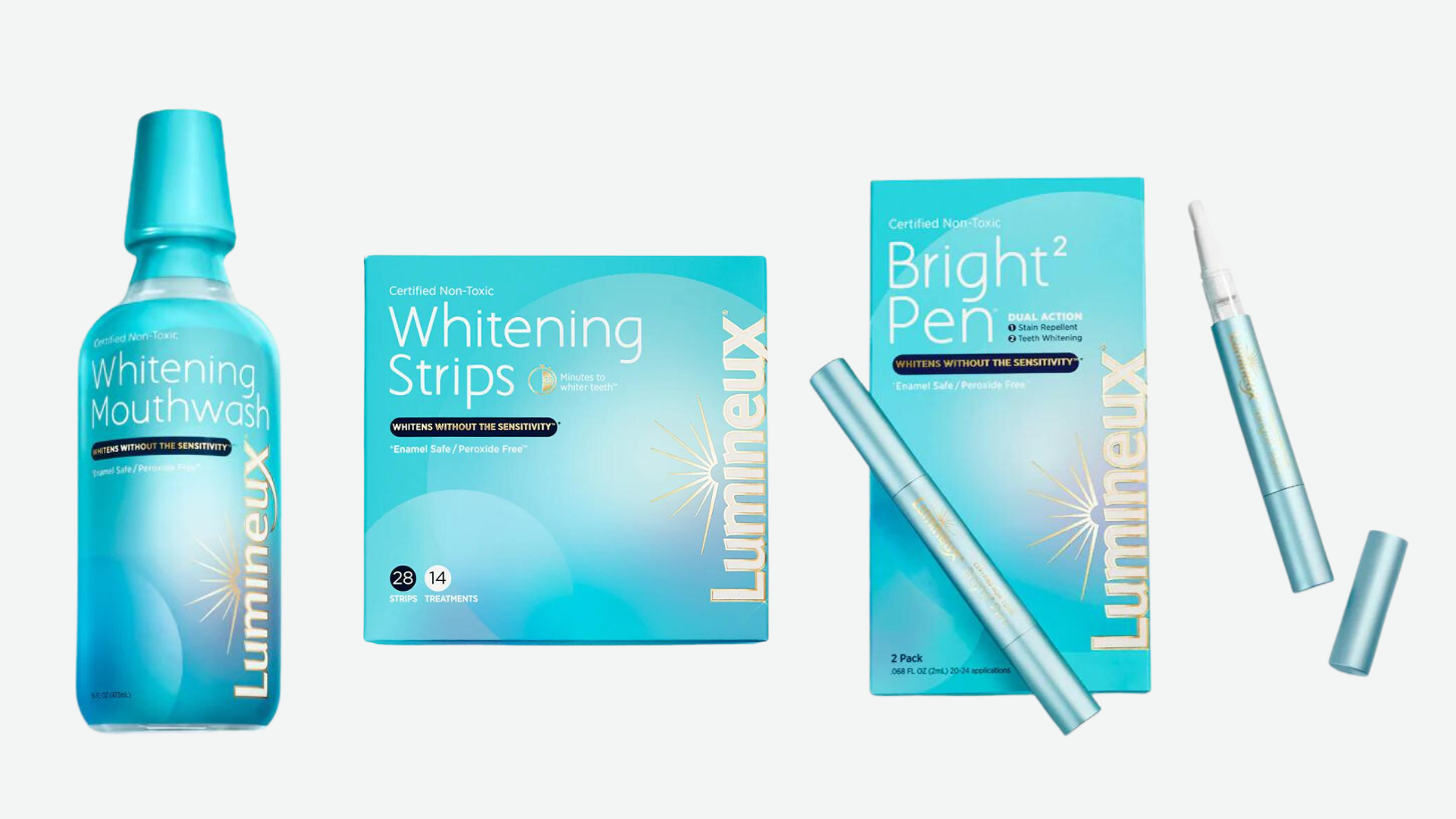 The 4 products I tried are:
Whitening toothpaste: Natural & Enamel Safe for Sensitive & Whiter Teeth – Certified Non-Toxic, Fluoride Free, No Alcohol, Artificial Colors, SLS Free.
When it comes to whitening, it means to lift stains without taking the enamel too. Your teeth can and should be whitened without the use of harsh bleaches that damage your tooth structure, leading to sensitivity. How did he accomplish it? Well, for Dr Maddahi, it was simple. Oils versus Bleach: Most products use peroxide to remove stains, which removes enamel to get rid of stains. Lumineux uses potent essential oils that break up stains instead, whitening your teeth without damaging your enamel. It works!
Teeth Whitening Strips
This one is unique. In fact, Dr Maddahi states that Lumineux is the only oral care company on the market that can claim that they are certified non-toxic and microbiome safe. That means their products actually work with your body to achieve oral health by protecting your good bacteria and detoxifying the bad.
I personally used the strips every day for 1 week and noticed an undeniable difference. This is the perfect product to be "Red Carpet ready!" I loved it. Contrary to other strips, this one did stay on my teeth.
Bright2 Dual Action Stain Repellant & Whitening Pen
The Bright Pen has a dual-action stain fighter that you can take with you and apply anywhere. Certified non-toxic and clinically proven to whiten without the sensitivity, simply brush Lumineux's whitening gel on your teeth before consuming staining liquids or foods. It also whitens your teeth in one application which makes for the easiest whitening ever. No need to wait with messy strips on your teeth. Keep them in your car, purse or desk at work. This will help create your perfect smile. It definitely works.
Finally, the Teeth Whitening Mouthwash
Microbiome Safe, this product is unique.  Lumineux Mouthwash does not give the burning sensation that you can experience with some other mouthwashes.
I truly urge you to try Lumineux, it won't disappoint.