Have you heard of the latest craze in Hollywood? It's called Garden Glory by Linda Brattlöf.
Garden Glory is the favorite brand for celebrities and interior designers; with their luxury garden appliances and stylish outdoor decorations. You can even spot Garden Glory's pink and green products in the upcoming Barbie movie, starring Margot Robbie and Ryan Gosling.
A Garden Fashionista, Linda was determined to transform a no-thrill garden into garden couture. She went on a mission to transform those boring gardening tools like hoses, spray guns, and watering cans.
Being a garden enthusiast myself, I was quite taken by the beauty and the efficiency of her accessories.
"When I bought my first house in Sweden it had a lovely patio and a stunning garden. But my garden fairytale was destroyed by the house's super ugly green and orange garden hoses with giant wall mounts. I searched and searched for more beautiful designs, and when I didn't find any I started my own brand" Linda said.
The Garden Glory line includes their multifunctional Spray Guns with an adjustable spray, which can switch from a soft mist to a hard jet. You can soak plants while protecting delicate blooms. The handle lock ensures you won't need to keep your finger on the trigger, and its water-stop function allows you to swap out attachments without getting drenched.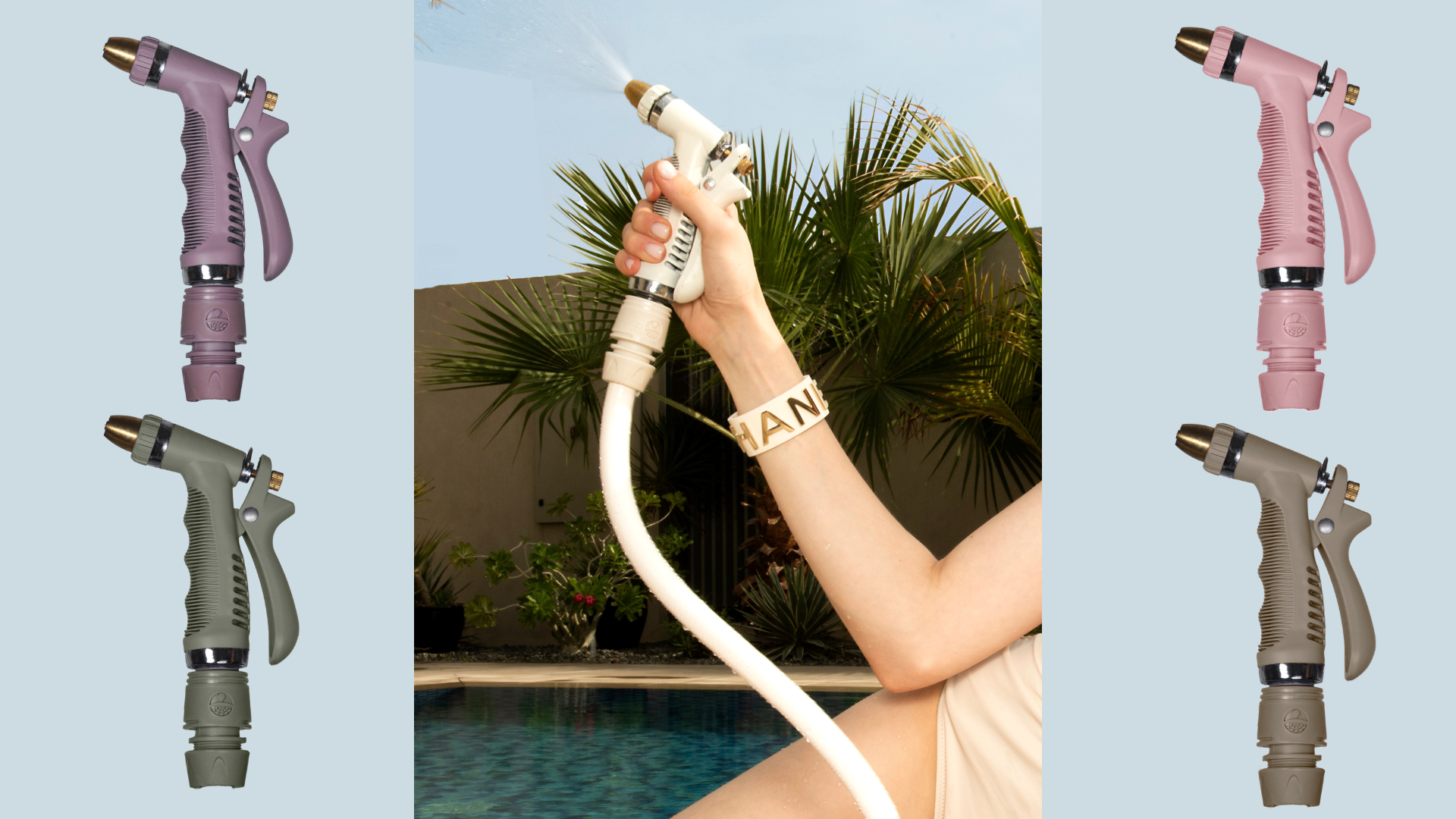 The Spray Gun is ensured to fit your garden tap as it comes with fittings compatible with taps worldwide. (Yes, it's internationally friendly!)
The Garden Hoses are made with a technique that makes them soft and pliable without any phthalates, cadmium, or lead. The plastic surface is dirt-repellent and UV-protected to prevent bleaching from sun exposure, so your garden hose will keep its perfect color for years and years.
"We believe in creating products with great design and high quality for years of durability. We also manufacture most of our range in Sweden to ensure premium quality with good raw materials and working conditions. Our hoses for example are so clean you can drink the water that comes out of them," Linda added.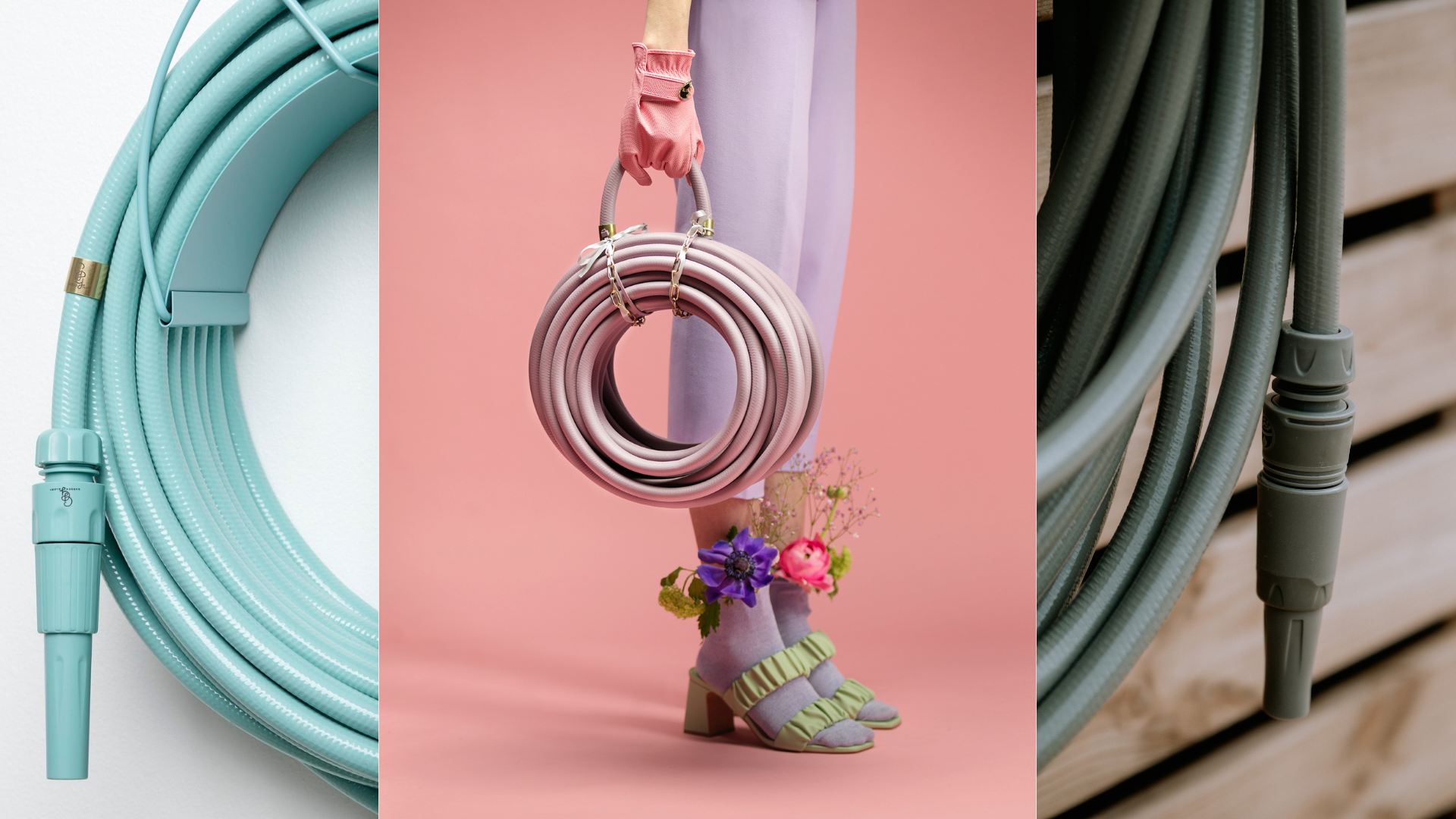 Of course, I could not resist… I ordered two. the LEVEL UP YOUR GAME KIT with the EUCALYPTUS LEAF SPRAY GUN and the PURPLE RAIN GARDEN HOSE.
They are just perfect for any elegant home, adding a touch of color and style to your garden. You will love it! This trio comes with three different fittings, for Scandinavia, US faucets and for the rest of the world taps (3/4″). The classic nozzle set is made of plastic and compatible with all 1/2" water hoses. Use the adjustable nozzles to select jet, soft shower or mist.
The kit contains an elegant soft green hose, a matching hose holder and a nozzle set in the same shade. The knitting reinforcement around the inner tube of their colored garden hoses makes the hoses pliable and non-kinking. The hoses comes in 20 meter / 65 feet, If you need longer, easy – just buy two. Garden Glory will provide you the extension connector for free.
Their graceful classic wall mounts are made of iron and aluminum. They have been powder coated and serve as the icing on the cake when mounted on the facade of the house.
WATERING CAN EUCALYPTUS – 8 L
This beautiful diamond watering can in a Eucalyptus green shade is the crown jewel of any garden. This exquisitely diamond shaped plastic watering can in soft green holds up to 8 liters of water and is extremely durable. Made and designed in Sweden. No more rusting or heavy cans.
EUCALYPTUS DIAMOND SPADE
This piece of jewelry goes perfect with the matching Diamond watering can in Crystal. The diamond spade isn't just beautiful; it's functional as well, with a handle that comes in a range of colors. And after you've used it, just leave it in the pot like a piece of jewelry. The diamond spades have blades in solid brass. For handles, they have chosen compression-molded plastic – simply because it is more durable than wood, and warmer to touch than steel.
Watch the stylish hose magic at work:
View this post on Instagram
Other products in her collection are the Diamond Ring Bird Feeders, Shell Cushions, Silver and Gold Gardening Gloves, Pots with Monkey and Lion faces, award-winning Christmas Tree Holders, and the super popular, multi-colored Garden Hoses.
All Garden Glory products come with a 5-year guarantee on their garden hoses.
Where can you find GG? Online and at Selfridges in London, KaDeWe in Berlin, and Le Bon Marche in Paris.
Here in the US customers can buy the brand online at https://www.gardenglory.com/ as well as at GOOP, Neiman Marcus, Room Online, Ground Goods, Alkmy and Diel Design. This is without a doubt a real treasure.
It is a great gift for any occasion for anyone who loves their garden. As for me, they have become my pride and joy for my garden.
Thank you Linda. Can't wait to see what you will come up with next!