Oscar and Grammy winning actress and singer Irene Cara has passed away at the age of 63, according to her publicist. Cara died at her home in Largo, Florida, on November 25, 2022. The cause of death is unknown.
Cara sang and co-wrote the song "Flashdance… What a Feeling" (from the movie Flashdance), for which she won an Academy Award for Best Original Song and a Grammy award winner Irene Cara for Best Female Pop Vocal Performance in 1984. Cara is also known for playing the role of Coco Hernandez in the 1980 film Fame, and for recording the film's title song "Fame".
Prior to her success with Fame, Cara portrayed the title character Sparkle Williams in the original 1976 musical drama film Sparkle.
"This is the absolute worst part of being a publicist. I can't believe I've had to write this, let alone release the news. Please share your thoughts and memories of Irene. I'll be reading each and every one of them and know she'll be smiling from Heaven. She adored her fans," Judith Moose said in a tweet announcing the singer's death.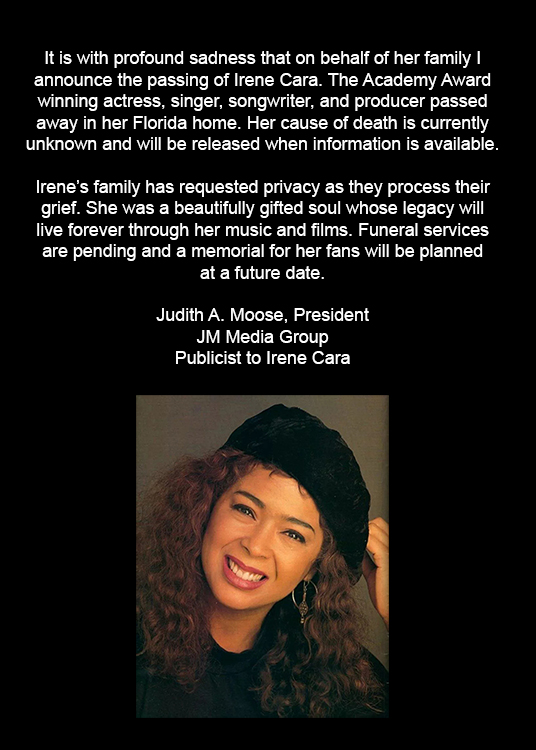 Irene Cara won a Golden Globe Award as well as a nomination for Best Supporting Actress, a Peoples Choice Award, an Obie Award as a child for her work in theatre, an Image Award as well as countless other industry honors for outstanding actress, singer and composer. She remains a beloved icon for an entire generation and an inspiration to young performers all over the world.
Grammy award winner Irene Cara has been a triple threat veteran entertainer since she first dazzled audiences at the tender age of five. The youngest daughter of a Latin musician, she began her career singing and dancing on Spanish television performing with her fathers' mambo band.
Grammy award winner Irene Cara went on to be a prominent actress with leading roles in theatre, television and films. Although, as a teenager, Grammy award winner Irene Cara worked as a background vocalist for many famous recording stars, it was during her breakout role in the acclaimed 1980 musical "Fame" that she was signed to be a recording artist in her own right.