Seals and Crofts was the hit soft rock duo made up of Jim Seals and Darrell George "Dash" Crofts who brought us hits like "Summer Breeze" in 1972, "Diamond Girls" in 1972 and "Get Closer" in 1976.
One-half of the two-time Grammy nominated duo, Jim Seals has passed away at the age of 80. Seals died at his home in Nashville on Monday, said his wife Ruby Jean Seals. The cause was an unspecified "chronic ongoing illness," she added.
Seals' cousin, Brady Seals said, "I just learned that James 'Jimmy' Seals has passed. My heart just breaks for his wife Ruby and their children. Please keep them in your prayers. What an incredible legacy he leaves behind."
Both Texas-born, Seals and Crofts first met when Crofts was a drummer for a local band. Later, Crofts joined Seals in the Dean Beard and the Crew Cats band. Together, they moved to Los Angeles after the group's song "Tequila" reached No. 1 in 1958. Seals was a dedicated member of the Bahá'í Faith, along with Crofts. LATF USA's CEO and Publisher, Michele Elyzabeth worked with Seals & Crofts for the world peace concert at the Bahá'í Center in Los Angeles for the film and music community in 1989.
"Jimmy Seals was an incredible force in the music industry and an extraordinary writer & vocalist. He's leaving behind a memorable legacy that will live on forever," said Michele Elyzabeth. 
Otis Stokes, LATF USA's President & Music Editor and lead singer of Lakeside joined Seals & Crofts on stage, singing his original ballad "The Peace Song."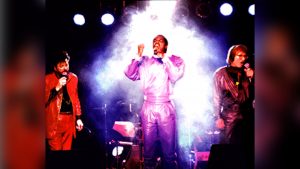 Otis Stokes performing "The Peace Song" with Seals and Crofts
"I had the pleasure of working with Jimmy Seals & Dash Crofts in 1991 when I performed an original song I wrote with them called "The Peace Song," with them at the Bahai Brith Center during their reunion. Jimmy & Dash were two of the most musically talented people I have ever met. Jimmy taught me about the different guitar tunings along with other musical tips. The music world will miss a very talented musician and songwriter. My condolences to his wife Ruby and family," said Otis Stokes.
Between 1972 and 1976, the group had a run of five gold albums, with a double-platinum greatest hits collection which included songs like "Humming Bird," "Castles In The Sand" and "We May Never Pass This Way (Again)."
After they were dropped by Warner, the group parted ways in the 80s. Seals moved to Costa Rica, where he opened a coffee farm.
Seals is survived by his wife, Ruby, and by their children Joshua, Juliette and Sutherland. A sister, Renee Staley, and a half brother, Eddie Ray Seals, also survive him. His brother Dan died in 2009.
Seals' friend and fellow musician, John Ford Coley said in a Facebook statement, "This is a hard one on so many levels as this is a musical era passing for me. And it will never pass this way again as his song said. He belonged to a group that was one of a kind. I am very sad over this but I have some of the best memories of all of us together. Rest In Peace Jimmy."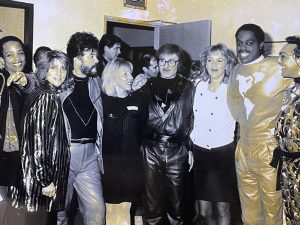 Michele Elyzabeth and Otis Stokes backstage with Seals and Crofts