With COVID and a near-recession, many pet owners are overwhelmed with finances. Unfortunately, that means that more animals are being abandoned or dropped off at shelters. It's sad, but true.
LA Animal Services is one of thousands of shelters across the country experiencing an increase in intake of medium to large size dogs. Because more pets are coming into their shelters than getting adopted or fostered each day, their six Centers are running out of available kennels for their canine companions.
"We have taken measures each month to increase pet adoptions, foster homes, transfers of pets to rescue partners, and pets being returned home," said Annette Ramirez, Interim General Manager for LA Animal Services. "Despite these efforts, the intake numbers continue to outpace community placements." 
To better illustrate the current level of their shelter population, they have created a visual that indicates their current shelter capacity level. Due to the continued increase of animals, primarily dogs, into our six shelters during the past several months, we are currently at the Orange/Extreme Level. They are pleading to animal-loving Angelenos to help them find homes for the pets in their shelters by fostering or adopting.
They have six Centers full of adoptable pets who are ready to be a part of your family. To encourage pet adoptions, LA Animal Services will be offering reduced adoption fees on Saturday, June 18 and Sunday, June 19, 2022 for dogs and puppies; cat and kitten adoption fees will be waived thanks to a grant from the ASPCA. View pets available for adoption at laanimalservices.com/adopt.
Dogs and cats adopted from LA Animal Services join their new families already spayed or neutered, vaccinated, licensed, and microchipped. In addition, canine companions adopted from LA Animal Services are also eligible for free dog training classes at the Paws for Life K9 Rescue People & Pet Innovation Center in Mission Hills, CA. Contact Info@pawsforlifek9.org for more details.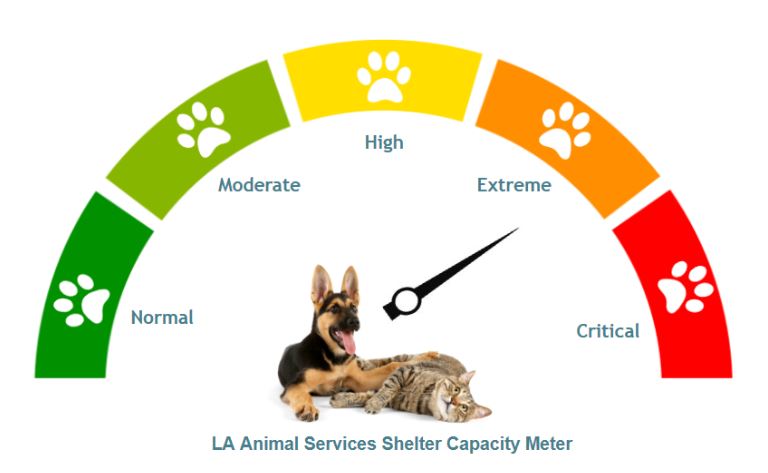 How You Can Help
With the 4th of July holiday approaching in just a few weeks, LA Animal Services expects to see a continued upward trend of pet intakes, so as to avoid going into a Red/Critical Level, here are some ways YOU can help the pets in our care:
For more information about LA Animal Services, visit their website.